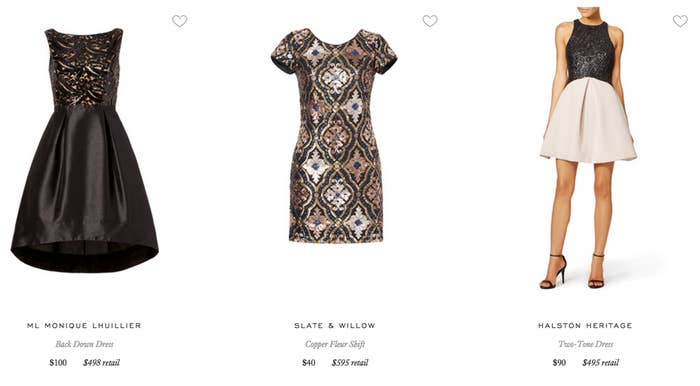 Rent the Runway has quietly added a new line of products to its online store for renting designer clothing: its own in-house fashion label, featured alongside offerings from big-name labels like Badgley Mischka, ML Monique Lhuillier and Nicole Miller.
Dresses from a brand called Slate & Willow are now being offered on Rent the Runway's site, priced similarly to other designer options. One, the "Copper Fleur Shift," says it retails for a whopping $595 and costs just $40 for a four-day rental.
Nowhere is it mentioned that Slate & Willow is a private brand created by Rent the Runway, or that despite advertising a "retail price," the brand isn't sold in any store. Instead of being based on store prices for the brand, the price is set by Rent the Runway "based on the cost of production," according to a spokesperson.
"Just like the items from the designer partners in our inventory — which are also not sold, just rented — we include the retail value to add context for our customers so they can make informed purchasing/renting decisions," the spokesperson told BuzzFeed News.
This Slate & Willow dress lists a retail price of $595 and rental price of $40. The retail price is calculated by Rent the Runway "based on the cost of production."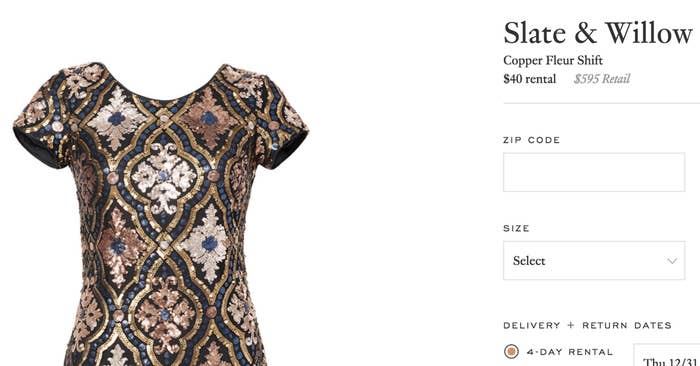 It's telling of the retail landscape today that even Rent the Runway, a startup built on the idea of renting out expensive designer dresses for a fraction of what they would cost in a store, has gotten into the more profitable private label business.
Bloomingdales did it with Aqua, and Nordstrom has in-house labels like Treasure&Bond and Halogen. But it's all the more fascinating given Rent the Runway's core business is all about providing affordable access to high-end, name-brand formalwear.
In addition to Slate & Willow for clothes, Rent the Runway has another in-house accessory brand called Ella Carter. With rental and retail prices in line with its designer goods, the items blend in seamlessly as authentic name-brand items. It isn't disclosed on Rent the Runway's product pages or elsewhere on the website that they're private.
The labels "fill the voids in the marketplace to better service our customers," Rent the Runway's spokesperson told BuzzFeed News in an email. "If there is something we know our customer gravitates towards or something our customers are requesting, we work with talented designers in our community to fill in the gaps."
As for why the company doesn't make the labels' origins clear on its website, the spokesperson said Rent the Runway is "still rolling out elements of our site rebrand which launched in September."
"We're in the process of redesigning our designer pages now to house more info," she said. "We'd love for our customers to know that these styles are exclusive to RTR and that we're keeping their needs in mind!"
A description of Slate & Willow on the website makes no mention of that. It says it's "inspired by the New York girl-on-the-go...it's not just a fashion line, it's a lifestyle."
Rent the Runway declined to disclose what percentage of sales come from its private labels and said it's not currently planning more. It filed trademark applications for Slate & Willow in 2013 and Ella Carter in 2014. It also sought, but abandoned, a trademark for the name "Cinder + Charm" in 2012, filings show.
One reason it's a little odd: The startup doesn't disclose revenue or profit figures, but frequently uses the collective "retail value" of dresses and accessories it rents out as a measure of its success. CNBC reported that number as $809 million for 2014, while Inc. recently said it's on track to hit $1 billion by the end of this year.
Presumably, that number could be boosted with the high retail prices set by the company on its own products, even though they have never been sold at retail. The company did not respond to a question about how it calculates the retail value figure reported in the media.
Retailers have to be careful about how they display prices. Companies like TJX and Kohl's have faced lawsuits over the wording of prices on their labels, with some consumers claiming phrases like "compare to" can be misleading, if a product was never sold at that price.
A description of Slate & Willow on Rent the Runway's website doesn't mention it's an in-house brand.

Perusing the website, a simple Kate Spade dress that retails at $648 costs $40 to rent, while a sparkly Badgley Mischka frock that retails for $750 rents for $35. In addition to the shift mentioned above, other Slate & Willow dresses might list "retail" prices of $225 or $348 and rental prices of $45 or $60.
To be sure, a number of dresses and jewelry from Slate & Willow and Ella Carter have great reviews from customers, who regularly rate its items with 4 or 4.5 out of 5 stars. One of my friends told me she's rented from Slate & Willow and while she didn't realize it was a private label at the time, it doesn't bother her — she thought the dress looked terrific.
It's probably more profitable for Rent the Runway to make its own items, skipping "Partnering," the first of the five steps in its business model on its website. That step reads: "To give access to remarkable luxury experiences, our team builds exclusive relationships with many of the world's premier designers, always ensuring we have the most beautiful, in-demand items for every season."
It's not uncommon for companies to start making their own products once they have a captive audience. Birchbox recently created its own line of makeup, Amazon said in October that it's considering making its own private-label clothing for Amazon Fashion and fashion website The Outnet has had its own private label since 2012.
For the most part, though, it doesn't come as a surprise to consumers that they're looking at products made by the brands.
Rent the Runway has been trying to add everyday clothing and accessories to its rental business since last year. The startup has raised more than $120 million in venture capital since it was founded six years ago,according to Fortune. In a story last month, Fortune noted that the company isn't yet profitable, but may bring in between $70 million and $100 million in revenue this year.