End Of An Era: RadioShack Files For Bankruptcy
The company has been teetering on the edge for years.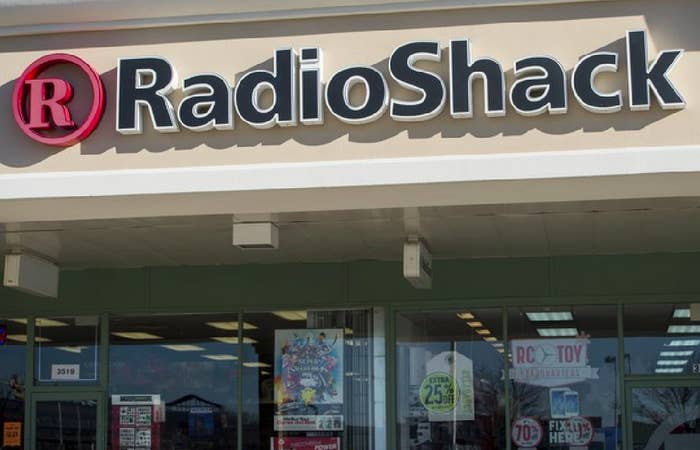 RadioShack, after years of struggling, officially filed for bankruptcy today.
The company, which operates more than 4,000 stores, said in a statement that it will sell between 1,500 and 2,400 of its U.S. stores to an affiliate of hedge fund Standard General called General Wireless. Up to 1,750 of those locations will host a Sprint "store within a store," as per the statement.
RadioShack said the rest of its stores will be closed following liquidation sales. The company said it will update a restructuring portion of its website with a list of stores that will be closing once it knows more. It has a long list of stores that may close on the website.
The retailer said in filings today that it employs more than 21,000 people.
RadioShack has been in dire financial straits for years, struggling as competitors such as Best Buy, Wal-Mart and Amazon have grown in size and clout. Attempts to rebrand — including a brief stint as The Shack — didn't work, as customers ran out of reasons to visit the retailer based on changes in technology. In 2013, it brought in just $3.4 billion in sales, making it only slightly bigger in revenue than Urban Outfitters and smaller than Abercrombie & Fitch.
The bankruptcy documents highlighted RadioShack's foundational role in the consumer electronics market. The company said that it sold the world's first mass-marketed fully assembled personal computer, with a Bill Gates-created operating system, in 1977. It also sold the computer industry's first laptop in 1983 and its first mobile phone in 1984.
RadioShack knew it had too many stores, but its lenders would only let it shutter 200 per fiscal year, denying requests for additional closures last year and into 2015, the company's interim chief financial officer, Carlin Adrianopoli, said in a filing today. The bankruptcy filing will enable RadioShack to close up to 2,100 underperforming stores, the company said.
RadioShack said it was also pressured by spooked vendors denying trade credit to the company and extending less-than-favorable payment terms, leading to inventory issues in stores.
The final challenge for the company, as per the same filing from Adrianopoli, was the state of the postpaid cell phone market. The space has become intensely competitive, stalling growth from new subscribers and causing price wars among wireless carriers that slashed margins industrywide. At the same time, as major wireless carriers open their own stores, it's hampered RadioShack's ability to offer the best and most current plans, Adrianopoli said.
RadioShack said in the document that its headquarters and stores are leased, with monthly rent of $21 million.
RadioShack's restructuring website currently reads: "Thank you for your interest in our recently announced restructuring. We intend to transition a portion of our stores to new ownership and begin a sale process for other company owned assets. Our domestic and international franchise stores are independently owned and are not part of our restructuring."
The electronics retailer traces its roots to both the Hinckley-Tandy Leather Company in 1919 and RadioShack in 1921. The two later become one entity under Tandy Corp.; the name officially changed to RadioShack Corp. in 2000, according to the company's website.
The restructuring portion of RadioShack's website doesn't contain a list of closing stores yet

RadioShack's firsts, as listed in bankruptcy-related documents

Updates with additional details from RadioShack's bankruptcy filings.
Update with link to potential store closures.