Preppy Teen Stores Edge Closer To Extinction As Aeropostale Stock Hits Decade Low
Aeropostale's stock plunged 20% and closed at the lowest price since 2003 after reporting truly dismal earnings.
Aeropostale's stock since 2003: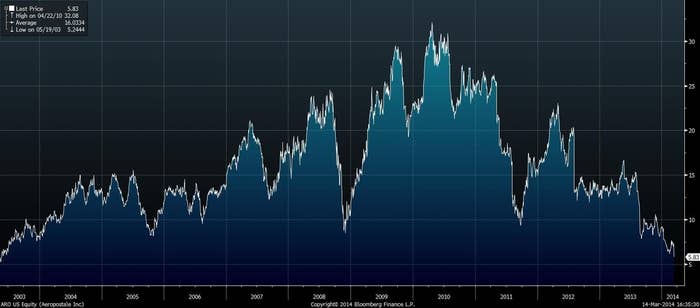 Aeropostale, the weakest of a preppy trio that includes American Eagle and Abercrombie & Fitch, saw its stock plunge 20% Friday to close at the lowest price in more than a decade.
The chain's shares fell to $5.83 each after it reported a rough fourth quarter and an annual sales decline of 12% to $2.09 billion on Thursday evening. That included flat e-commerce sales, an area that's proven to be a much-needed bright spot for other teen chains. Aeropostale's stock traded as high as $32.08 in April 2010.
Aeropostale thrived in the past as a cheaper alternative to the kind of preppy, logo-heavy apparel that was also available at Abercrombie and American Eagle. But in recent years, all three chains have come under pressure amid the rise of fast-fashion giants like Forever 21 and H&M and a resurgence in surf-and-skate apparel. Aeropostale has been put in an especially precarious position as teens' tastes shift.
The retailer's efforts to win back high schoolers, which have included partnerships with the show Pretty Little Liars and teen video blogger Bethany Mota, haven't yet paid off. Aeropostale forecast an operating loss of as much as $68 million in the first quarter of this year, excluding the impact of "expected consulting fees, and potential accelerated store closures" as well as fees tied to $150 million in financing from private equity firm Sycamore Partners.
Aeropostale said it plans to shutter 50 Aeropostale stores and two P.S. for Kids stores, and hired a real estate consulting firm to help it assess whether it can speed up closures.
Aeropostale is suffering the most, compared with American Eagle and Abercrombie.