Facebook is rapidly sliding in importance among teens, while Snapchat and Instagram are soaring, according to a new survey from Piper Jaffray today.
Only 14% of teenagers consider Facebook the most important social network, down from 23% a year ago and 33% in 2013, according to the investment bank, which surveyed 6,200 teens. The average age of respondents was 16 and 35% work part-time.
About 13% of respondents picked Snapchat, while 32% answered Instagram.
Piper Jaffray issues Wall Street's most closely watched teen research report, known as the "Taking Stock With Teens Survey," twice a year. Executives regularly reference its findings on teen spending and brand preferences in conference calls, while investors use them to help make stock picks.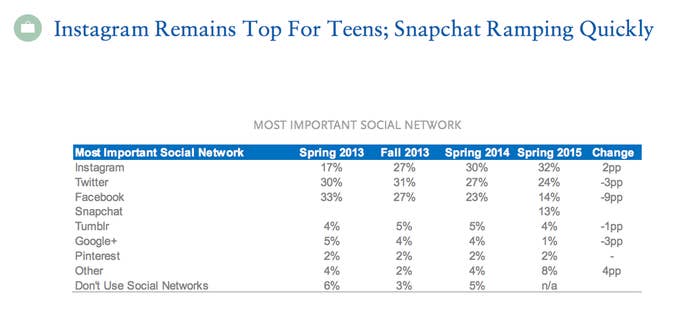 "This continual decline in Facebook is somewhat concerning," Gene Munster, a senior research analyst, said on a conference call discussing the report. "I think the reality is that this engagement story, or the concern, has been real but they still have time to monetize their existing base."
While the perceived importance of Facebook by teenagers is dropping, the site is still a behemoth. (And the company itself owns Instagram.) Among people aged 13–17, 71% are Facebook users, according to the Pew Research Center, which released its own report on teens and social media last week. That report showed 52% using Instagram and 41% on Snapchat.