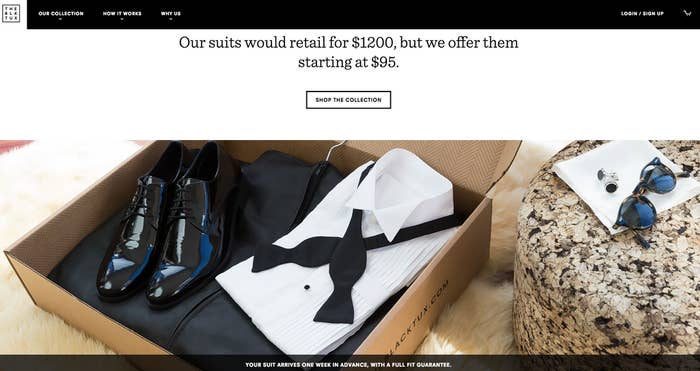 Last month, Men's Wearhouse blamed a decline in its $443 million tuxedo rental business on two factors: fewer marriages and a move toward more casual and destination weddings versus "traditional" festivities.
But the company, which forecast comparable rental revenues to fall in the "low-single digits" for the year, made no mention of increased competition from new online tux and suit rental startups. In the eyes of these startups, which claim to be growing rapidly despite the trends Men's Wearhouse cited, it was a revealing omission — and one that's typical of large public companies that see newcomers encroaching on their turf.
The Black Tux, a tux and suit rental website that has raised more than $10 million in venture capital, told BuzzFeed News that it's on pace to make at least $12 million in revenue this year. A smaller rival, Menguin, told BuzzFeed News that it will "handily" bring in more than $1 million in sales. And outside of rentals, the startup Combat Gent is offering yet another new option by making tuxes available for purchase starting as low $160 a pop. (Combat Gent, which also sells denim, chinos, and button-downs, reportedly brought in $10.1 million in sales last year.)
To put the startup revenue figures in perspective, a 3% chunk of all the revenue pulled in by Men's Wearhouse's highly profitable tuxedo rental business last year would come to just over $13 million.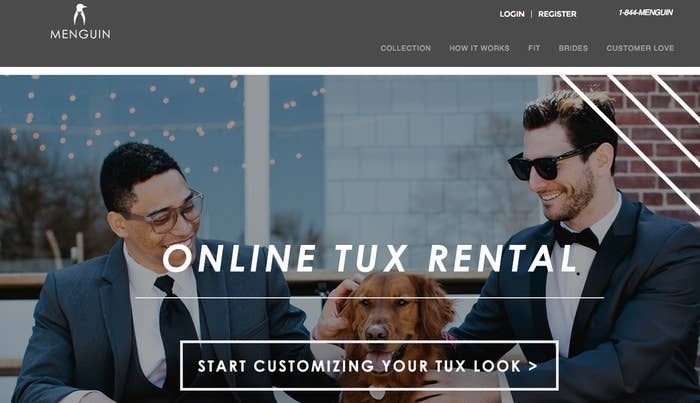 Men's Wearhouse attributes weakness in its rental business, at least in part, to changing trends in what people wear to weddings.
"We see a clear trend, the overall wedding industry is changing its cultural opinions towards traditional wedding attire, resulting in suits becoming a popular alternative to renting tuxedos," the company told BuzzFeed News in a statement. "As a result we have seen an increase in bridal party suit purchases. Sales are up 10% in the first quarter in our suiting category."
But even if that shift away from tuxedos is happening, the rental business is clearly still healthy enough for startups to steal away business from incumbents, even if the company doesn't want to mention the emergence of new competitors when speaking with investors.
Justin Delaney, the CEO of Menguin, compared Men's Wearhouse's lack of acknowledgment on its earnings call last month to Procter & Gamble-owned Gillette's refusal to discuss the rapid growth of Dollar Shave Club and Harry's in recent years.
While Dollar Shave Club was growing to 2 million members and a recent valuation of $615 million, P&G blamed declines in shaving-related sales on men growing their beards out during "Movember." It started a new subscription service for blades called Gillette Shave Club just a few months later. Harry's, for its part, just raised a fresh round of financing at a $675 million valuation.
"Gillette was almost in denial about it, and I think we're seeing the same kind of thing here," Delaney said. "Bigger companies are reticent to admit they're losing share to a smaller startup. It's another version of the same song and dance."
"As guys' shaving and purchasing habits have changed, we have changed with them," a spokesperson for Gillette said in an email. "Gillette was one of the first brands to offer a subscription program through Amazon in 2007. Since then, we have made our razors and blades available through our retail partners, both online and in store, through a subscription service, and now through our own Gillette Shave Club."
It's not just in shaving where incumbents avoid discussing online threats. As BuzzFeed News pointed out earlier this year, only one of America's four biggest hotel operators had ever mentioned the word "Airbnb" on earnings calls as of early May. None of them have mentioned Airbnb as a competitor in New York when discussing their struggles in the city, even though it has become Airbnb's largest market.
As for online tux rentals, The Black Tux and Menguin contest the claim that there's a marked decline in traditional-style weddings, given the growth of their businesses.
"We don't see a decline obviously because there are big increases in people renting from us," said The Black Tux co-founder Andrew Blackmon.
The data on that point is mixed. Men's Wearhouse, on its earnings call, referenced numbers from research shop Demographic Intelligence showing weddings have been on a slow decline since 2008 and will continue to contract through 2016. The firm predicted in May that the marriage rate in the U.S. will fall to 6.7 marriages per 1,000 residents in 2016 from 7.09 per 1,000 in 2008.
Government data from the CDC shows that the marriage rate has been pretty stable. In 2009, there were about 6.8 marriages per 1,000 people — a number that was unchanged through 2012, the latest year for which data is available.
Beyond that, Men's Wearhouse's overall revenue from tuxedo rental services has climbed every year since 2008, from about $330 million in the year ended Jan. 31, 2009, to $443 million in its latest annual filing.
Business could also get a boost in the wake of the Supreme Court's recent ruling that states can no longer ban same-sex marriages.
Tux rental steps at Men's Wearhouse.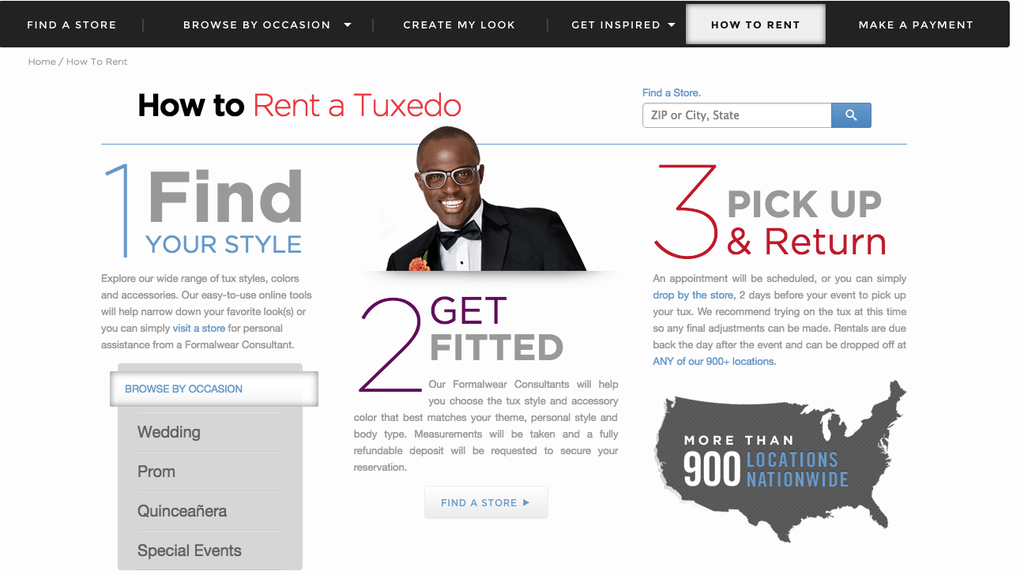 Both Delaney and Blackmon do agree with Men's Wearhouse that tastes have shifted away from the ultra-traditional. Men's Wearhouse CEO Doug Ewert said last month that more wedding groups are choosing to buy outfits rather than rent, partly because of a move toward more casual and destination weddings.
"You see a lot of weddings on a ranch or an outdoor setting," Blackmon, of The Black Tux, said. "Part of our merchandising plan is to have the right suits and tuxedos for things like that, so we carry things other people don't carry," he said, citing the website's "multiple versions" of a charcoal suit.
The Black Tux's website, which says its clothes are made of "extra-fine merino wool" from Italy, allows customers to choose from "Curated Looks" with aspirational names like "The Rat Pack Outfit," "The Hemingway Outfit," and "The Kennedy Outfit." Menguin takes a more international view on its website, with styles like "The Milan," "The Shanghai," and "The Madrid."
The offerings and site layouts are distinct from Men's Wearhouse's rental website, which divides its "Prestyled Looks" into three categories: "Modern," "Classic," and "Expressive." Prices there aren't easily viewable, and while users can build customizable outfits on the website, they have to make an account to save them or print them out with a rental form to bring to a store. The chain does offer a variety of brand names for rent, however, and exclusive collections from Vera Wang and Joseph Abboud.
Men's Wearhouse said last month that it plans to fight a downturn in the rental business by extending its service into 300 Macy's stores by the end of next year.
The partnership will help reach "millennial-age customers" in stores and through the chain's wedding registries, Ewert said. The company also hopes to connect with the younger generation with a new exclusive Kenneth Cole label that will donate some of its proceeds to a nonprofit that helps veterans transition into the private sector, he said.
To be clear, today's sales from The Black Tux, Menguin, and Combat Gent are drops in the bucket compared to the hundreds of millions that Men's Wearhouse's rental business currently commands. But startups that are adept at repackaging familiar products for twentysomethings at lower prices with less work have shown it can be a short road from scratches to full-blown punches.
Delaney and Blackmon both said that their core customers are men in their late twenties or early thirties, though they also extend into proms and other special occasions.
Delaney, of Menguin, noted that Men's Wearhouse can't go fully online given that tuxedo rental traffic is a way to get people into its stores and then into the "Men's Wearhouse ecosystem" for purchases and rentals down the road.
Blackmon said that ultimately, convenience will become a deciding factor in the market. "The current model requires you to go to the store three times," he said, listing a fitting, pick-up, and drop-off.
Men's Wearhouse's deal with Macy's "shows they're committed to the offline," he said. "We're proof that they are online."