Wet Seal's store closure discussion script: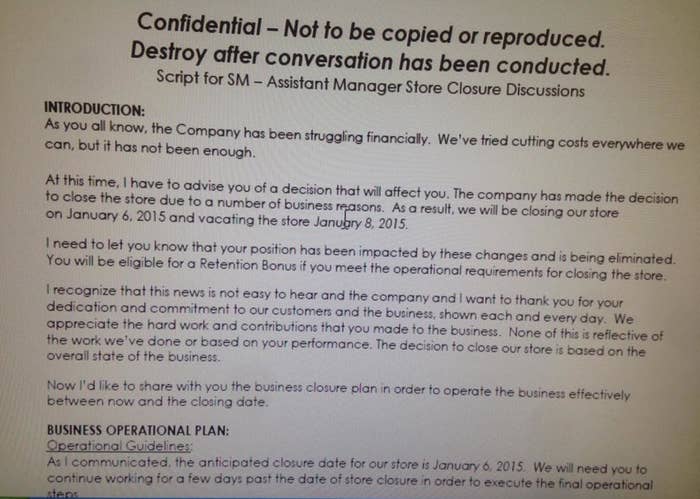 "I have to advise you of a decision that will affect you."
That's one of the first lines in the script used for laying off employees of teen retail chain Wet Seal this past weekend. "Affect" was putting it lightly, given the decision was to close at least 60 stores within a week, offering hundreds of part-time employees just a day's notice (managers got a few additional days) that they would be losing their jobs and, in many cases, their livelihood.
The document, obtained by BuzzFeed News and included in full below, illustrates the cold approach Wet Seal took to shuttering stores this month. The struggling retailer, which told investors in December that it planned to close 60 of its 528 stores by Jan. 31, waited until Friday to tell managers which stores would be closing after weeks of assuaging them that 80%-off discounts were normal, shipments were on their way, and the business was doing fine, according to BuzzFeed News interviews with staff.
The worst part: The stores would close just days later. Wet Seal is now at the center of a social media firestorm for ambushing its employees in a manner that former employees and customers have deemed unnecessary, disrespectful, and deeply misleading.
According to interviews and posts on Facebook and Instagram, store managers and assistant managers were instructed to dial into a 2:30 p.m. conference call on Friday, without any knowledge of what the call would be about. District managers delivered the news, and store personnel were left to inform associates they no longer had jobs. Some, including managers, are working into this week until the stores "vacate" — still less than seven days' notice. The script for telling employees was emailed out after the call, and started with: "As you all know, the company has been struggling financially. We've tried cutting costs everywhere we can, but it has not been enough." It included instructions on how to handle questions about severance — none — and a potential bankruptcy. "I recognize that this news is not easy to hear."
The company has not replied to requests for comment.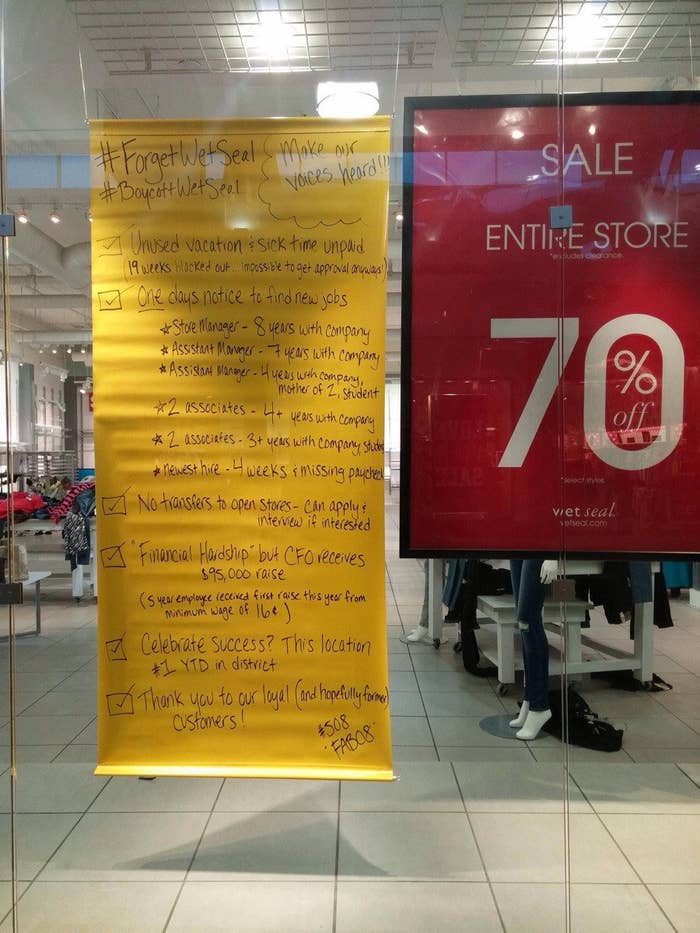 Employees were, understandably, stunned and deeply frustrated.
"We were seeing signs of 80% off and we knew we never did that in the store," said Tiffany Alston, a 23-year-old who worked part-time at a Wet Seal in Arlington, Virginia, for 16 months. After Wet Seal began offering such discounts in December, Alston's manager and an assistant manager asked their district head if the store was at risk of closing.
"Both times, the response was, 'No, it's just an awesome holiday sale, we're not closing, there are several locations going through the same sales and everything,'" she said. "So we said, 'OK, maybe she's right.'"
The closing stores, whose supplies of new merchandise tapered off in the past two weeks, have been emptied quickly. Alston said kids hanging out at the mall stole some of her store's mannequins on Friday; employees weren't able to catch them. Valentina, 20, who was laid off from a Wet Seal in Chino, California, said her store sold mannequins for $25 and tables for $50. She noted the company didn't provide boxes to send back leftover merchandise, so she and other part-time associates had to ask for spares from other mall stores and a nearby Walmart. Worse, two employees, who spoke on the condition of anonymity, said some stores received boxes and instructions for packing and mailing back IT items like cash registers before formally learning of the layoffs.
Wet Seal probably wasn't expecting the jarring nature of its layoffs to go viral. On Sunday, Redditor DevoidSauce posted a banner from a Wet Seal window in Seattle's Northgate Mall that criticized the chain. The sign, made by employees, displayed a litany of frustrations in the form of a checklist: unpaid and unused vacation and sick time, the abrupt notice for employees who'd spent as many as eight years at the company, the interim chief financial officer's new $95,000 raise (disclosed, regretfully, in a regulatory filing the same day the closures were announced). The sign also noted the store's No. 1 sales status in the district and gave thanks to customers.
Employees have posted similar signs in Wet Seal windows at other malls. The images and reprimands to Wet Seal have flooded the company's Instagram and Facebook pages and are showing up on Twitter with hashtags such as #ClubWetSeal, #BoycottWetSeal and #ForgetWetSeal.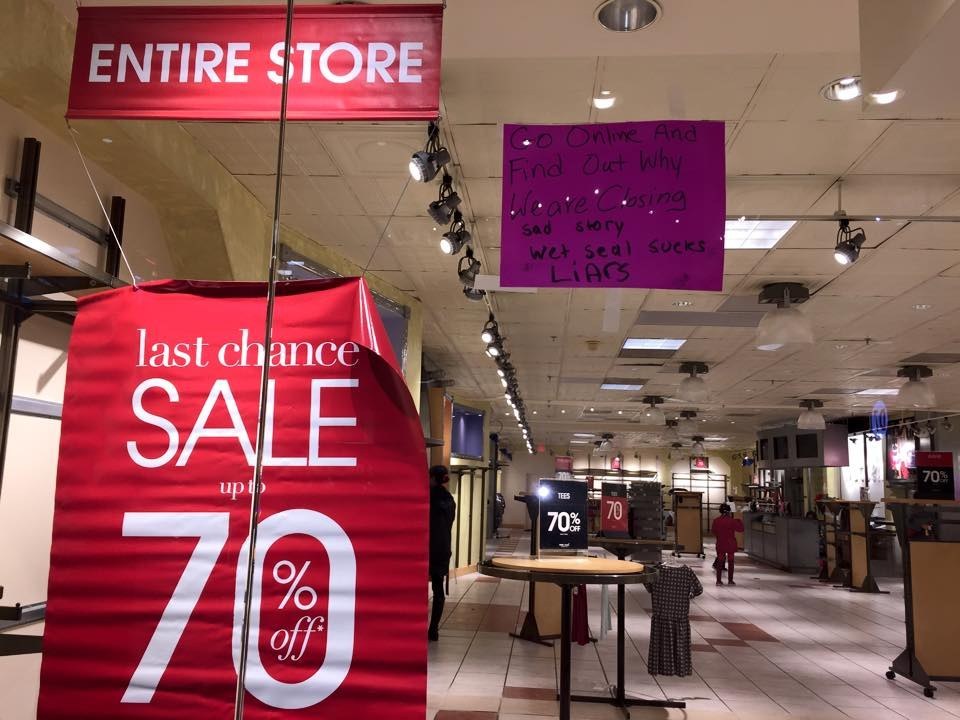 Tyra Norwood, 20, helped put up a poster at the Ballston Common Mall in Arlington, Virginia, the same one Alston works at, that reads: "Go online and find out why we are closing. Sad story. Wet Seal sucks. Liars." She said she worked at the store for roughly 15 to 20 hours a week beginning 9 or 10 months ago.
"I was trying to Google it because I was wondering why we were having all these huge sales — people kept asking us if we were closing, and I said, 'No, we're just getting ready for new inventory,'" she said in an interview. "There was never an announcement to the whole store. When they had their conference call, that was the announcement, basically, but there was no warning."
Working at Wet Seal was a second job for a number of her colleagues, Norwood said. Valentina, who worked between 9 and 15 hours a week, said the job was her main source of income. She's tried applying for other retail jobs "left and right," but given chains just staffed up for the holiday season, it's tough going. A part-time assistant manager in Missouri who spoke on the condition of anonymity told me she supported herself and her young son through her Wet Seal job. Her store also discovered the layoffs ahead of time through a FedEx delivery of boxes and packing instructions that were meant to arrive on Monday, she said.
Transfers weren't an option, either. Although Wet Seal said it would close 60 locations, it may have shuttered even more. Laid-off employees "may apply for future positions at other store locations," according to the firing script given to managers, though that comes without guarantees. For some, like Veronica Bohrer, that's not possible anyway given the Wet Seal she worked at is in Bismarck, North Dakota.
Bohrer, 22, typically worked 20 hours a week, though that sometimes stretched to 30. She said heavy discounts compelled her managers to ask about closures once a week in December, but their bosses reassured them the store would be fine. (Store managers didn't know, and it's unclear if district managers did. All the employees believe staff in the corporate office knew in advance, though Wet Seal will not return messages to its CFO and external PR firm addressing these concerns.) She initially learned of the layoffs when another store called to ask if their store received "the box." Bohrer is an art student and is concerned about finding another job to cover her bills.
"I'm just hoping I can make it in time — the short notice thing has made me feel very uneasy, because I do have bills to pay," she said in an interview. "I'm also in the military so that's one thing I can fall back on right now, but it's not enough to pay all my bills." She added that's two to three day drills per month for the Army National Guard.
Those who worked after being notified of closures up to the store's "vacate date" were offered "retention" bonuses of $150 for assistant managers and $300 for managers, according to a separate document sent to BuzzFeed News.
It's unclear what awaits Wet Seal, a hot '90s and early 2000s retailer that has struggled to appeal to its target customer in recent years. The stock continues to trade for pennies on the dollar, and the possibility of a bankruptcy looms. In the layoff script, the correct response for an inquiry about bankruptcy is to acknowledge the company has said it's a consideration, followed by "I'm not permitted to discuss anything further on that topic."
When the company announced its CFO's nearly $100,000 raise on Jan. 2, it also said Wet Seal defaulted on an interest payment on senior convertible notes due on Dec. 31. It's clearly in serious danger financially, and its actions regarding layoffs have seemingly incited the wrath of consumers as well as former employees, which could very well affect sales.
In the closing script, Wet Seal assistant managers were told to inform employees: "I understand that you may need some time to process this information and that you may have additional questions. I will be available to address any issues you may have. In addition, Human Resources will also be available to answer your questions. We are all here to support you during this transitional period."
Employees spoke fondly of their store colleagues. One said she overheard her boss crying after the conference call. Another said she was furious she didn't get a chance to say good-bye to a group that had become "like a family."
"They should have given us a warning, like two weeks' notice — I don't know how they can give us a day's warning," Valentina said. "Corporate wasn't telling us anything … we wanted answers but nobody would give us answers."
Part 2 of Wet Seal termination script: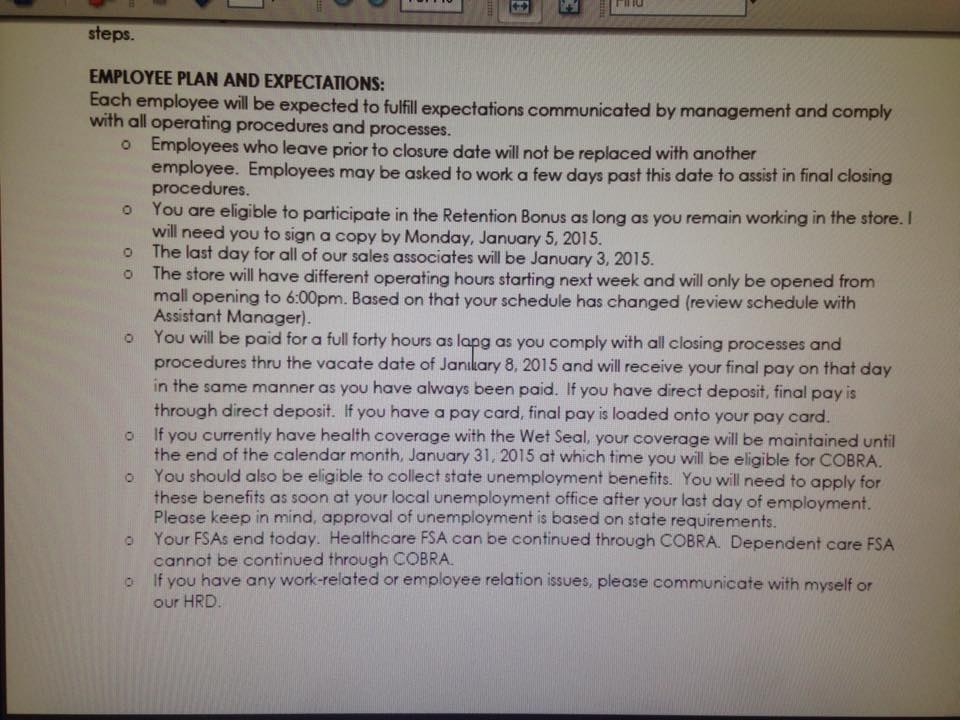 Part 3 of Wet Seal termination script: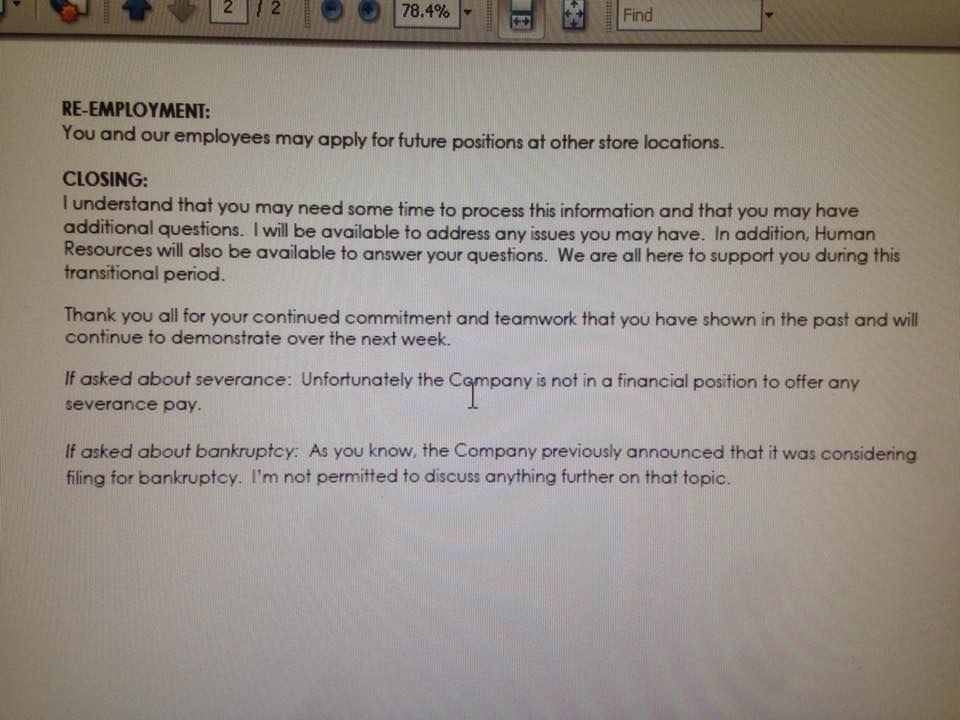 FAQ for Wet Seal store closures: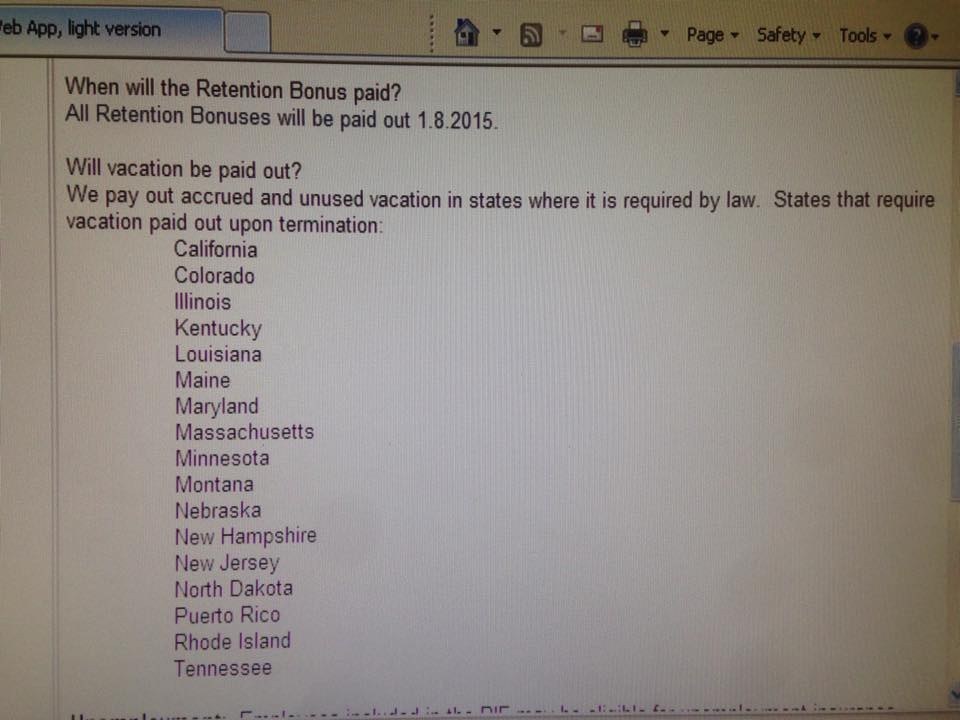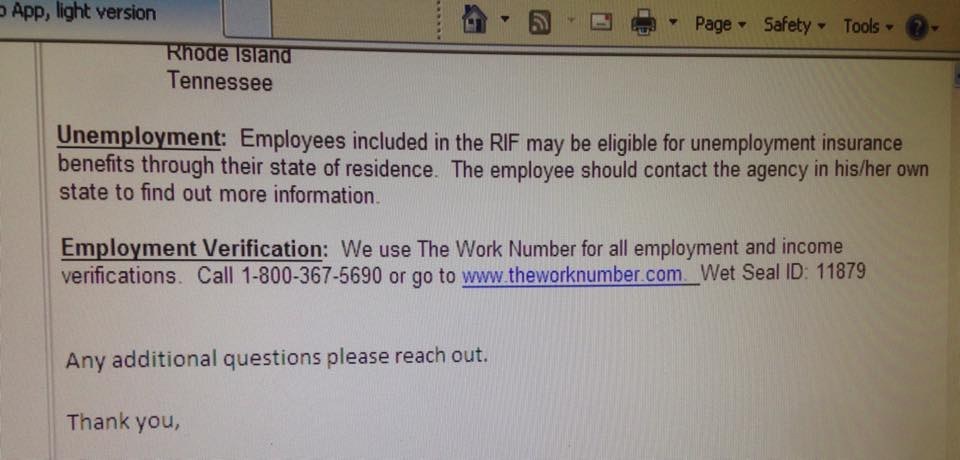 Management "retention program":