NYC Comptroller Criticizes U.S. Retailers' Bangladesh Safety Plan
John Liu, who oversees $140 billion in the New York City Pension Funds, is "disappointed" in U.S. retailers' plan to improve factory safety in Bangladesh. He says that instead of their own plan they should have joined the legally-binding Accord on Fire and Building Safety in Bangladesh.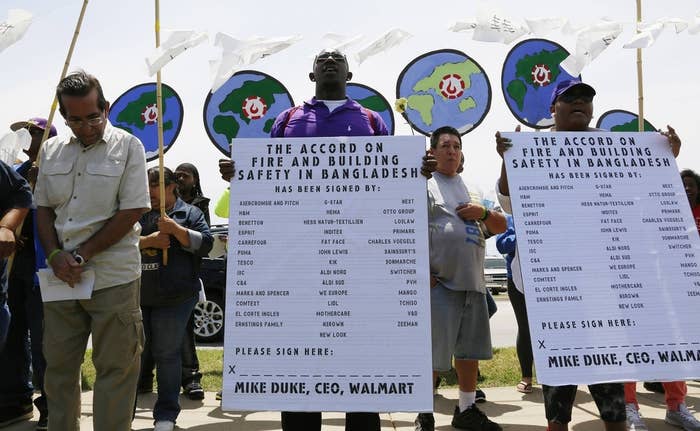 New York City Comptroller John Liu said the plan that 17 U.S. retailers reached Wednesday to improve safety at Bangladesh factories "appears to lack meaningful transparency and accountability" in a statement today.
Liu says that instead of announcing their own plan, the companies — which include Wal-Mart, Gap and Target — should have joined a legally-binding plan known as the Accord on Fire and Building Safety in Bangladesh that was announced Monday by 75 mostly European retailers. Abercrombie & Fitch, PVH and Sean John were the only American companies to sign that agreement.
U.S. retailers said they were worried about the legal and financial consequences of the other agreement. So instead of joining that one, they drew up their own plan for improving worker conditions at factories in Bangladesh, almost three months after the deadly collapse of the Rana Plaza garment factory killed more than 1,100 people.
"By competing with the binding Accord on Fire and Building Safety in Bangladesh, their plan risks diluting the effectiveness of a stronger, global effort to improve worker safety in Bangladesh's factories," Liu said in the statement. The comptroller, who has fashioned himself as an activist investor, wrote letters to Gap and Target asking them to sign that agreement last month, calling the competing proposal "disingenuous and counterproductive."
In recent years, Liu has written to companies such as Wal-Mart and Dell asking them to offer more transparency around supplier relationships.
The U.S. retailers are "focused on the short-term cost and not the long-term risk," Michael Garland, executive director for corporate governance at the comptroller's office, said in a telephone interview. "There's little question it's cheaper in the short-term, the question is over the long-term, is it really in their best interest?"
Because the funds invest for years and don't make individual buy and sell decisions, conversation with companies and public statements are typically the best way to effect change, Garland said.
Liu wrote to Target and Gap before the Wednesday decision in hopes the company "would not move into the Wal-Mart basket and show some leadership in the U.S. on the accord," though it didn't work. While Garland said he's not ready to concede the window is closed on a better solution, he's "not hopfeul there will be a change of course."
Liu's position as NYC comptroller has itself been in the news in the last week, after former Governor of New York and Attorney General Eliot Spitzer announced that he planned to compete in the upcoming election for the office. Should he win, it would mark Spitzer's return to politics after a spectacular downfall resulting from a prostitution scandal.
Update - July 11, 4:30 p.m., EDT: This post was updated to include quotes from Michael Garland, executive director for corporate governance at the comptroller's office.