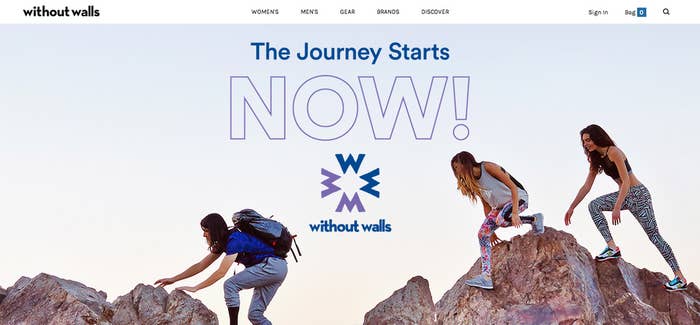 On Monday, Urban Outfitters introduced Without Walls, its new fitness and outdoors brand, and a lot of its merchandise is what you might expect to see out of the pricey hipster apparel chain.
In addition to $48 workout tanks and Patagonia and The North Face gear, Without Walls is also selling $124 Columbia ponchos, $88 "performance rompers" (that is, onesies), and $68 "jogger pants." Its camping gear runs the gamut from $699 tents to $38 cups. The website also carries $84 yoga mats.
Urban sent customers an email yesterday introducing the brand, saying, "Without Walls is a community of adventure seekers — fitness enthusiasts, surfers, runners, and trail-blazers of all kinds — who play hard and live for the journey." The brand, which Urban started hatching months ago, is available in a handful of Urban Outfitters stores and online, where shoppers can view merchandise by activity: fitness, cycle, surf and trail.
Urban Outfitters, which also owns Anthropologie, Free People, Terrain, and BHLDN, has been looking to drum up sales at its namesake brand, which Chief Executive Officer Richard Hayne acknowledged has been performing more weakly than usual. The past year has been tough for all chains targeting teens and young twentysomethings.
"We believe 'Without Walls' fits nicely into the URBN portfolio of brands as the company previously had very little exposure to active apparel," Adrienne Tennant, a retail analyst at Janney Montgomery Scott, said in a note today. "In our opinion, the active apparel featured on the website is highly differentiated and embodies the URBN 'eccentric and quirky' lifestyle."
Without Walls may already be hitting its target demographic — as of publishing time, there was only one $250 Brooks "Pickwick Backpack" left.