Nearly Half Of All Americans Will Buy Fireworks For The Fourth Of July
It's almost the Fourth of July, and that means fireworks. Some figures on the nearly $1 billion fireworks industry.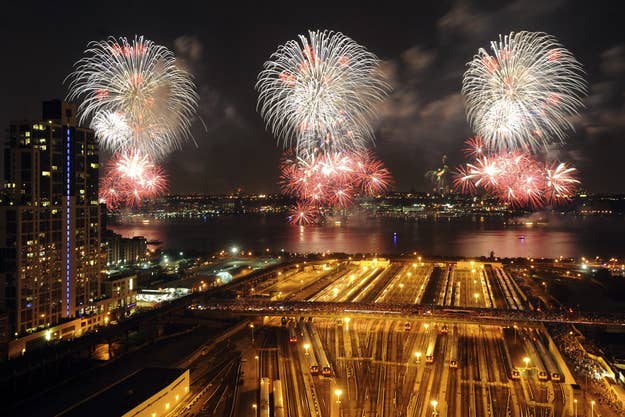 The Fourth of July means patriotism, hot dogs, watermelon, American brews... and, of course, fireworks. Everywhere! Sparklers. Fountains. Big sky ones you could never launch yourself. And according to a recent survey by Visa, more than 40% of Americans are planning to spend money on fireworks this year, shelling out an average of $28 each.
It's an, ahem, booming business considering the limited occasions on which people make such purchases: The United States fireworks industry brought in $965 million in sales last year, mostly from individual consumers rather than those bought for large display shows, according to the American Pyrotechnics Association, an industry trade group. However, last year was a difficult one, with consumption slipping to 208 million pounds from 234 million pounds. That's in part because record droughts led to the worst Fourth of July sales retail-wise in probably three decades, according Julie Heckman, executive director of the Bethesda, Maryland-based APA.
"The buzz, if you will, from the retail side is it's going to be a really good season," Heckman said in a telephone interview. "Most of the country except for pockets out West are drought-free, sales last weekend were off to a really great start, and retailers are anticipating a banner year."
The only four states that completely prohibit consumer fireworks are Delaware, Massachusetts, New York, and New Jersey, the APA says.
Not surprisingly, the most enthusiastic consumers of fireworks are young people, the Visa survey showed: 18- to 24-year-olds plan to spend double the national average on fireworks at $70, while that figure drops to $13 for those 65 and older. Southerners and Midwesterners plan to spend $35 and $36, respectively, on fireworks, twice as much as people in the Northeast and out West. And men plan to spend twice as much as women.
Pyrotechnic payments also vary across income brackets: Those making $30,000 to $39,900 a year said they would spend $38 each on fireworks, compared with $20 from those in the $40,000 to $49,900 bracket, and $34 each among those making $50,000 and more a year, according to Visa.
Nearly three-fourths of those 65 and older planned to spend nothing on fireworks.
Overall, Americans plan to spend $300 each on the Independence Day weekend, up from $190 last year, according to the Visa survey.
The New York show sponsored by Macy's Inc. is the biggest Fourth of July display, though it's difficult to determine what the year's largest is, said Heckman, who has worked with the APA for about 25 years.
"Is it the number of fireworks fired off? Is it the number of barges or multiple viewing sites? Or is it the length of the show?" she said. "It's a toughie."

Graphic by John Gara based on Visa survey data