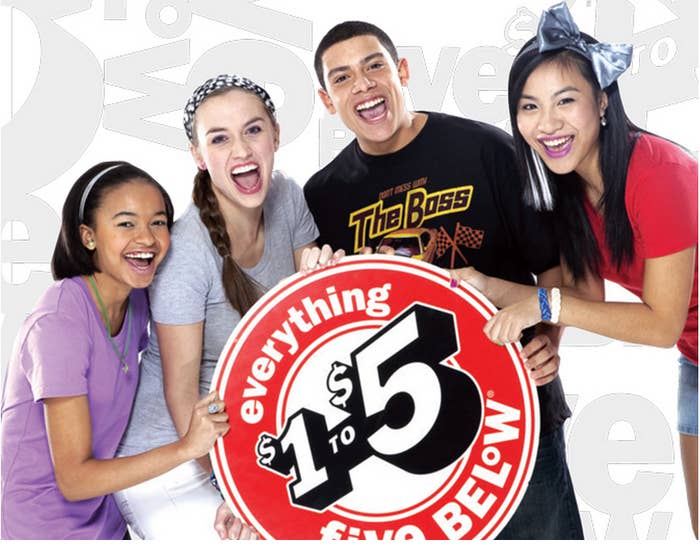 Five Below likes a dramatic entrance. When the chain broke ground in Houston this June, it threw open eight stores in a single day, advertising 5-cent hot dogs and giving away multiple $100 shopping sprees and free T-shirts — a tradition of its opening days.
And there have been plenty of openings. CEO and co-founder Tom Vellios has been taking his colorful stores to dozens of new communities each year, offering a simple pitch: Everything costs less than $5. From iPhone covers to candy and indoor play sand, it's all targeted to teens and tweens, and sales are booming.
The chain pulled in $535 million in sales last year, up from just $89.5 million five years earlier, and will end 2014 with 366 stores, compared with just 82 in 2008. It's the fastest-growing teen retailer or value retailer in the U.S. by store count and revenue, according to eMarketer data, and there are no plans to slow down. Five Below envisions reaching more than 2,000 stores in the next 20 years, an estimate Credit Suisse analysts deemed "conservative," hoping for as many as 3,000 instead. To get a sense of that number, Toys "R" Us has roughly 870 stores in the U.S.; Target has about 1,800.
In an era in which retailers are obsessed with bridging the gap between online and offline — peppering conference calls and presentations with the word "omnichannel" – Vellios is taking a more old-school approach, inspired by his own love of the five-and-dime stores that abounded when he moved from Greece to Brooklyn as a young man. (The 5-cent hot dogs derive from a sign that Vellios once saw on Coney Island.) The internet, so far, has little role to play in the company's success.
"There is some type of an online play that will complement our bricks-and-mortar business, but we're not in a hurry," Vellios told BuzzFeed News in a rare interview. Right now, the business is 100% reliant on store visits.
Vellios has a knack for supplying the stuff of rabid, momentary teenage fads — his last big gig before Five Below was leading Zany Brainy, an educational-based toy store that made its name supplying kids with temporarily in-vogue products like Pokémon cards and Beanie Babies. At Five Below, hopping on emerging trends rapidly is essential; colorful rubber bands, for example, lifted the entire company's comparable sales in last year's third quarter during the Rainbow Loom craze.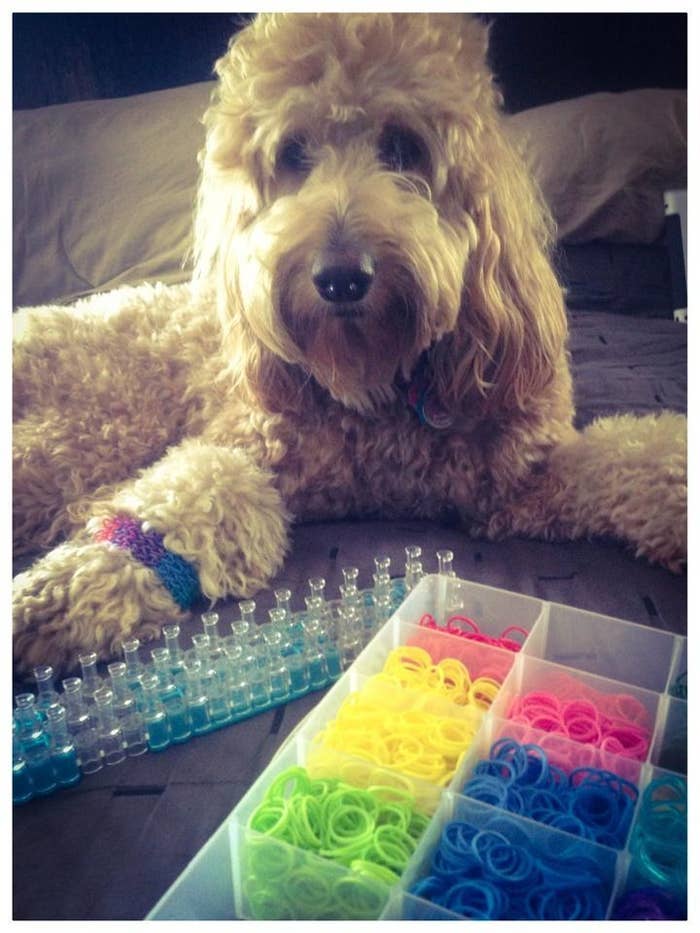 "Our goal is not to be first to identify a trend — we have the ability to be a very fast second," Vellios said. "We take discretionary product and through our editing process, with the right quality and right trend and color, enable our customer to really want to come into our stores. It's the trend-right approach."
Indeed, Five Below's business is starkly different from Dollar Tree and Dollar General, which have been prominent in the news as the two dollar stores fight over who will acquire their rival Family Dollar. While all three discount chains have different pricing strategies — only Dollar Tree sells everything for a dollar or less — they all target low-income America with cutthroat prices on junk food and consumer staples like detergent and toilet paper. Five Below, according to filings, says its target market is the 60 million Americans aged 5 to 19, who are estimated to account for at least $250 billion in annual spending.
The goal behind creating Five Below in 2002 was to "make a place for kids, a place that I could go in with my allowance money and be able to afford everything in the store," Vellios said. "We saw saw the traction dollar stores were getting at the time."
Few retailers are expanding at Five Below's pace, given the rise of e-commerce and concerns around shopper foot traffic. Dollar stores, however, have fared well compared with the rest of the industry in the past decade, as incomes stagnated for most Americans amid an economic crisis and sluggish recovery.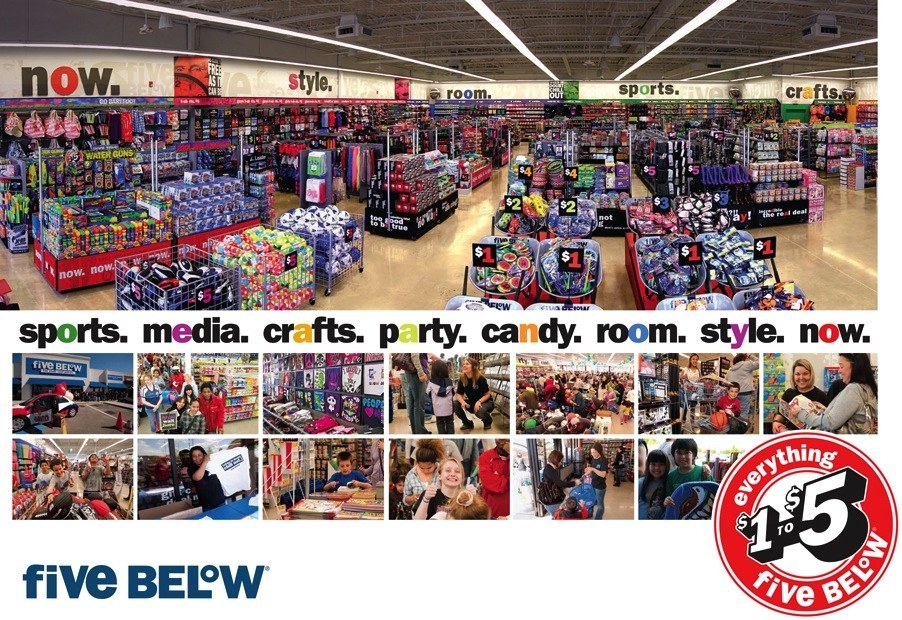 Five Below is like a cheaper strip-mall version of Spencer's Gifts and Claire's, with stores that measure 7,500 square feet on average. (That's in the ballpark of a typical Apple store or Gap.) The company doesn't carry necessities, saying the kids that make up its target market already have the "vast majority" of their basic needs met. Its products are divided into eight "category worlds": sports, media, crafts, party, candy, room, style, and now, or seasonal.
"The products they sell are highly discretionary, valued in the teen market, and they succeed based on turning merchandise very rapidly," says Jerry Storch, CEO of consultancy Storch Advisors, and the former CEO of Toys "R" Us.
Storch, a former vice chairman of Target, credits Vellios for the chain's success, adding that the executive himself "is a kid at heart." The company is "reflective of the personality and the skill set of the management," he said.
Vellios co-founded Five Below with David Schlessinger, who was the brains behind Zany Brainy. While Zany Brainy was a success for years, it ended up filing for bankruptcy in 2001 after expanding too quickly and facing declining sales that it blamed, in part, on the "absence of a hot product."
That, of course, seems like a troubling precursor given Five Below's business model and rapid growth trajectory. In a 2003 press release announcing the launch of Five Below, Schlessinger said the two were different because Zany Brainy was "all about what you want to buy for your children." At Five Below, he said, the focus is different because it's "on what teens want to buy for themselves."
"Zany Brainy was a concept that was all about being a great resource for parents," Vellios explained. "As we watched our kids growing — we each had two boys — and the age compression around toys, Five Below was intended to be the next stage for kids. ... Zany Brainy would offer product that, at the time, was expensive, especially for that product. So this was really an opportunity to provide a foundation and a store that really became a store that every kid in America could afford."
That means playing Katy Perry and other cool tunes, exhibiting colorful signs and displays that encourage hands-on interaction, and putting out big bins of nail polish and oil drums filled with footballs and basketballs.
Still, Five Below is not without naysayers. Hedge fund Kerrisdale Capital is betting against the retailer, saying it's overvalued now even if it grows to 1,000 stores in the next 10 years.
Traditional dollar stores and places like Walmart "have an inventory of products that people need on a consistent basis, whereas Five sells products that are kind of just based on whether people want to buy them, and whether they're trendy," said Isaac Ahn, an analyst at Kerrisdale. The company's organic growth, as measured by same-store sales, is also shrinking, which is "troubling," he added.
While Five Below has managed to post 33 straight quarters of comparable store sales growth, which includes stores open at least a year or more, that dropped to 4% last year from 7.1% the prior year.
The biggest challenge for Five Below is meeting high market expectations, Morgan Stanley said, initiating its coverage of the company with the equivalent of a "hold" recommendation in June. Based on the trend-driven nature of the business, the company's stock is volatile. While it's more than doubled since its July 2012 IPO, it's fallen roughly 18% in the past year.
Vellios admits that teenagers are "a somewhat fickle customer," but believes that Five Below suits their needs, especially with the "constant change" and need to reinvent themselves.
"That's what this audience is looking for — look at yourself, how often do you get bored with stuff?" he asked. "And you don't want to spend a lot if you're getting bored with product often and frequently want to change it out. So, value is a good place."
"Our approach is if we stay true to our customers and do the right thing for them and continue to get the traction we have, and customers continue to frequent our stores the way they have and traffic increases the way it has to date. ... If we continue to do that, our shareholders in the long-term will do just fine."