Mattel Trolling "Society At Large," Not Girls, With Barbie's Sports Illustrated Swimsuit Debut
People are wondering why Mattel paid for Barbie to appear in Sports Illustrated's swimsuit issue this month. The brand was just trying to get the grown-ups talking and it worked.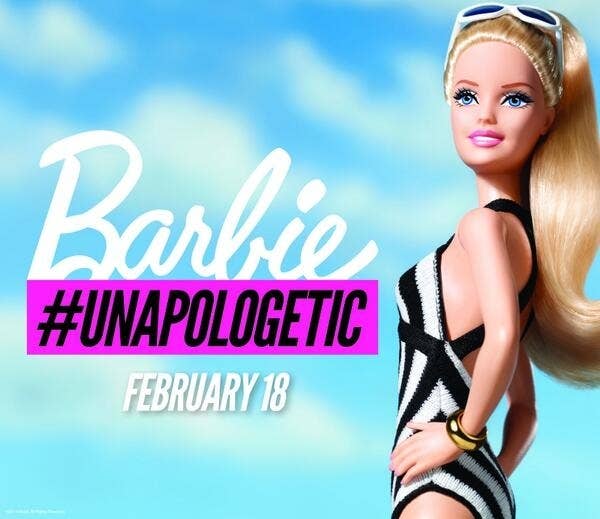 Barbie, with her blonde hair, blue eyes and disproportionately lithe figure, has been pilloried for years for setting unrealistic body image expectations for young girls. So, of course, Mattel caused a stir this week when it said it was paying for Barbie to appear in Sports Illustrated's 50th-anniversary swimsuit issue.
"The pairing is perfect almost to the point of parody," The Verge said. Shape dubbed it a "direct and totally inappropriate correlation between sex and little girls' toys" and CBS, too, wondered about "the mismatch between a child's toy and a magazine issue geared to adult men."
The main refrain has been: What message does this send to the 3- to 7-year-olds who make up most of Barbie's audience? (Mattel's CEO said, after all, in October that Barbie "continues to be the most popular way for girls to dream and to imagine what it's like to be a grown-up.") But Mattel says those young girls will never see it.
"This is a conversation meant for society at large, it's not meant for girls," Michelle Chidoni, a spokeswoman for Mattel, said in a telephone interview with BuzzFeed.
"When our girls go online, they go to Barbie.com, they go to our YouTube channel, and there's nothing of this program or content around this. This lives in an adult community, it lives on our social channels that are adult-facing, a lot of it lives on Sports Illustrated — it is very much segmented."
"The brand has two fundamentally different audiences," she said.
Sports Illustrated said in a 2012 press kit that the swimsuit issue has 62 million readers with a median age of 36; 71% are men. While that's still a significant amount of women, they're not the core audience. Mattel says it wanted Barbie to appear among the models in the 50th anniversary issue because of the "Legends" theme. It features women like Tyra Banks and Heidi Klum who began successful careers in a swimsuit — just like Barbie in 1959, prior to her 150-odd careers, according to Mattel. The campaign is tied to the hashtag "#unapologetic," as a rebuke to the "constant criticism" Barbie and the other models face for their appearance, offering them "an opportunity to celebrate who they are, what they have done," Mattel says.
Mattel is trying to paint Barbie as a defiant individual in the face of a societal backlash — or the "Miley approach" — which is appealing to young people right now, says Jamie Gutfreund, chief strategy officer of the Intelligence Group, a consumer insights company.
Other publications owned by Time Inc., which owns Sports Illustrated, wrote pro-Barbie pieces before the announcement. Time wrote a blog post about the campaign on Feb. 5, calling Barbie "the most feminist doll around." The doll "has worked every second of every day since she was invented in 1959, and she's broken more glass ceilings than Sheryl Sandberg," the author wrote. People ran an "interview" with Barbie, quoting the doll as saying: "These women exemplify that you can be both capable and captivating."
Of course, Mattel does run the risk of alienating parents with its campaign. But the brand's not exactly on a tear, anyway.
Sales of Barbie dropped in the double digits during the holiday season and 6% for the year, mostly because Mattel couldn't sell enough of the dolls. (It also saw a decline in 2012.) The company has recently gotten more traction with its ghoulish Monster High dolls, introduced in 2010, the American Girl collection, and its new Ever After High franchise, which are all centered around individualistic stories, though Barbie remains its "premier foundational brand." Analysts estimate Barbie makes $1.3 billion a year in sales.
Mattel is posting video clips of the "photo shoot" online and selling a Sports Illustrated Barbie at Target.com that is "for the adult collector."
Update - Feb. 13, 10:15 p.m., ET: This update added more information about the campaign in the last paragraph.