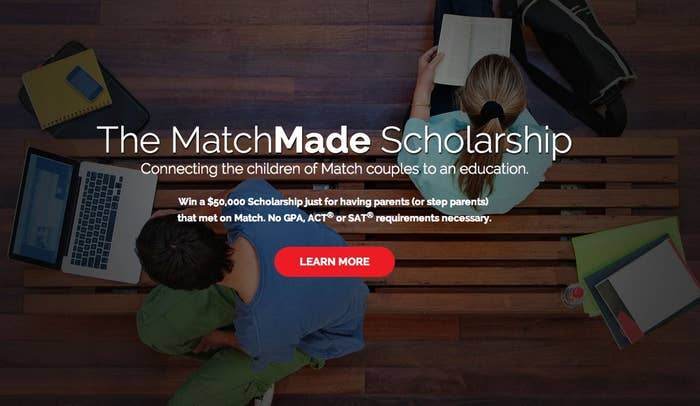 This must be some kind of milestone in online dating: There are now more than 1 million people in the world whose parents met on Match.com. So the website is giving a $50,000 scholarship to one of them.
Match is asking the children of "#MatchMade" couples to submit short videos in the next two months describing their parents' love story, including the 18-year-old website's role. Making the contest even more internet, the general public will choose the best of 10 finalists through Facebook and Twitter. Match CEO Sam Yagan says the pool of potential applicants could number 100,000, as it's open to all U.S. 13- to 20-year-olds whose parents or stepparents met through the website.
Yagan, who co-founded OkCupid in 2003, says he had "kind of a life-changing moment" about nine months after creating that website, when a user emailed in a thank-you note with a picture attached saying, "I just had this OkBaby, thanks so much for introducing me to this guy.'"
"I'm a math guy, I don't get emotional about things, but I remember actually pausing and saying, 'Holy shit, the stuff we do is really important,'" he said in an interview. "Because let's be real — the thing about dating is if there weren't online dating sites, people would find other ways to meet and get married. But those specific humans are only the result of a specific pair we put together ... those million babies literally wouldn't exist."
Indeed, an ad for the contest ends with the phrase: "Babies come from Match.com." (Match's owner, IAC, bought OkCupid in 2011.)
While it's mind-boggling that a million people might owe their existence to Match.com, the contest also speaks to how socially acceptable it is now to have found your spouse online, versus say, 15 years ago.
IAC has consciously worked to remove the stigma from finding love online by offering free services like OkCupid and Tinder. The company estimates about half of Americans are comfortable with online dating, and that's growing all the time. (Match, which is not free, brought in almost $800 million of IAC's roughly $3 billion in revenue last year.)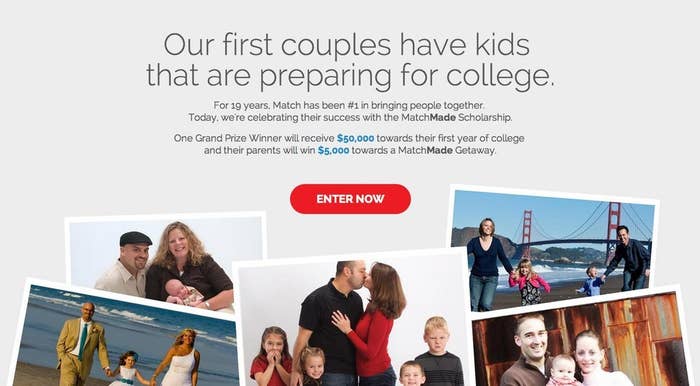 Couples were probably a little shier to admit they met on Match.com when the website launched 18 years ago, Yagan said. "They were making up stories: 'We met at the park,' or a conference. Now people are pretty open about it. I hope this will encourage kids all around the country to ask, 'How did you meet?' People should know that about their parents and talk about their love story."
Yagan anticipates that eventually, half of all marriages will start online, from one in three today. Given that Match commands at least 20% of the online dating market, "it'll get to the point that 10% of all high school students will be Match babies," he said.
Match hopes to offer the scholarship annually, which comes with a $5,000 vacation award for the parents who made it all possible. Notably, the scholarship doesn't consider test scores or grades.
"If your parents were smart enough to choose to meet on Match, then you're smart enough to get a MatchMade scholarship," Yagan said.