Mall Industry Hires PR Firm To Fight "Death Of The Mall" Narrative
The International Council of Shopping Centers is pushing back against stories about how malls are dying. Its claim? The "New York-centric media" doesn't understand the way America shops.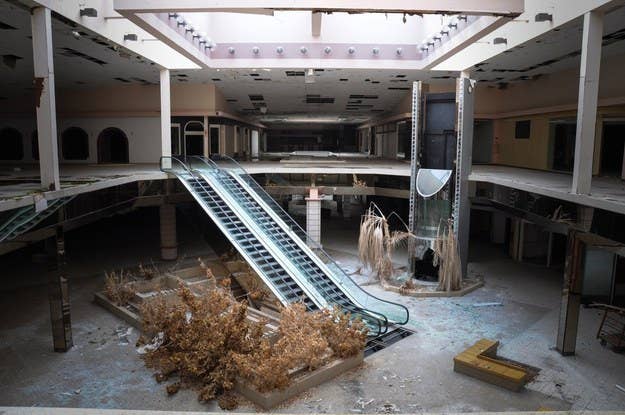 For more than a decade, the American shopping mall has been defined in large part by tales of its demise — images of weeds growing amid abandoned food courts, and media coverage predicting the mall's inevitable decline at the hands of big box supercenters, e-commerce, boutiques, and outlets.
Now, the mall is fighting back. The shopping center industry's main trade group says the mall is alive and well, and has hired a public relations firm to help it combat the persistent narrative that its death is approaching.
The International Council of Shopping Centers, or ICSC, has more than 65,000 members, including the biggest U.S. mall owners like Simon Property and General Growth Properties. The group started working with PR firm Burson-Marsteller in August on a "media relations campaign" designed to communicate the health of the mall industry, ICSC spokesman Jesse Tron told BuzzFeed News. It's especially frustrated with stories that say the web is killing malls, he said.
Shopping center owners have been angry with media coverage of their industry. In June, David Simon, CEO of America's biggest shopping mall owner, complained: "It's confounding to me ... the New York-centric media need to be negative on the mall industry. I mean, I don't know if it's like a drug they take — they just feel like they have to shit all over the mall every time I listen to the TV or read the newspaper."
The industry is certainly facing serious challenges. Vacancy rates are high, averaging above 8% at regional malls, reported the Wall Street Journal, citing data from Reis Inc. The ICSC's own data shows that sales per square foot at U.S. malls grew only 2.6% last year, which represents the slowest pace since 2009, the newspaper noted. Overall U.S. retail sales grew by 4.2% in 2013, according to retail research firm eMarketer.
Even if sales per square foot at malls are still growing, the industry's demise remains a popular theme. A quick Google search for "death of the mall" yields plenty of reports outlining the doom of the industry, all in well-regarded publications. The Guardian wrote in June about "The Death of the American Mall." The New Yorker asked "Are Malls Over?" CBS went with "A dying breed: The American shopping mall." Bloomberg's take: "Millennials Shunning Malls Speeds Web Shopping Revolution."
Beyond that, the internet is enthralled with images of dead or abandoned malls, which have become their own genre of viral image. There's a website called DeadMalls.com and a Facebook group called "Dead Malls Enthusiasts."
Tron says the industry is mostly frustrated with the idea that online sales are killing brick-and-mortar sales, pointing out that it remains less than 10% of all retail purchases. Shopping center owners like to recall a Time magazine cover from August 1998 headlined "Kiss Your Mall Goodbye" to make the point the argument is old and has yet to come to fruition, he added.
It's clear, of course, that certain malls are on the way out or struggling, particularly as major tenants like J.C. Penney and Sears shutter their worst locations. And retailers are working hard to ramp up on the web — for its new CEO, Gap picked the head of its digital operations.
Tron contends that reporters don't incorporate enough about demographic trends into stories and fail to speak with average, suburban-dwelling mallgoers.
The shopping mall industry is relying on ICSC, and Burson-Marsteller in turn, to be its voice. Tron said ICSC is also conducting more consumer surveys on how people shop, which it's distributing to the media.
"It's really about changing the narrative," he said. "We just want a seat at the table."
Contact Sapna Maheshwari at sapna.m@buzzfeed.com.