Magic: The Gathering Still Thriving Outside High School Cafeterias
Magic is booming in the digital age, scooping up new fans and hundreds of millions in revenue for Hasbro.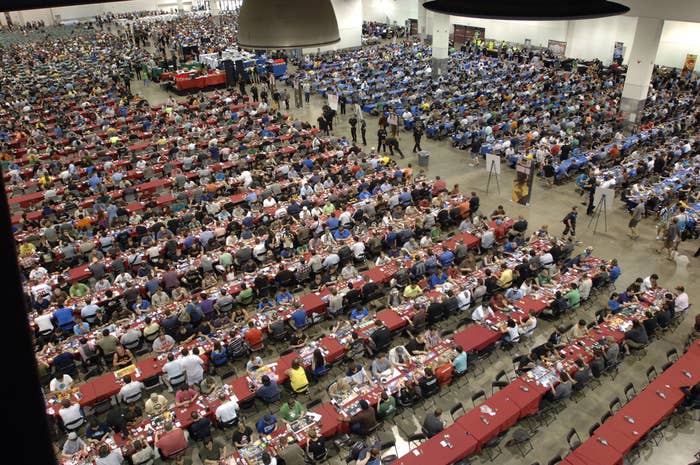 Hasbro, the maker of toys from G.I. Joe to Jenga, has been crushing it lately with booming growth in a game it purchased way back in 1999: Magic: The Gathering, once known in high school cafeterias simply as Magic cards.
The company said on Monday that its games unit, which includes Magic, Monopoly, and Twister, among others, reported a 19% sales gain in the second quarter, helping make up for a plummet in boys' toys. Hasbro executives say Magic is the biggest brand in its $1.2 billion games portfolio, without drilling into specifics, and said in its annual report that 2012 marked Magic's fourth straight year growing revenue by 25% or more.
It's a phenomenal performance for a game turning 20 years old this year, and much of that is thanks to Hasbro subsidiary Wizards of the Coast's ability to successfully take Magic from a physical trading card game into the digital world since 2008, reviving years of relatively flat sales. Wizards of the Coast, which is also behind Dungeons & Dragons and the Duel Masters franchise, may make $445 million in sales this year, estimates Sean McGowan, an analyst at Needham & Co. Hasbro bought Wizards in 1999.
"Magic is the ultimate strategy game, but the reality is our fans aren't playing a game; we say they joined a community," Greg Leeds, president and chief executive officer of Wizards of the Coast, said in a telephone interview with BuzzFeed. He says there are 12 million players and fans worldwide, and 3.3 million active players. About 12,000 unique cards have been created since the game's inception, he said.
Hasbro refers to the Magic card player as a "hardcore hobby gaming consumer," who it engages through games on virtually all operating systems as well as real-life tournaments in hobby shops. The impending 2013 Magic World Championship is in Amsterdam with a $40,000 first place prize, and there's a long list of other tournaments online.
"Every week, somewhere in the world we run either a Pro Tour or what we call a Grand Prix event," Leeds said, noting that a Las Vegas event two weeks ago attracted a record 4,500 people. "Magic: The Gathering has done a good job integrating the digital experiences consumers are expecting and the face-to-face experiences humans will always desire. Any brand that can put those two together will do well."
Wizards of the Coast runs about 50 large competitions a year and 5,500 hobby shops around the world hold even more, he said.
The subsidiary also keeps interest in Magic hot by introducing a series of major card sets each year with "great new characters and great new stories," driving both sales and event attendance, Hasbro Chief Marketing Officer John Frascotti said in February. The company offers an introductory, somewhat stripped-down version of the more advanced Magic Online game called Duels of the Planeswalkers, which gets beginners or stale players involved. The iPad version of Duels was ranked the No. 3 digital game on the iPad last year according to Metacritic, Leeds noted.
Magic is ultra-popular with both collectors and fantasy fans who have multiple subreddits devoted to creating card art, tournaments, AMAs with judges, and more.
Ultimately, Magic: the Gathering is competing against all other forms of entertainment and leisure, and the emphasis on amping up its entertainment value has helped drive the growth, Leeds says.
"We need to make sure when a fan is involved with Magic: The Gathering, it's better than anything else they could do in terms of their leisure time or money," he said. "Our demographic is the passionate gamer, the person who just loves to game, loves strategies, testing their intellect, and they love hanging around people who are just like them."