Macy's To Offer In-Home Tailoring Service From George Zimmer
The department store operator will start piloting an in-home (or in-office) tailoring service, run by Men's Wearhouse founder George Zimmer.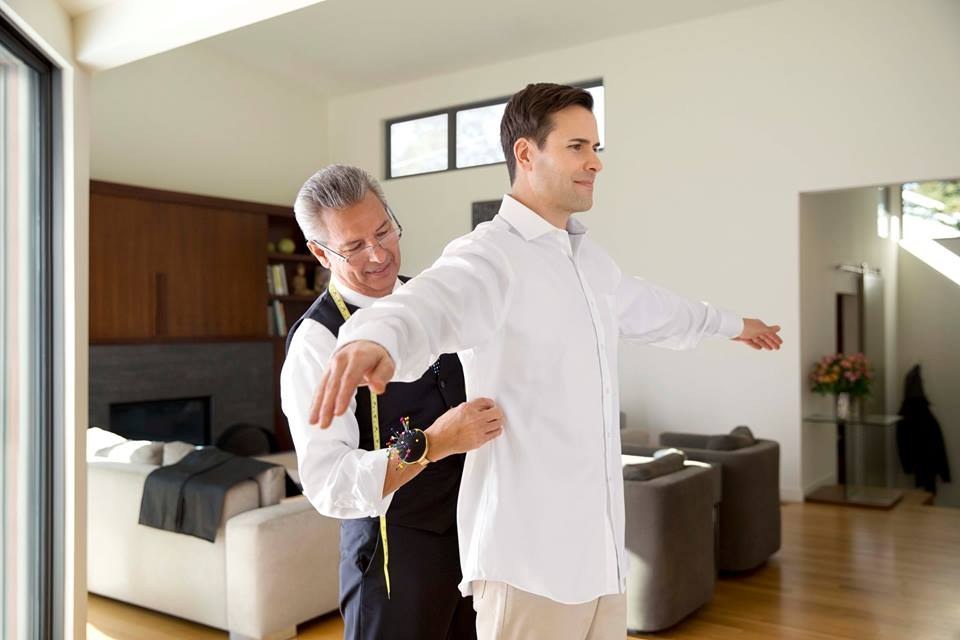 Here's one big way of getting the mall into your home: Macy's and Bloomingdale's are rolling out an in-home tailoring service for the clothes you buy online.
Macy's said it's partnering with zTailors, an on-demand tailoring service run by Men's Wearhouse founder George Zimmer, to offer in-home or in-office alterations on online purchases. The service is currently available on Macy's and Bloomingdale's websites in Los Angeles, and will roll out later this month to D.C., San Francisco, New York City, and San Diego, as well as Oregon and Florida, the company told BuzzFeed News.
It will be available nationwide by early fall and cost "similar" to in-store alterations at Macy's and Bloomingdale's.
"It's the Uber of tailors," Mike Robinson, the executive vice president of digital technology, customer experience, and site merchandising at Macys.com, said in an interview with BuzzFeed News earlier this year. "Extending the services you get in a store into the home is really an untapped space."
Major chains are looking for ways to cater to customers at their homes and at work, especially as shoppers make fewer trips to the mall and spend more money online. Best Buy's Geek Squad makes home visits for $50, while the Container Store offers $75-an-hour in-home consultations. Malls, too, are starting to provide same-day delivery in major markets, as customers continue demanding more convenience.
And Zimmer isn't the only former retail executive sensing opportunity at the intersection of e-commerce and real-world service. Ron Johnson, who ran Apple's retail stores and was J.C. Penney's CEO has launched a service that sells consumer electronics online, with delivery and installation by a team of experts included in the price.
In areas where the Macy's and zTailors service is available, customers can book a screened, certified tailor while buying a garment that might require alteration, including dresses, suits, dress shirts, blazers, coats, and jeans. Once the product is delivered, the tailor will go to a customer's home or office for a fitting, perform the alteration, and return the item within a week — any fixes after that are complimentary, the company said.
Macy's is zTailors's first retail partner and exclusive department store partner, meaning rivals who want to mimic the idea will have to find another provider. The service alone is available in multiple cities, charging alteration prices like $20 for shirt sleeves and at least $25 for hemming dresses, with free pickup and drop-off. According to the company's website, its tailors have at least five years of experience and earn 65% commission on each job, along with tips. The platform only accepts major credit cards for payment.
ZTailors was created last year by George Zimmer, the Men's Wearhouse founder who was fired as its executive chairman two years ago. The company said it's "empowering" tailors while providing affordable tailoring for the masses.
Zimmer was known for his signature line, "You're going to like the way you look. I guarantee it," in ads beginning in 1997. (His LinkedIn profile identifies his current occupation as "Business Warrior Monk.")
Robinson said the partnership with zTailors may be the first of other at-home services out of Macy's and Bloomingdale's.
"Do you extend that world completely to where the dressing room is your home, where the things are brought to you, you have a couple of hours to try things on, then somebody picks them up?" Robinson mused in the interview earlier this year. "I don't know if we'll ever get there, but again, the extension of the store into your home, and providing that service perspective along with the great product, is something we're going to take a long, hard look at."