Macy's Is Making Its Own Version Of T.J. Maxx And Nordstrom Rack
The "off-price" channel, home of discounted designer goods, is the place to be in retail. Macy's plans to pilot a new off-price chain as well as expand its Bloomingdale's outlet locations.
The success of T.J. Maxx and Nordstrom Rack is pulling Macy's into the off-price chain game — and highlighting the pervasiveness of outlet culture in America.
The department store company, which announced plans last month to explore a set of off-price stores, said yesterday that executives are working on a pilot of a T.J. Maxx-like chain, as noted by Fortune. Notably, TJX, which owns T.J. Maxx, Marshalls, and Home Goods, today reported annual sales that surpassed Macy's for the first time ever, underscoring the strength of its treasure-hunting business model.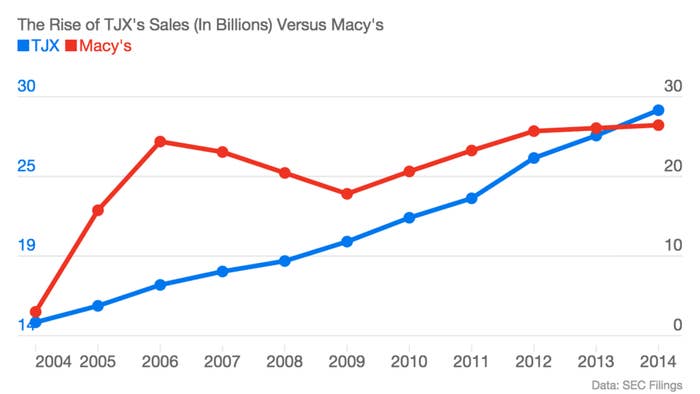 The Macy's off-price chain will differ from Bloomingdale's outlets, which Macy's is also expanding, Chief Financial Officer Karen Hoguet said on an earnings call with analysts.
"It may help bring a whole new customer to Macy's," she said on the call. "Initially, we were nervous about putting one of the Bloomingdale's outlets too close to a Bloomingdale's store, and what we found is it served as an entry point for the customer. And instead of taking business away from the base Bloomingdale's store, we actually brought new customers who learned and got comfortable with Bloomingdale's from the outlet experience, and then went to the Macy's store. So it's very possible we could find that with Macy's as well."
The move highlights the way Americans are shopping in a post-recession world, and the appeal of chains offering goods at a permanent discount. The rise of TJX has been meteoric in the past 20 years — the company reported annual sales of $29.1 billion today, surpassing Macy's yearly revenue by a full $1 billion.
Shoppers, hungry for deals in a sluggish economy, and influenced by the low price points popularized by fast-fashion chains, are into the idea of off-price stores, which offer a unique value proposition. While T.J. Maxx and Marshalls sell private-label goods, their more than 900 buyers are always on the hunt for "order cancellations, manufacturer overruns, closeouts, and special production direct from brands and factories."
They carry a wide array of labels, as illustrated by the #maxxinista hashtag shoppers are encouraged to Intagram and tweet with — Kate Spade, Diane von Furstenberg, Steve Madden, to name a few. To many shoppers, the retailer feels more like an outlet channel than many factory stores, where the vast majority of brands now make lesser-quality goods specifically for their outlets.
Nordstrom has doubled down on its own version of T.J. Maxx with Nordstrom Rack. There are now 167of its discount stores, compared to 116 full-price locations, and Rack represented the chain's biggest source of new customers last year, executives said on an earnings call last week. Neiman Marcus is aiming for the market, too, with its Last Call chain. Rather than dumping excess goods into T.J. Maxx and Marshalls — which advertise that their prices are 50% below department-store chains — companies like Macy's and Nordstrom can use their own off-price stores to try to sell them off themselves.
"The off-price sector is one of the few in retail that's actually growing, so everybody has to pile into it," Rick Snyder, an analyst at Maxim Group, said in an interview with BuzzFeed News. "It appeals to the consumer who really wants to get something nice, but really can't afford to pay full price for it, or the person who wants to treasure hunt."
"Knowing that 80% of outlet merchandise is actually direct-to-outlet, you have a much better chance of getting a real deal at a T.J. or a Ross than you are at an outlet," he added.
Of course, Nordstrom executives said at a September 2013 conference that only 18% to 19% of merchandise in Rack stores is transferred from full-line stores. Other goods are special closeout buys from vendors, and Nordstrom is aggressive about maintaining the integrity of the pricing it displays on tags, Blake Nordstrom, the company's president, said at the time.
Still, it's not always clear whether you're "really" getting a deal or not.
But for many consumers, it's about the value they feel they're getting, and there's a special thrill in seeing the price they'll pay versus the "suggested retail price." Plus, with a T.J. Maxx or a Nordstrom Rack, they don't have to travel to and through a whole outlet mall; they can find the store in a suburb and trawl through tons of different designers under a single roof.
As more and more retailers push into the "off-price" channel, what remains to be seen is what they'll end up selling. Will they remain deal destinations?
"What eventually is going to happen is as this excess inventory sort of gets absorbed into all these new off-price distribution points, you're going to find the same thing happening as what happens as outlets," Snyder said. "Some percent, whether it's 50%, 70%, or 80%, is going to be manufactured direct for the off-price channel, because there are only so many overruns."