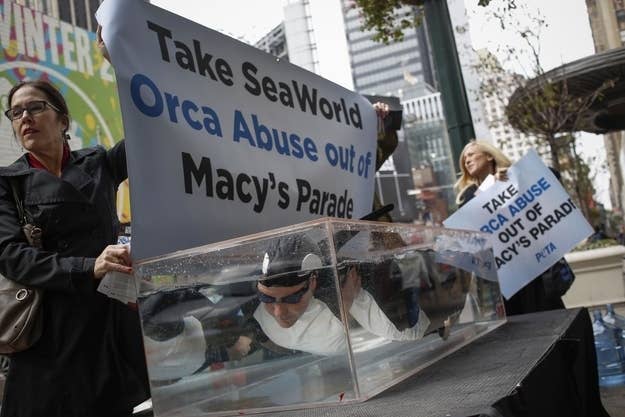 There's no exaggerating what a big deal Macy's annual Thanksgiving Day Parade is to the department-store company. Just six months after last year's Thanksgiving, it started sending out regular press releases about the upcoming parade and the bevy of new floats it would feature, touting an event that draws more than 50 million U.S. viewers and 3.5 million in New York alone.
It certainly wasn't looking for trouble when it announced on Sept. 24 that SeaWorld would be debuting its first float in the parade, dubbed "A Sea of Surprises." Macy's, now attracting petitions, protests, and customer complaints to ban the float, joins many in being caught off guard by the runaway success of Blackfish.
Blackfish, a damning documentary about SeaWorld's treatment of animals after one of its whales killed a veteran trainer in 2010, premiered at Sundance in January, about three months before SeaWorld went public. Analysts who cover the company didn't see it to be an issue. In September, J.P. Morgan analysts said it had "negligible, if any, impact on attendance," given that it garnered just $1.8 million in the box office from its July 19 release. Goldman Sachs didn't mention it in September and October notes about SeaWorld. The film didn't show up in conference calls either, though visits have been falling.
But the documentary stopped being a non-issue when CNN aired it on Oct. 24, sweeping the ratings of every group under 55 during a Thursday night showing. Twitter said it was the most talked-about show on CNN in October, with 67,673 tweets seen by 7.3 million people. (It was the second-most tweeted about non-sports program that night after Scandal.)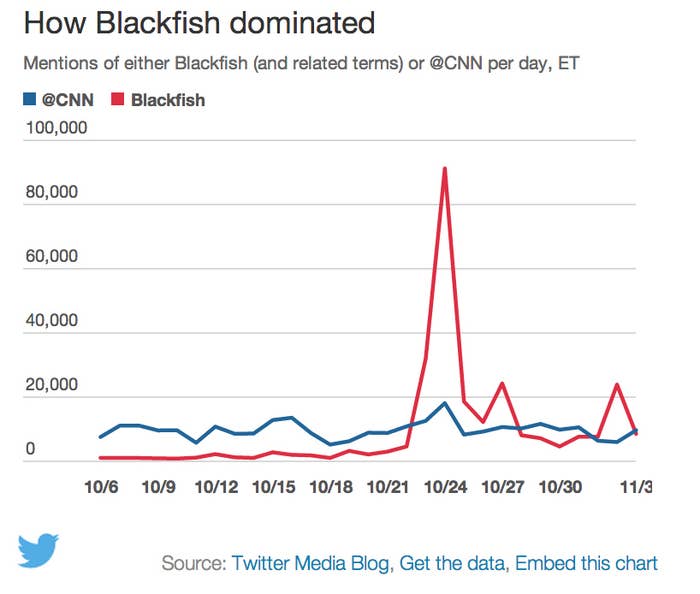 Blackfish, SeaWorld, and the issue of whales in captivity have all been far more visible since then — and Macy's is now catching a lot of the heat.
The company has drawn disparaging commentary for the float on its Facebook page and from celebrities including Alec Baldwin and Jason Biggs. People for the Ethical Treatment of Animals is leading an online campaign to get rid of the float and has protested at Macy's New York flagship store.
Macy's is sticking to its guns, however, offering BuzzFeed the same statement it gave on Nov. 18 and declining to comment further, stating that the parade "has never taken on, promoted or otherwise engaged in social commentary, political debate, or other forms of advocacy, no matter how worthy."
"Its mission has always been about entertaining millions of families and spectators," spokesman Orlando Veras said in an email. "While it is understandable that such a widely embraced event can sometimes feature elements or performances that some people may find disagreeable, Macy's intention is to provide a range of entertaining elements without judgement, endorsement or agenda."
Angry commenters on Macy's Facebook page.


SeaWorld, for its part, didn't include the word "documentary" among risk factors in the initial paperwork it filed to go public in December.
Since then, it's updated its risk factors in regulatory filings to include this portion: "An accident or an injury at any of our theme parks or at theme parks operated by competitors, particularly an accident or an injury involving the safety of guests and employees, that receives media attention, is the topic of a book, film, documentary or is otherwise the subject of public discussions, may harm our brands or reputation, cause a loss of consumer confidence in the Company, reduce attendance at our theme parks and negatively impact our results of operations. Such incidents have occurred in the past and may occur in the future. In addition, other types of adverse publicity concerning our business or the theme park industry generally could harm our brands, reputation and results of operations. The considerable expansion in the use of social media over recent years has compounded the impact of negative publicity."
Drawing of the SeaWorld float for the parade.