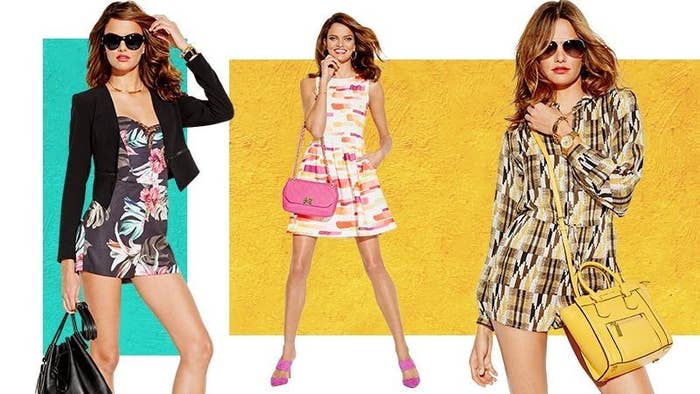 Macy's is venturing forth with its own version of T.J. Maxx and Nordstrom Rack this fall, when it will open four Macy's Backstage stores.
The pilot stores, all in the New York area, will carry Macy's clearance items along with "special buys from well-recognized fashion brands," at 20% to 80% discounts from original and comparable prices, the company said in a release Tuesday. The stores will average about 30,000 square feet. Regulatory filings show the average T.J. Maxx is about 29,000 square feet, while the average Marshalls measures 30,000 square feet. (Both are owned by the same parent company, TJX.)
Macy's is looking to capitalize on America's enthusiasm for outlets and off-price shopping, which has skyrocketed in a post-recession world. Outside of the treasure-hunting appeal, stores like Marshalls and Nordstrom Rack are thriving away from traditional malls, where Macy's is often a mainstay. Earlier this year, TJX, which also owns Home Goods, reported annual sales that surpassed Macy's for the first time ever. Nordstrom, which has been doubling down on Nordstrom Rack, has indicated that its reputation as a "nicer" department store has been unaffected by its expansion of the discount chain.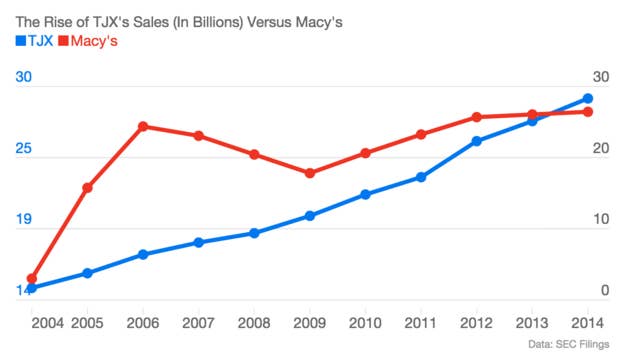 Macy's Chief Financial Officer Karen Hoguet said on a February earnings call that an off-price chain "may help bring a whole new customer to Macy's."
It's unclear how much of a bargain customers are getting at off-price chains, given their similarity to outlet stores. Many brands admit to making cheaper, lower-quality goods for their outlet locations, which were once destinations for authentic clearance goods or slightly damaged merchandise. TJX says that its buyers are always searching for order cancellations, manufacturer overruns, and closeouts, but that it also seeks "special production direct for brands and factories."
Nordstrom said in 2013 that only 18% to 19% of its merchandise at Rack is transferred from full-line stores; other goods are special closeout buys from vendors.
Macy's, too, noted it will carry "special buys" from major brands at Macy's Backstage stores.
The chain will "deliver a whole new level of value to customers who appreciate fashion and love to hunt for a bargain," Peter Sachse, Macy's chief innovation and business development officer, said in Tuesday's statement. "As with all of Macy's innovations, we will test and learn to see what resonates most with customers so we can adjust before rolling out additional locations."