Lululemon Recalling Dangerous Drawstrings On 318,000 Tops
Just when you thought it was safe to wear an expensive hoodie. Luckily, there haven't been any serious injuries.
Lululemon is recalling drawstrings on 318,000 women's tops after their elastic cords caused seven face and eye injuries, according to a statement today.
"When the elastic draw cord with a hard tip in the hood or around the neck area is pulled or caught on something and released, it can snap back, impact the face area and result in injury," the U.S. Consumer Product Safety Commission said today.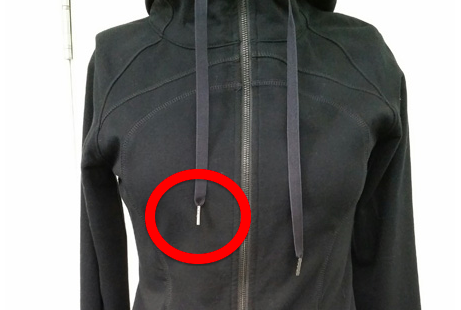 Consumers with one of the sweatshirts below are advised to stop wearing tops with the elastic draw cord and either remove the cord or contact Lululemon for a new, nonelastic cord with written instructions on how to replace it.
Affected tops were sold between January 2008 and December 2014 and include these styles: Carry and Go Hoodie; Cool Down Jacket; Course-ette Jacket; Cozy Up Jacket; Dance Studio Jacket; Dance Sweat Shirt; Don't Hurry Be Happy Pullover; Gratitude Wrap; Necessity Jacket; Proactive Jacket; Refresh Snap Up; Run Sun Blocker Pullover; Run Track N Field Jacket; Run With It Jacket; Sanctuary Jacket; Savasana Tunic; Sing, Floss, Travel Jacket; Stow 'N Go Jacket; Stride Jacket; Summertime Tunic; Varsity Hoodie; Victory Jacket; and Wear With All Jacket. Each top displays an embroidered or printed Lululemon logo; the location of the logo varies with the style of the garment.
This is no see-through pants scandal, though. Lululemon told BuzzFeed News it voluntarily reached out to the Consumer Product Safety Commission about the elastic cord issue and said the costs of the recall won't be material to its business.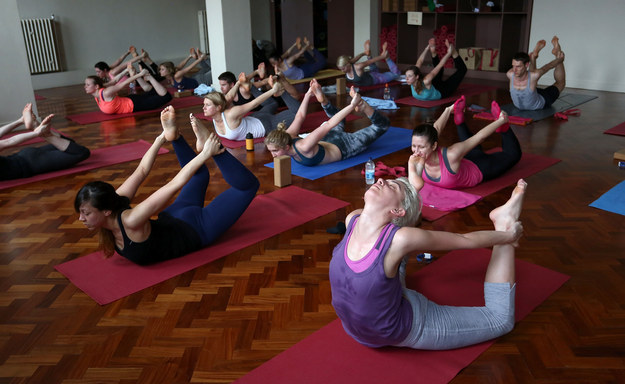 "There were no serious injuries reported and no lawsuits have been filed," the Lululemon spokesperson added.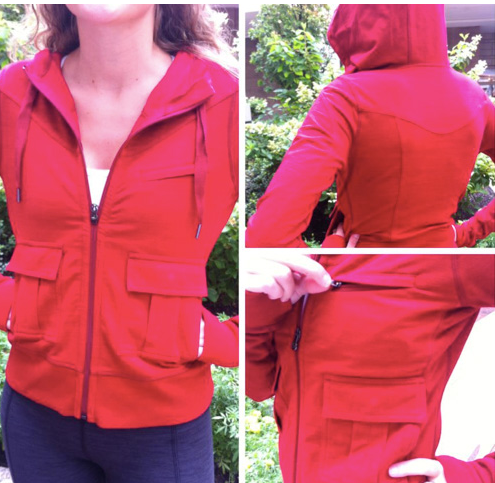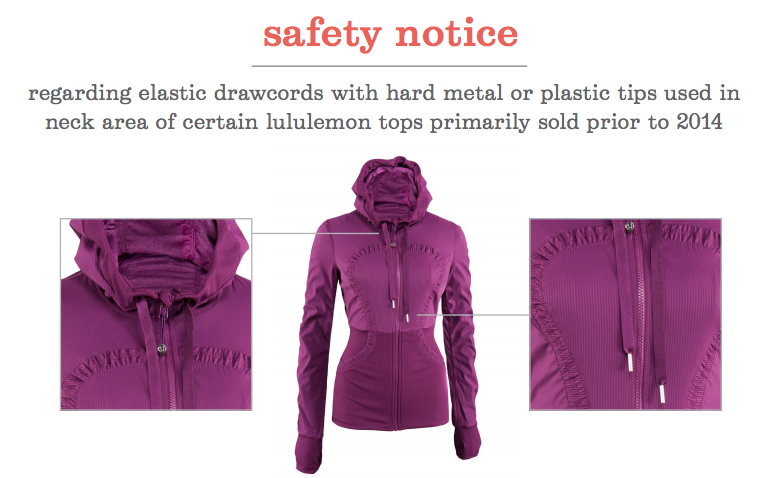 (And remember that danger lurks everywhere.)