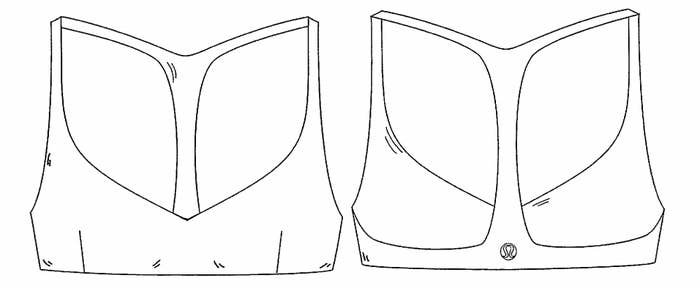 Lululemon is aggressively protecting its $48 sports bras and $64 tank tops by way of design patents — an unusual move that the rest of the retail industry is watching carefully.
The maker of expensive workout gear, which famously sued Calvin Klein and G-III Apparel in 2012 for violating a design patent on its yoga pants, has since accumulated a total of 31 such patents on items from bras to duffel bags, according to the U.S. Patent Office's website. The company is aiming to use the protection to deflect competitors in the increasingly popular athletic apparel space by threatening, and in some cases, pursuing, litigation.
It hasn't been the norm in the fashion industry to seek design patents, but after Apple successfully sued Samsung for design patent infringement in 2012, it highlighted how valuable that kind of protection could be, says Mark Sunderland, a textile engineer and director of academic operations at Philadelphia University's School of Design and Engineering. Still, their effectiveness for Lululemon and for other retailers remains unclear.
While Lululemon was able to reach a confidential settlement with Calvin Klein and G-III over its design for "Astro Pants" relatively quickly, it had more difficulty with Hanesbrands. After Lululemon mailed the company a cease-and-desist letter last October saying Hanesbrands copied a patented tank top style, Hanesbrands filed suit against Lululemon, objecting to the claim and arguing that the design patent shouldn't have been issued in the first place.
The initial letter from Lululemon's lawyer, filed as part of the lawsuit, shows the combative stance Lululemon is taking against alleged copycats.
Lululemon's lawyer, Michael Gilman, said the tank tops — manufactured by Hanesbrands under the Champion label and sold at Target — copied elements of Lululemon's design patent for a tank top featuring a loose, outer tank over a built-in bra with a waistband bottom. He pointed to reviews on Target's website, as well as on TheHunt.com and an independent fashion blogger's post as proof that customers were well-aware of the similarities between Lululemon's tank and the "C9 by Champion Women's Layered Tank with Bra."
The lawyer gave Hanesbrands 15 days to stop making and marketing the infringing shirt and demanded that the company issue a joint press release with Lululemon, confessing publicly that it infringed on the retailer's U.S. and Canadian design patents, stating it would stop making the infringing tank tops, and informing customers still interested in such styles to purchase the garments at Lululemon. If Hanesbrands objected to this "amicable approach," then the company could look forward to legal proceedings, "possibly in two separate countries," Gilman wrote.
The tank top in Lululemon's dispute with Hanesbrands:
Rather than acquiesce, Hanesbrands swiftly filed suit against Lululemon, saying that the retailer obtained a patent on an "obvious" design, and that its drawings are "vague and indefinite." In short, there was nothing special about the tank top.
The suit was just settled recently, though terms are confidential, Hanesbrands' lawyer said in an email to BuzzFeed. Lululemon and Gilman declined to comment on the case or the company's intellectual property strategy.
"We're in a situation where we are not yet sure how valuable design patents are in general, and we're really not sure how valuable they are for clothing, and Lululemon is becoming the test case," said Susan Scafidi, academic director of the Fashion Law Institute at Fordham University.
"They have decided to experiment and throw some resources behind trying to answer that question, so I think a lot of companies are watching Lululemon to see how successful they are or aren't," she added. "With Apple and Samsung, Apple's patents are doing that for design patents across different creative fields, but Lululemon is doing it specifically for fashion."
Apple successfully sued Samsung two years ago for copying the look and feel of iPhones and iPads, which were protected by design patents. Since then, design patents, which Scafidi said are "the redheaded bastard of the patent world," have become more popular. (Utility patents, which the Patent Office says make up 90% of patents issued in recent years, apply to new processes and inventions, while design patents are for new and ornamental designs.)
Within the apparel industry, there are questions around how unique Lululemon's merchandise is and whether the patent office is qualified to distribute patents on workout clothing. For example, a yoga mat decorated with phrases specific to Lululemon's ethos appears new and original. But it gets a little fuzzier when it comes to pictures of shorts with a zipper in the back or sports bras with thinner-than-usual straps.
Scafidi said that she asked reviewers at the U.S. Patent Office if they hire fashion designers, or people with expertise in fashion, and they said no. It's an area that will have to be built up if the wearable-technology industry continues to grow and if other brands start applying for design patents, she added.
"It's embarrassing for the Patent Office if they start issuing patents in this area and the courts start overturning them on a regular basis," Scafidi said.
Sunderland agreed: "If the design is unique enough, I think the Patent Office should give out patents on it — but how they determine what's unique enough, that's the question," he said.
Lululemon's efforts come at a time when the company's rocket-like growth has slowed and it faces corporate governance issues. The retailer's longtime, well-liked chief executive officer resigned after Lululemon's sheer-pants scandal last year, and more recently, controversial founder Chip Wilson has been looking to regain more control of the company, even exploring the possibility of a buyout. Lululemon also faces more challengers to its turf than ever before, as Gap's Athleta chain grows and Under Armour and Nike beef up their offerings for women.
Lululemon recently cut its annual earnings forecast to $1.8 billion in sales, and said it expects adjusted earnings of $1.71 to $1.76 a share. The company's sales rose 16% to $1.59 billion in the year ended Feb. 2, while adjusted profit rose to $1.91 a share.
Lululemon received a design patent for these shorts on April 1.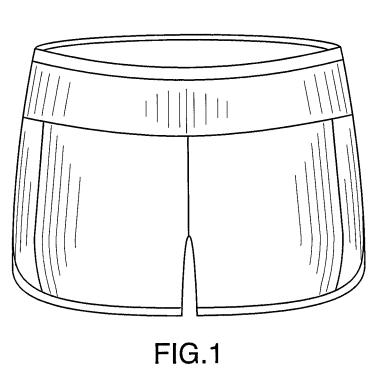 This is a patented Lululemon design "for sleeve cuffs for a garment."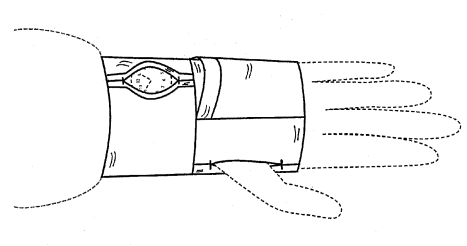 This is a patented Lululemon yoga mat design.