Don't let the bare-bones website fool you — Rainbow Looms are one of the best-selling toys in America right now.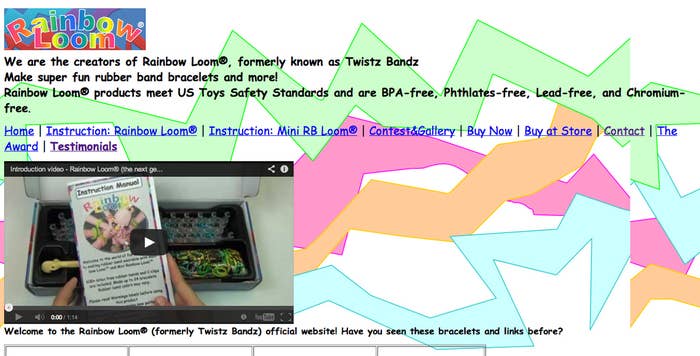 While digital toys may dominate the holiday season this year, the Rainbow Loom craze is proof that screens aren't a requirement for America's youths.
Rainbow Looms are flying off the shelves of independent retailers and Michaels Stores, and are the top toy on Amazon, with more than 1.2 million sold since Detroit father and former Nissan crash safety engineer Cheong Choon Ng created them under the name Twistz Bandz in 2010. Kids are using the plastic looms — which only just became popular this year shortly after the Learning Express chain started carrying them — to weave small rubber bands into elaborate bracelets, rings, and even sandals.
While the loom itself is too expensive for discount chain Five Below to carry, the $5-and-under retailer has been carrying related accessories to get in on the trend, CEO Thomas Vellios said last month. He added that "time will tell" if the rubber band looming fad will one day reach the status of industry legend Silly Bandz.
At $18.99 each online, Rainbow Looms and its small rubber bands may have brought in more than $30 million in sales for Ng so far — an impressive feat, especially when looking at the Rainbow Loom website, which is elementary in its design and written entirely in Comic Sans. It's also notable considering the holiday shopping season has yet to begin — as much as 80% of the toy industry's roughly $20 billion in annual sales hits in the last five to six weeks of the year. Another 1 to 2 million Rainbow Looms may be sold this holiday season, according to the publisher of a new book on making rubber band jewelry.
Rainbow Looms and "loom bands" are best-sellers on Amazon right now (along with the sassier Cards Against Humanity).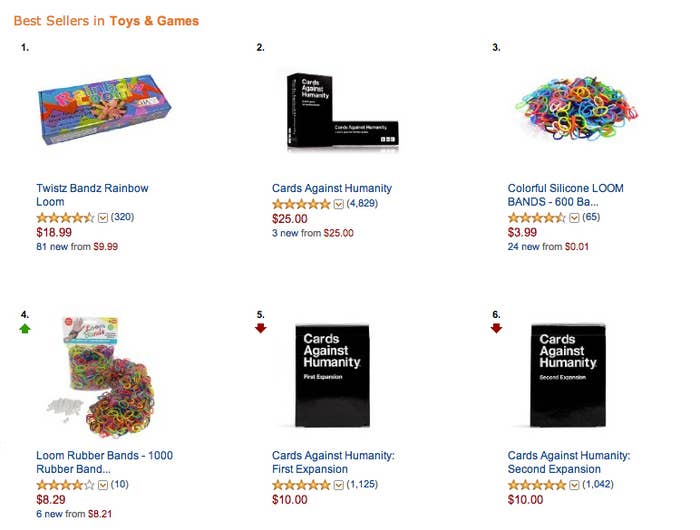 As with any trend, others have taken note. Toys 'R' Us is carrying a similar product called Cra-Z-Loom, which the chain added to its "Holiday Hot Toy List" last month. While the makers of Rainbow Loom are suing Toys 'R' Us and its supplier, LaRose Industries LLC, for patent infringement, Toys 'R' Us tells BuzzFeed that it plans to carry Cra-Z-Looms throughout the holiday season. It's also offering complimentary Cra-Z-Loom bracelet-making at its hundreds of stores every Saturday afternoon through Oct. 26, a spokeswoman said in an email.
Still, Rainbow Loom was mentioned thousands of times on Twitter in the past 30 days, versus a couple hundred for Cra-Z-Loom. And even searching Cra-Z-Loom on YouTube pulls up a video for making a bracelet using the Rainbow Loom — one that has more than 1 million views. The YouTube channel for the Rainbow Loom has more than 8 million views overall.
Of course, one threat for both makers and other copycats out there — which Ng is also pursuing legal action against — are videos that teach kids how to make the bracelets without using any loom whatsoever. Some people use their hands while others use pens or crochet needles, a good alternative for kids who might not have one yet or who won't be able to afford one.
For now though, the rubber band looming trend only seems to be gaining popularity — with kids, moms, dads, and many others.
The Toys 'R' Us version of Rainbow Loom, which undercuts the product on price, is the Cra-Z-Loom.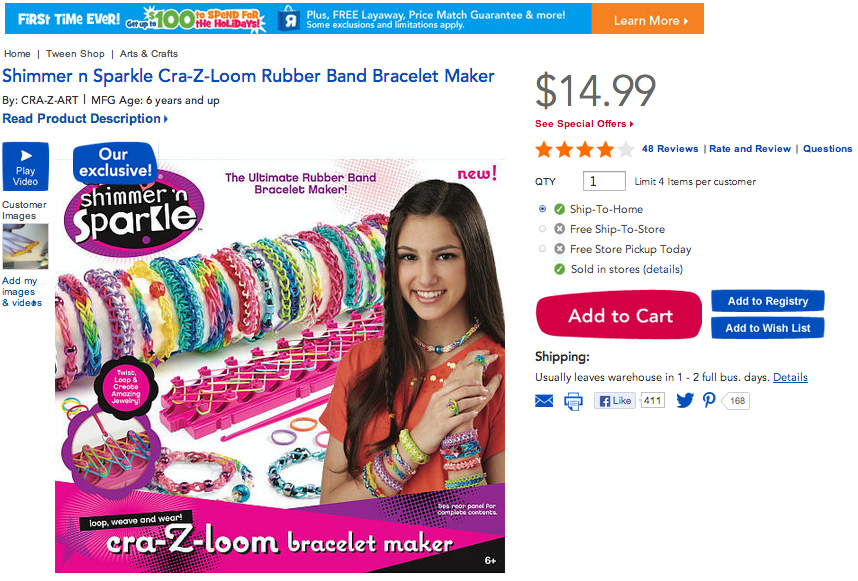 Rainbow Loom does seem to be winning as far as Twitter mentions in the past 30 days.

I shall now watch Brooklyn Nine-Nine whilst weaving bracelets with my daughter's Rainbow Loom. Good night.

— Downtown Josh Brown (@ReformedBroker) September 25, 2013