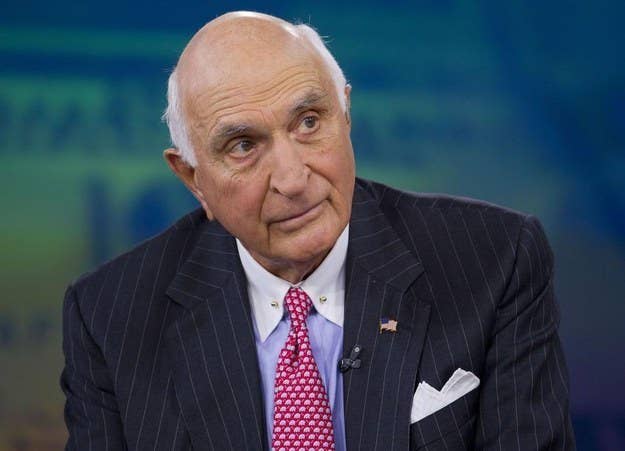 TUCSON, Ariz. — Ken Langone, one of the Republican Party's most important donors, said he's not sure the country is ready for another President Bush — and that nothing's changed his long-held support for New Jersey Gov. Chris Christie.
In an interview at a retail industry conference in Tucson, Ariz., the 78-year-old billionaire, who made his fortune through co-founding Home Depot, said he's still "absolutely" behind Christie, who he's been urging to run for president since 2011. The fallout from the George Washington Bridge scandal is a "rough patch" that will pass soon, Langone said, though he did note the governor's "major Achilles Heel" is "the quality of the people around him."
"I told this to the governor and he took it respectfully — I respect loyalty, but if you're moving onto a stage that's far more intense and far more profound, you don't have the luxury of having anything but the very best minds around you," Langone said over a breakfast of egg-white only huevos rancheros and coffee. Better advisers could have helped Christie avoid using the phrase "occupied territories" while speaking to the Republican Jewish Coalition about Israel, Langone said.
Since the bridge scandal erupted late last year, some major Republican donors have raised the possibility of a presidential run by former Florida governor Jeb Bush. But Langone maintained Christie's the better candidate, and described the "baggage" of the Bush family name.
"Jeb would be a superb president, but I think Christie would connect better — we desperately need a president to connect to the people," Langone said.
"And you gotta take into account the Bush name. His mother said it: 'We've had enough Bushes' for a while," he continued. "His brother did not leave with the highest level of popularity, and that comes with a burden. I can imagine Hillary running against Jeb, what a field day the media guys would have: 'Ready for another Bush? Ready for another Afghanistan? Ready for another Iraq? Ready for another collapse of the banking system?' That's a lot of baggage."
Langone, who has epically clashed with Eliot Spitzer in the past decade and is a big fan of New York Gov. Andrew Cuomo, had nothing negative to say about Manhattan U.S. Attorney Preet Bharara, however.
Bharara made headlines this week for questioning Cuomo's decision to dissolve an anti-corruption panel in March, putting unusual scrutiny on the governor.
"He's an aggressive prosecutor — hey look, that's his job," Langone said, dismissing any comparison between Bharara and Spitzer. "You only have to worry about going to jail if you break the law. That's pretty simple."
He added, "Why do we have U.S. attorneys? Because we need a mechanism to make sure people obey the laws that we pass, for societal reasons. Some people would argue he's too aggressive. Nobody's more aggressive than Spitzer. He had a problem."
Langone, a devout Catholic, called Spitzer "one of the worst human beings God ever created," noting that, "a central part of my faith is forgiveness and I have a struggle because of the lives he ruined."
While the veteran Wall Street investor has built a reputation as an anti-Obama Republican mega-donor who can easily rally big money towards candidates he favors, he says he doesn't consider himself particularly involved in politics or "wildly conservative." He tends to support politicians based on a single issue, he says — Cuomo, for example, because they agree on charter schools and Sen. Charles Schumer for aiding NYU's Langone Medical Center after Hurricane Sandy. Both men are Democrats. He also departs from the GOP on issues like same-sex marriage, noting "If two boys, two girls want to get married, it doesn't bother me…it's none of my business."
"I don't want politicians to have a hook in me," he said, referencing the character of Raymond Tusk from Netflix's House of Cards, a billionaire entrepreneur whose financial interests are locked up in government affairs. "There's a lot of truth in that story."
If it turns out that Christie did have a hand in the George Washington Bridge lane closures, Langone might not be so supportive of the 2016 presidential hopeful.
"If Christie had the slightest connection, I wouldn't be off him because he had a connection to it, I'd be off him because he engaged in something utterly stupid, and if he's that stupid, he can't be president of the United States," Langone said. "That'd be horrible if he inconvenienced all those people, but I'd take a step back and say, 'Wait a minute, is this a guy I want walking around, with a suitcase with a nuclear bomb button?'"
Of course, Langone doesn't believe that to be the case. He blames the media, Democrats, and even other Republican presidential hopefuls for adding to Christie's current woes.
"People are frightened, not just the Democrats, but all the other Republicans who want to run for president themselves, they're his enemy as much as the Democratic party," Langone said. "These guys don't have philosophical beliefs, they're ambitious to the point of a fault and they'll stop at nothing. That guy Santorum, he lost his Senate seat by 18 points. He couldn't get elected dogcatcher in the state of Pennsylvania. Why is he out there campaigning? For a very simple reason: whatever little speaking fees he gets. It helps him. He's current. He has a presence."
As soon as Christie runs for something, Langone says he'll be out there raising money for him. "He can be a great president," he said.