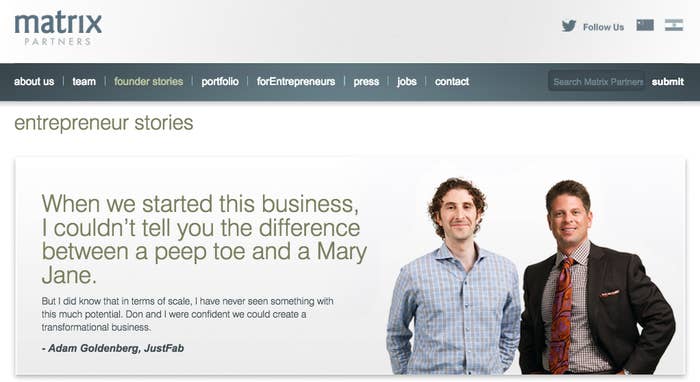 Matrix Partners, an early investor in e-commerce company JustFab, has quietly edited its website after a BuzzFeed News investigation into the unsavory past ventures of the JustFab's co-founders.
Before the article was published, the "Founder Stories" section of the Matrix website included praise for Sensa, a bogus miracle weight loss powder previously peddled by the JustFab co-founders. As part of a stinging deceptive advertising judgement against Sensa, the Federal Trade Commission described Sensa's marketing pitch — that sprinkling the powder on food would help you lose weight — as being akin to promoting a "magic pixie dust."

Sensa was closed down after the company agreed to one of the largest deceptive advertising settlements in FTC history. But up until Thursday, Matrix Partners still celebrated the business as an example of the many successes of the JustFab co-founders, Adam Goldenberg and Don Ressler, at their previous holding company, which was a seed-stage investor in JustFab.
"The company became the home to SENSA, a weight-loss system based on groundbreaking research from Dr. Alan Hirsch," the website said.
That portion has now been deleted after BuzzFeed News reported on Thursday that Goldenberg and Ressler are being sued by Bank of America and a distributor over the collapse of Sensa, which went out of business last year about 10 months after the FTC slapped it with a nearly $50 million judgment.
Just seven months after the judgement, a JustFab funding round valued the company at $1 billion.
Josh Hannah, the Matrix general partner who sits on JustFab's board, didn't return emails and a message left at his office seeking comment. He also didn't return requests for comment for the initial BuzzFeed News story.
JustFab, which sells monthly subscriptions to shoes and clothing under the JustFab, ShoeDazzle and Fabletics names, has been inundated with complaints over its business model. Women have claimed it's unclear they're signing up for subscriptions and that the subscriptions are difficult to cancel. The company says unhappy users make up a fraction of its more than 3.5 million happy members.
Goldenberg and Ressler have faced similar complaints since at least 2004 on products including anti-cellulite cream and anti-aging shampoo, BuzzFeed News found.
(h/t Hacker News for pointing out the deletion.)
Here's a screengrab of the Matrix Partners site prior to the edit:

And here's how it looked after: