J.Crew's Social Media Users Spend Twice As Much As Its Average Customers
The company disclosed the statistic in its annual filing on Monday. Retailers have long been debating the impact of social media on sales, and this would indicate it matters.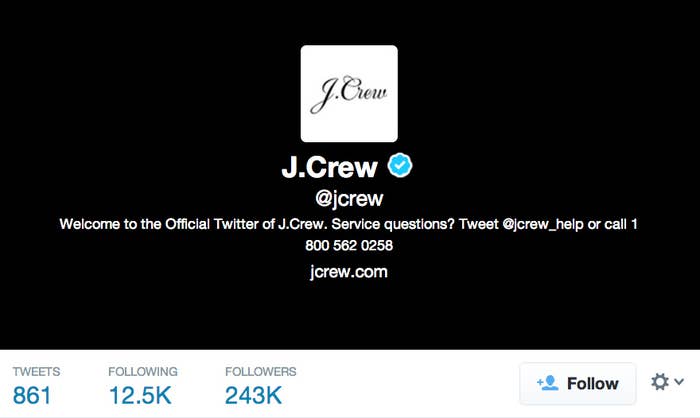 Social media actually matters for J.Crew's business: Customers who engage with the upscale retailer on Facebook, Twitter, Pinterest or Instagram tend to spend twice as much as its average shoppers.
"Digital marketing and social media have played an important part of our strategy in our recent history and are among our most effective marketing tools," J.Crew said in its annual filing, which was made available Monday evening. Generally, among social platforms, "Facebook is the current leading player in terms of size and time spent on site, but there are significant growth opportunities in our new visual platforms, such as Pinterest and Instagram," the company said.
It's a significant data point, given that retailers have long been debating the impact of social media on sales. Businessweek cited a survey last fall that showed more than 80% of retailers expected social media promotions to have little or no impact on holiday revenue, while other studies have suggested that "social sales" are of fractional importance, even when it comes to e-commerce.
Much of the data thus far has been anecdotal, however. The rise of online sales (which make up more than one-third of J.Crew's revenue) and savvier methods of tracking customers are giving retailers a better sense of where their revenue is coming from. (J.Crew said that based on data from its website, its customer base "consists primarily of affluent, college educated, professional and fashion-conscious women and men," as per the filing.)
Other chains are bound to take note: J.Crew, which also owns Madewell and Crewcuts, is booming in a tough retail environment, with revenue for the year ended Feb. 1, 2014, rising 9% to $2.43 billion. The private equity–owned company has been laying the groundwork for an IPO, and was reportedly in talks to be acquired by Uniqlo owner Fast Retailing for around $5 billion, though those negotiations fell through.
J.Crew's comments about digital marketing replace language from last year's filing on the importance of its catalog business. In last year's "marketing and advertising" section, J.Crew called its catalogs "the primary branding and advertising vehicle for the J.Crew brand." This year, the retailer said its catalogs are just one "branding and traffic-driving vehicle." It still circulated 31 million catalogs, though that's down from 40 million the prior year.