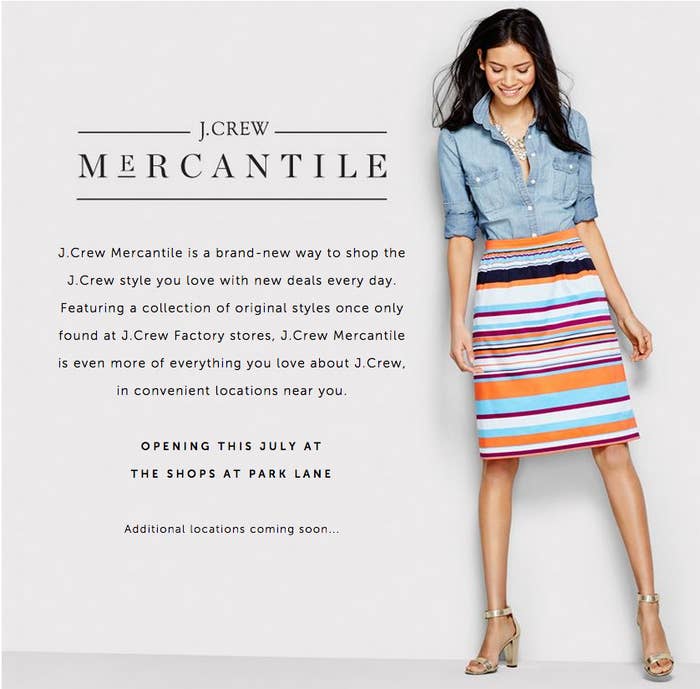 A leaked internal memo from J.Crew confirms that the company's new J.Crew Mercantile chain will be a vehicle for selling its cheaper, made-for-outlet goods in traditional malls and shopping centers.
The stores "will open in local retail centers and shopping malls, where you would not currently find a J.Crew or Factory store," according to the memo, which was distributed last week and obtained by BuzzFeed News.
J.Crew will open 10 Mercantile stores this year, carrying the same goods as its existing Factory outlets, "with future expansion plans into 2016," the memo said.
J.Crew Mercantile "is an opportunity to bring our value model into mainstream malls," the retailer said in last week's memo. The company said it is "strategically evaluating the locations of our J.Crew Mercantile stores to be placed in centers that would not cannibalize the J.Crew retail business."
"Some of our customers also shop at J.Crew, but buy at the outlets a few times a year to stock up on their favorites," it said. "For many of our customers, J.Crew Mercantile or Factory is 'their' J.Crew, both in our stores and on our web site. They appreciate the sharp price points for classic J.Crew styling, and feel they are getting a great value."
As J.Crew's move underscores, the new trend in retail appears to be selling more profitable made-for-factory store goods away from traditional outlet malls. For some retailers, it's a way to drum up sales in malls where sales and foot traffic have slowed and fast-fashion behemoths like Forever 21 and H&M are gobbling up what's left.
For others, it's a new way to compete against off-pricers like T.J. Maxx, Nordstrom Rack and Off 5th, which are offering low prices on brand names elsewhere to great success. (The first J.Crew Mercantile will be in a Dallas shopping center that's home to a mix of retailers, including Whole Foods, Nordstrom Rack, Old Navy and a Bloomingdale's outlet.)
Express, in the past year, has started converting some of its regular mall stores to "Express Factory Outlets," an experiment that has drawn the attention of the retail industry, BuzzFeed News reported last month. The transformed stores have seen business surge and Express has been negotiating with other mall landlords for additional conversions.
Express has proceeded slowly, though. Traditional mall owners can be reluctant to host stores with "Factory" or "Outlet" in their names, fearful of cheapening a mall's image and reducing its appeal with both higher-income shoppers and the retailers that will pay top-dollar rents to target them. Rebranding the way J.Crew is could help assuage these concerns.
The company acknowledged in the memo that its first Mercantile store is close to an existing full-price store, but that given the location's high traffic, "we felt that there was room in this market for both concepts."
J.Crew is under pressure to right its business after reporting dismal sales and eliminating 175 jobs last month. Women have complained this year that prices are too high and that the chain's styles have veered away from its traditional, professional aesthetic.
On an earnings call last month, J.Crew CEO Mickey Drexler lamented the retail industry's "rampant discounting," adding that the brand doesn't promote as much as its competitors.
"It's very hard to hold the line, because you still need to drive traffic, and you still need to sell goods," Drexler said. "But we have trained the world. And if you look at the capital, by the way, in the shopping developers, their capital is skewing towards the outlet malls. I think that says a lot also about the environment we're dealing in. And that's why it's hard to predict a lot."
J.Crew Factory will accept J.Crew Mercantile returns and vice versa, including web orders, according to the memo. The label for J.Crew Mercantile, like J.Crew Factory, will feature the J.Crew brand name and two diamonds, and the same J.Crew Factory division internally will work on the Mercantile stores.
The company, in the memo, noted one frequently asked question is: Why would people buy full priced items from J.Crew if a similar item is available for less at J.Crew Mercantile?
The company's response: "J.Crew Retail will still have our newest styles, brand collaborations, and collection items, utilizing finer fabrics and yarns and more elevated design details."