J.C. Penney's Website Needs More Help Than Its Stores
The retailer's online sales fell 33% last year while competitors are seeing double-digit gains.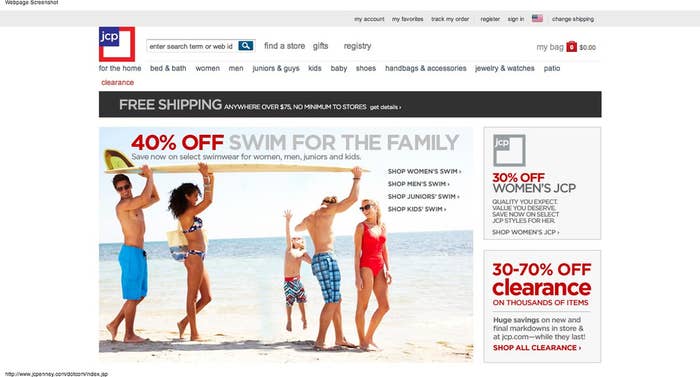 As bad as things are for J.C. Penney's brick-and-mortar stores, they are even worse for its digital operation.
Internet sales plunged 33% last year to $1.02 billion, performing even worse than the company's physical stores, where sales fell 25%. By contrast, e-commerce sales for competitors are booming — Macy's and Kohl's both saw online sales soar more than 40% in the same time period.
The decline is even more surprising given that it came under the watch of former CEO Ron Johnson, the executive responsible for transforming Apple into a retail behemoth.
Mike Ullman, who was brought back to replace Johnson as CEO in April after retiring from that position in November 2011, emphasized on J.C. Penney's first quarter conference call Thursday that fixing the retailer's online storefront was a top priority. (First quarter online sales figures were not provided.)
During his first public remarks since becoming CEO, Ullman told analysts yesterday that problems with the website were "self-inflicted" — it was just hard for customers to use. During the last year, JCP.com operated as "a completely separate entity inside the company, with little synergy between stores and online" and the company is working to make "a seamless omnichannel experience" going forward, he said.
Or, put another way, J.C. Penney's digital operations lacked the ease-of-use and seamless integration that has become Apple's trademark.
Visitors to the J.C. Penney website are now met with a pop-up asking them to participate in a customer satisfaction survey that asks questions about what sections they plan to visit, their likelihood of making a purchase and possible bugs, among other things.
Ullman is cleaning up a number of mistakes caused by his predecessor, who was responsible for a $4.3 billion plunge in sales last year as he experimented with a shift to everyday-low prices, slashed mainstay private-label brands such as St. John's Bay and sought to turn most J.C. Penney stores into a collection of boutiques.
This month, J.C. Penney has been running ads asking customers to come back to stores and thanking them for returning.
Ullman wouldn't provide any concrete numbers but said the response to the marketing and Mother's Day promotions were encouraging. After a 16% decline in this latest quarter and a net loss of $348 million, investors and analysts will have to hope so.