J.C. Penney has faced a lot of criticism from customers in the past two years for changes made under former chief executive officer Ron Johnson, most of which the current CEO is trying to undo.
But perhaps none have been more passionate than the snow globe contingent.
A group of shoppers has been hounding J.C. Penney for nearly a year to bring back the Disney snow globes it has given away on Black Friday for the past decade. Johnson halted the tradition in 2012 in favor of a promotion around free buttons, spurring a small protest that hasn't let up since.
And this weekend, it succeeded. J.C. Penney said late Saturday that it will be giving away snow globes again, after hinting at the change earlier in the day on Twitter. Below, the tiny consumer uprising you probably never knew was happening. Let it snow, snow globers.
It started on Nov. 10, 2012, when "Bring Back the Snow Globes, JCPenney" was born

"If you are as upset as I am about JCPenney's lack of a free snow globe this year, please like this page. The goal is to make sure that this is a one-time mistake on their part and that we will have snow globes again Black Friday 2013!!!"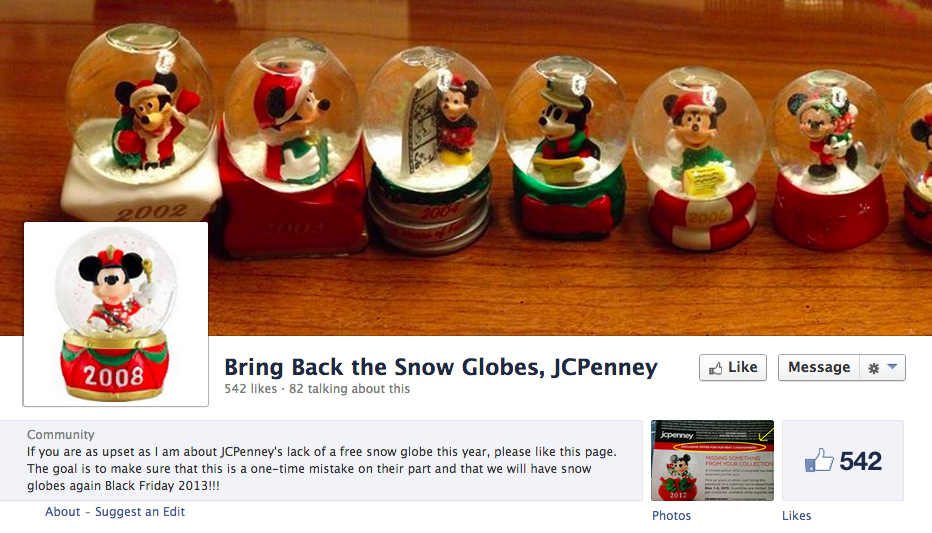 Ellen Degeneres was alerted:

A Change.org petition was inevitable. (It has 341 supporters.)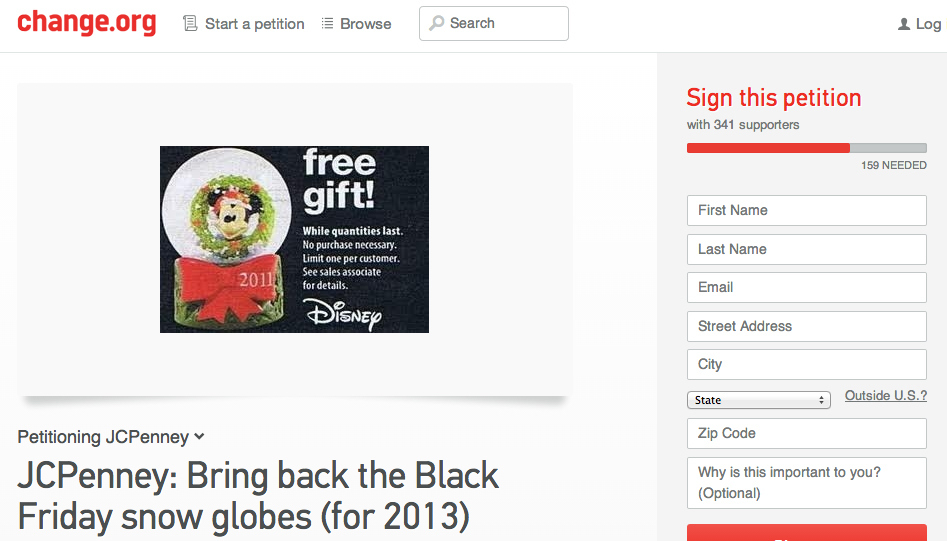 J.C. Penney started deleting snow globe messages and blocking users posting them to its Facebook page. But that only assured the group of its strength.

Another supporter made a Twitter account.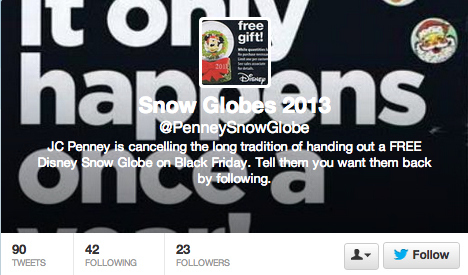 Fingers were pointed at Ron Johnson, the former head of Apple retail and J.C. Penney's ex-CEO
Come Black Friday, the snow globe enthusiasts shopped elsewhere or slept in.
The battle continued on, however, with the goal of obtaining thousands of signatures on the Change.org petition for a February 2013 submission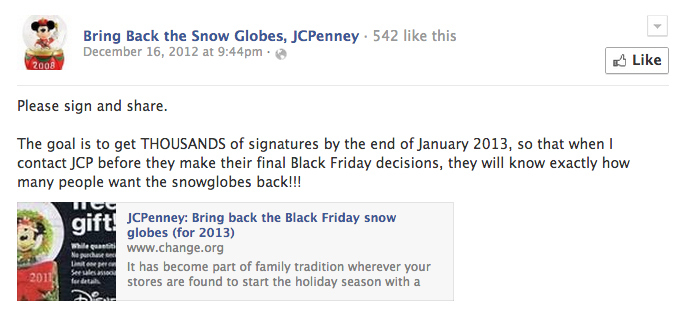 Unfortunately, it received fewer signatures than Likes on the group's Facebook page. The community was relatively dormant for months.
But! The movement gained renewed vigor in May, after Johnson was replaced by former CEO Mike Ullman. J.C. Penney asked shoppers to return and solicited feedback with a "#JCPlistens" campaign. The snow globers seized this opportunity.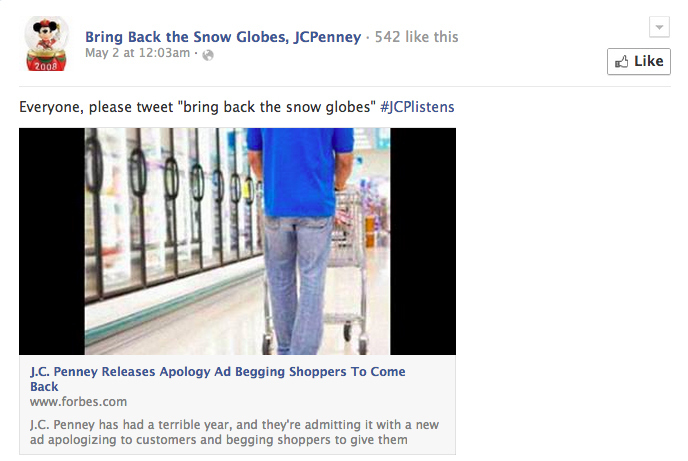 Would the group have to make their own snow globes to make up for last year and this year?

It might have been cheaper than buying one off eBay...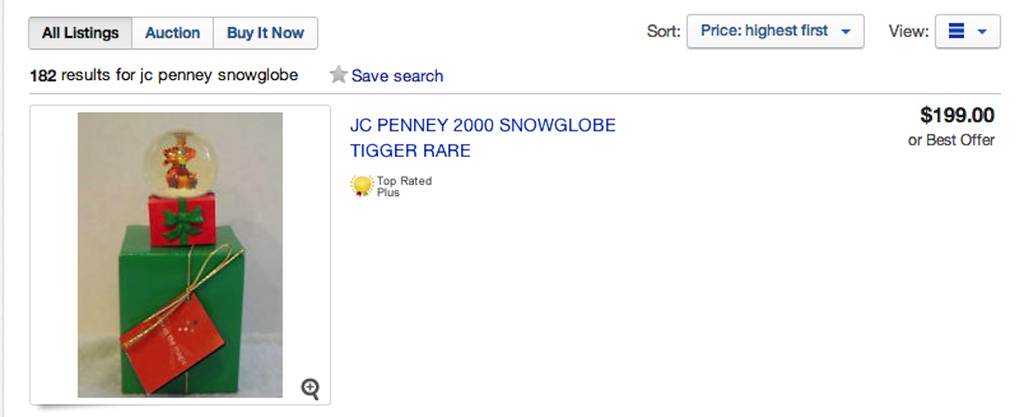 Then suddenly, in September, a beacon shone in the form of a single J.C. Penney tweet.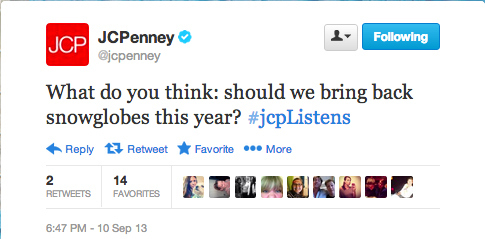 Johnny had an answer:

In the past month, a J.C. Penney mailing said 2012 snow globes would be made available to its "best cardmembers," upsetting many in the group. Some with a card didn't get the mailing.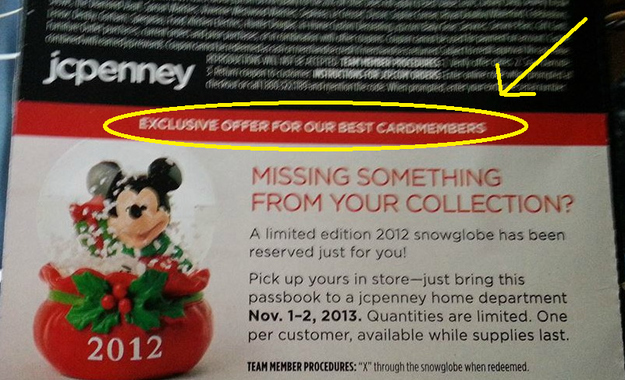 The creator of the group said she woud look into it and let the others know.
That made the news of Oct. 12, 2013, all the more significant. Could it be?
It was. The battle had been won.
Still, there is no pleasing everyone...