J.C. Penney drew lots and lots of attention for sounding either drunk or hacked on Twitter during the Super Bowl tonight. News outlets questioned what was going on with the company's social media account, and brands like Kia and Snickers jumped in to poke fun at the retailer.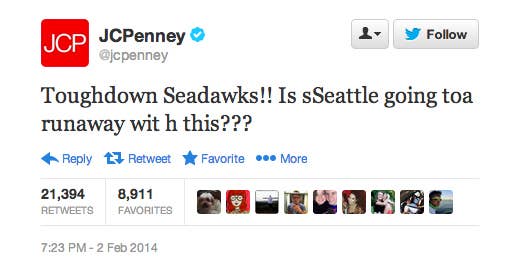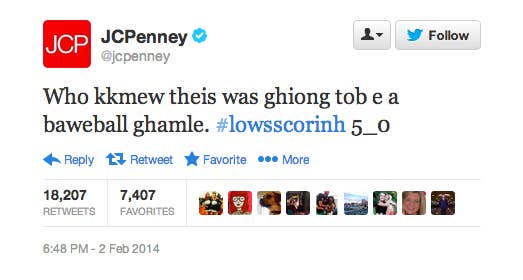 After roughly an hour of mystery, J.C. Penney revealed that it had actually been "tweeting with mittens" on all along, promoting the retailer's Team USA mittens ahead of the Winter Olympics.
J.C. Penney, rather than wait around for its own "Oreo moment," decided it wanted to do something different during tonight's game.
"We knew Twitter would be very active but wanted to find a way to stay above the Super Bowl fray and instead create our own narrative," Kate Coultas, a spokeswoman for J.C. Penney, told BuzzFeed in an e-mail. "Given it was cold, and we are selling Go USA mittens — we thought it could be a fun stunt!"
For those wondering if J.C. Penney was trying to cover its tracks, its social media and mobile director noted on Twitter that he was, in fact, "stone-cold-sober" while sending the tweets.
J.C. Penney has already been promoting the Team USA mittens, proceeds of which benefit the U.S. Olympic Committee, putting out a "Go Ligety" music video last month to the tune of "No Diggity."
The amount of attention J.C. Penney got for its free tweets tonight was pretty good considering the price tags of $3 million to $5 million on 30-second television commercials during the actual game.
"The buzz has certainly exceeded our expectations!" Coultas said.