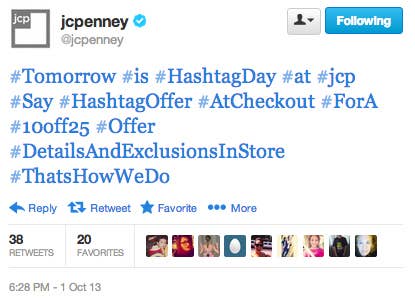 J.C. Penney is giving a $10 off $25 discount to customers who verbally say the word "hashtag" today while checking out, a play on the viral Jimmy Fallon-Justin Timberlake video that poked fun at how absurd Twitter conversations would sound IRL. (Probably on par with how absurd it sounds when people say "IRL" out loud.)
The humorous offering — which has its own YouTube video, and was pushed out via social media — is a little ironic for J.C. Penney, which has been struggling even more with online sales than those in stores. The beleaguered retailer also shut off free in-store Wi-Fi last month to save $7 million a year.
Still, Fallon and Timberlake probably didn't see this one coming.