J.C. Penney And Abercrombie At Risk Of Getting Booted Out Of S&P 500
The retailers are among companies at risk of losing their spot in the S&P 500 once Ingersoll-Rand spins off its Allegion unit next month.
It's been a tough two years for Abercrombie and J.C. Penney shares.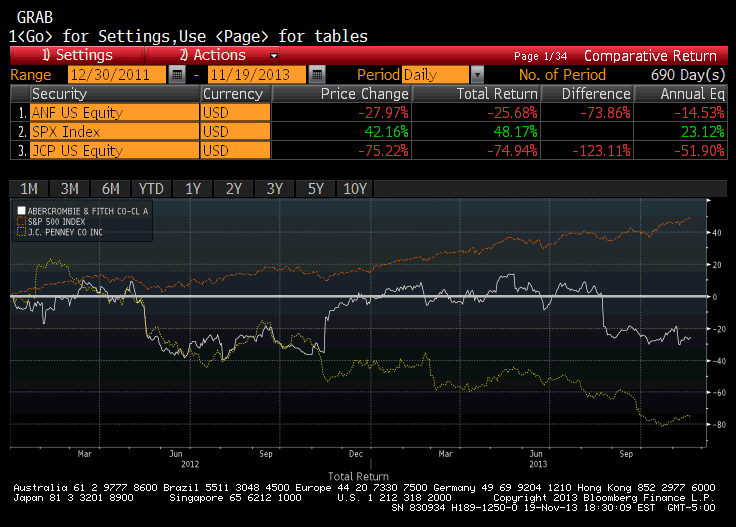 J.C. Penney and Abercrombie & Fitch, both retailers that have been plagued with falling sales and management mishaps in the past two years, are now at risk of losing their spots in the S&P 500.
The index, to make room for a spin-off company from Ingersoll-Rand that starts trading Dec. 2, is likely to dump one of those two, JDS Uniphase, Teradyne, or Ryder System, as they're the smallest current members, according to a note from Deutsche Bank.
Being a part of the S&P 500 is a status symbol for companies, as the index tracks the 500 biggest corporations by market value traded on the New York Stock Exchange and NASDAQ. More than that, it can help prop up stock prices because of the trillions in financial products that are linked to the index.
While getting removed from the S&P 500 might not ultimately hurt the future of J.C. Penney, Abercrombie, or the other companies listed by Deutsche, it does reflect a decline in their fortunes.
J.C. Penney shares have fallen 75% from the end of 2011 through today, while Abercrombie lost 28%. In that time, the S&P 500 rose 42%. J.C. Penney's market cap now stands at $2.65 billion, and Abercrombie's is $2.69 billion — certainly on the lower end of other companies in the index.
J.C. Penney will report earnings Wednesday morning and provide key details on how its turnaround efforts are taking hold.
With additional reporting by Matthew Zeitlin.