Is Coach Cool Again?
The handbag maker said even though North American sales declined, it's selling more of its $400-plus bags as its brand gains more appeal.
Coach has been working hard to rehabilitate its image for the past few years, after realizing it was too closely associated with outlet discounts and uninspired bags that looked like they were dipped in pools of the letter C.
Those efforts just might be paying off.
Coach said today that in the three months ended Dec. 26, about 35% of its handbag sales were in the "above $400" price range, compared with 30% last year, suggesting consumers are viewing the brand more favorably. It also sold less logo product than in the past, with such items making up less than 5% of retail sales in North America, and less than 30% in its ubiquitous outlets.
While comparable sales in the region still declined, it was less than the past couple of years, and Coach's profit beat analysts' expectations. The company remains far less profitable than it once was: in its most recent annual results it reported $531 million in adjusted net income, down 50% from the $1.1 billion reported in 2013.
"The Coach brand is very much on its way to evolving from an accessible luxury handbag and accessories brand to one of the most relevant modern luxury brands in fashion," CEO Victor Luis said on an earnings call today. The results reflect "the most significant progress to-date on our transformation plan," he said.
Coach, founded in 1941, has been criticized in recent years for diluting its full-price business with outlet stores, accelerating its loss of market share to newer brands like Michael Kors and Kate Spade. As of June, Coach had 258 retail stores in North America compared with 204 outlets, the latter of which mostly sell cheaper, made-for-outlet goods. A decade earlier, it had 193 full-price stores and 82 outlets.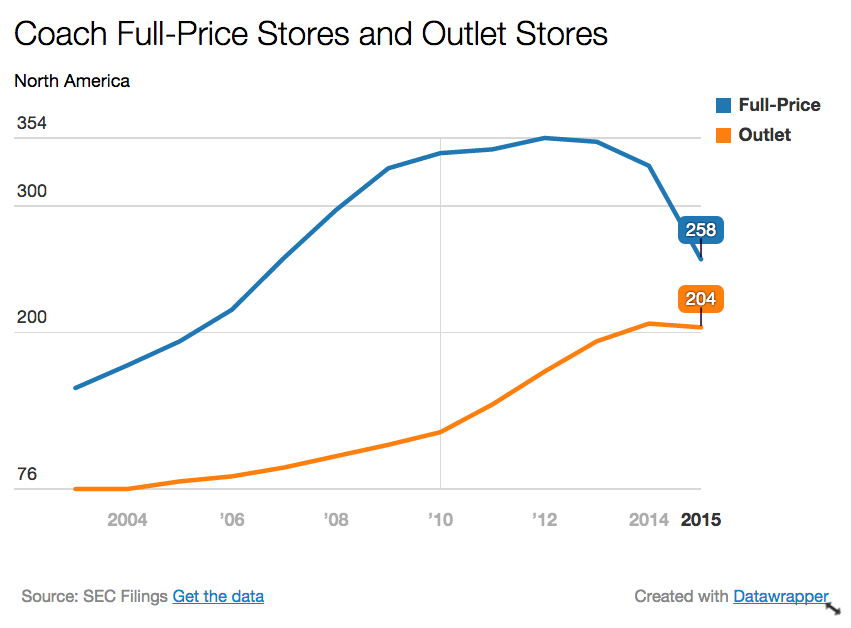 Luis has contended this isn't a problem for consumers, even as those numbers continue to move closer together, noting that there's only a 10% overlap between the two. If he's right, that's big for the brand, which relies on the booming and profitable outlet channel — Goldman Sachs analysts estimated in a Jan. 21 note that outlets make up more than 90% of Coach's North American operating profit.
"Consumers don't think in terms of number of doors," he said at a conference last summer. "What consumers think of is promotional impressions and that's what we are really looking to manage."
Luis has referred to that reduction in "negative impressions" as key part of Coach's so-called transformation. To that end, Coach went from sending a whopping 1.3 billion emails tied to online outlet store flash sales in the year ended June 28, 2014, to less than 300 million as of last year. It has also pulled back on the frequency of loyalty sales at its regular stores, and eliminated rampant Coach promotional events at North American department stores.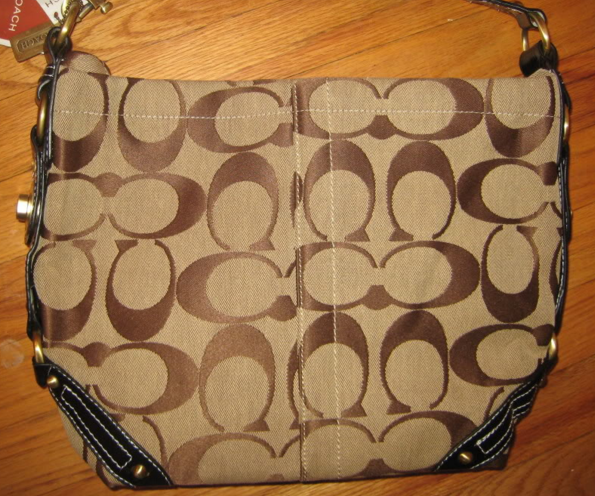 As it works to give off a higher-end vibe, the company has also started referring to itself as "a leading New York design house of modern luxury accessories." As recently as 2013, it was calling itself "a leading marketer of modern classic American accessories."
On Tuesday, Coach outlined the "craftsmanship bars" it's installing in some major stores, staffed by "dedicated leather services specialists," who will offer services like monogramming and leather cleaning. It introduced a new store uniform in October so staff can look and feel "more stylish and elevated."
A big part of the company's pitch is its long history, especially as it tries to win fans among 20- and 30-somethings. (Executives noted in 2014 that the so-called millennial generation values "authenticity.") It recently launched a "Heritage" campaign and is selling a "Coach Vintage" collection comprised of its four "most iconic" bags throughout its history.