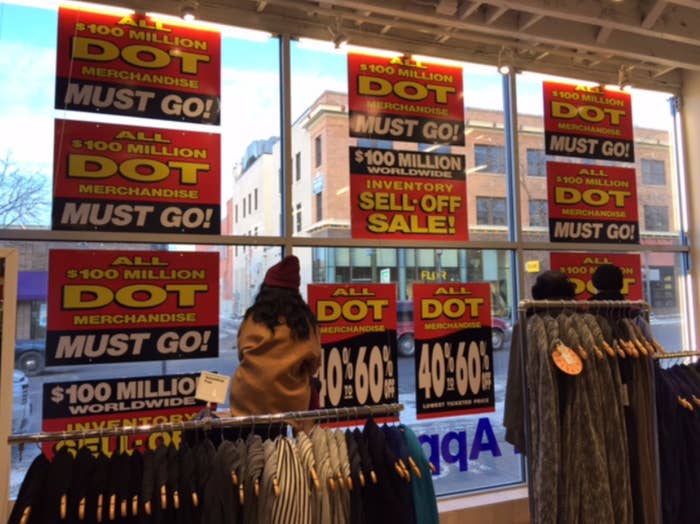 American Apparel is off to a rough start in 2015, according to internal documents reviewed by BuzzFeed News, with sales at its retail stores plummeting by almost 11%.
The dire figures are fueling the already bitter feud between founder Dov Charney, who was fired last year, and the hedge-fund-backed management which now runs the company. The collapsing sales are also spreading fear among the company's garment workers who, almost uniquely in the fashion business, still work in the United States, in its downtown Los Angeles factory.
Amid heavy discounting, sales at its retail stores are down 10.9% as of March 31, compared to the same period last year, with dips exceeding 15% in core markets like New York, Los Angeles, and Chicago. The documents, which are unaudited and do not reflect finalized numbers for the quarter, show American Apparel's sales decline has continued in the wake of its worst holiday season in four years. Two weeks ago, the company reported a 9% overall sales drop in the final three months of 2014, and a 4% drop for the 2014 calendar year.
Online sales are a bright spot, with comparable revenue up 17.8%, although in 2014 online accounted for only 10% of the overall pie. Sales at the wholesale division, which accounted for about 30% of the total last year, fell 2.3%. Meanwhile, in its stores average unit retail — that is, the average price of a single item sold in its retail stores, from scrunchies to T-shirts — has also suffered mightily, falling 29% in the 28 days up to April 1 from the same period last year, the documents show.
BuzzFeed News was shown detailed internal sales reports from Feb. 28, March 1, March 16, March 28, and April 1, offering a rare, granular look at American Apparel's performance under a new management team struggling to reshape the company. Four sources familiar with the company provided the documents, which were reviewed for accuracy by two current employees. All cooperated for this story with the intent of illustrating the brand's ongoing struggles under the new management team, which they oppose; all requested anonymity due to the sensitivity of the information and concerns of retribution.
The first quarter is typically just one-fifth of the year's revenue, as American Apparel tends to be more of a spring and summer retailer. But employees are concerned that sliding sales will continue, imperiling the company's cherished brand and the jobs of its roughly 10,000 workers, 180 of whom were laid off last week.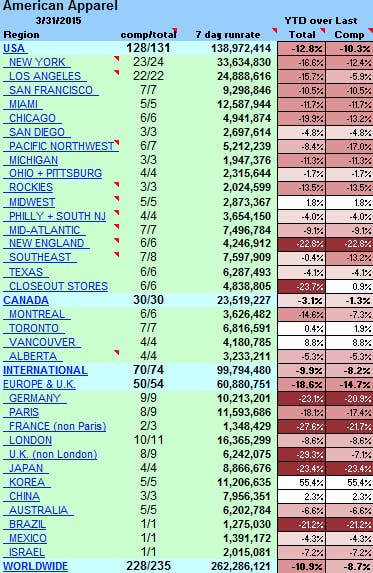 For those who haven't been following: Charney, 46, started building American Apparel in the '90s, brought it public, and was its CEO up until last June, when his board turned on him with a surprise termination letter alleging he misused corporate assets, violated sexual harassment policies, and more. Charney formed a risky partnership with a hedge fund called Standard General that increased his stake in the business but ceded his ownership control to the firm. He believed the hedge fund would reinstall him, working as a consultant of sorts for American Apparel during a third-party investigation.
Instead, he was fired in December from the consultant role after the investigation concluded and replaced in January by Paula Schneider, a retail executive who most notably oversaw the swimwear group at Warnaco, which owns and licenses brands like Speedo and Calvin Klein Swim, and Laundry by Shelli Segal. Schneider told 20/20 last month Charney will never be reinstated. That message was reiterated in a memo to staff on March 26 that's included below.
So now, Standard General and its appointees are running one of America's most visible and provocative clothing brands, which is also the largest garment manufacturer in North America. The hedge fund has overseen the installation of a new board, CFO, general counsel, and other senior managers. The company has also hired a new creative team and dismissed a number of longtime employees with close ties to Charney as it tries to make the brand less "overtly sexual" and more focused on social issues that "millennials care about."
But it's already been criticized for losing its realness: An American Apparel casting call from an external agency went viral last month after it called for "real models," not "Instagram hoes or thots"; the company has also been airbrushing nipples and pubic hair from its website.
American Apparel's board and new management have argued that while Charney built an iconic brand in the past 18 years, he wasn't fit to run a publicly traded company — essentially, that the place wasn't run by grown-ups. They pointed to a stock in the $1 range, a failure to post an annual profit since 2009, and expensive, embarrassing sexual harassment lawsuits, which have dominated coverage of the founder for the past decade. As Standard General partner David Glazek told Bloomberg Businessweek last year: "We look for good businesses with bad balance sheets that can be fixed...Chaos has a cost. We want to institutionalize things."
But the chaos has only increased since June.
Current and former employees have seethed against new management, particularly as Charney looks for a way back into the company, waging email campaigns and petitions on his behalf, and rallying factory workers, who have endured furloughs and unplanned cuts to their hours since his exit.
Cuts on the factory floor, which will comprise some of the 180 layoffs announced last week, have led to inventory issues in stores, where top-selling items aren't available because they aren't getting made fast enough, two employees told BuzzFeed News on the condition of anonymity. A separate source familiar with the company acknowledged the shortages, but blamed it on poor demand forecasting under Charney's leadership, when the company was offering more than 4,000 styles.
American Apparel's new management had its first major clash with Charney and longtime staff last fall, when it hired a liquidator called Great American Group to clear inventory through what it called a "dot sale." A presentation from Great American, included below, shows the promotion was intended to boost comparable sales by 20% — instead, sales plummeted in the fourth quarter.
The frustration around the dot sale is easy to understand after looking at photos of stores with the signage. During the sale, American Apparel looked more like a Kmart or a Burlington Coat Factory than an edgy hipster brand, former employees complained.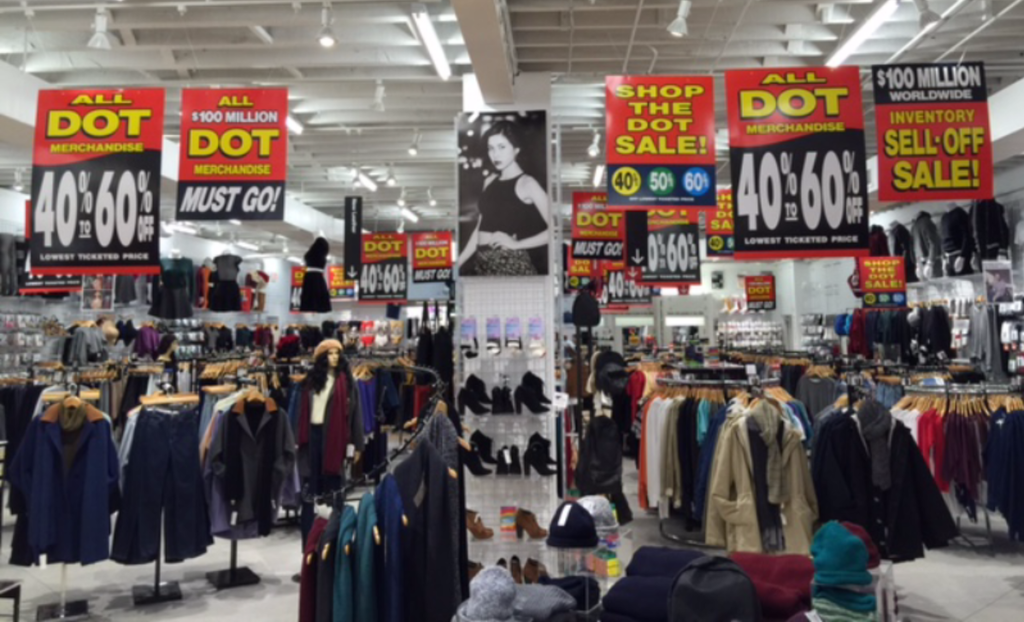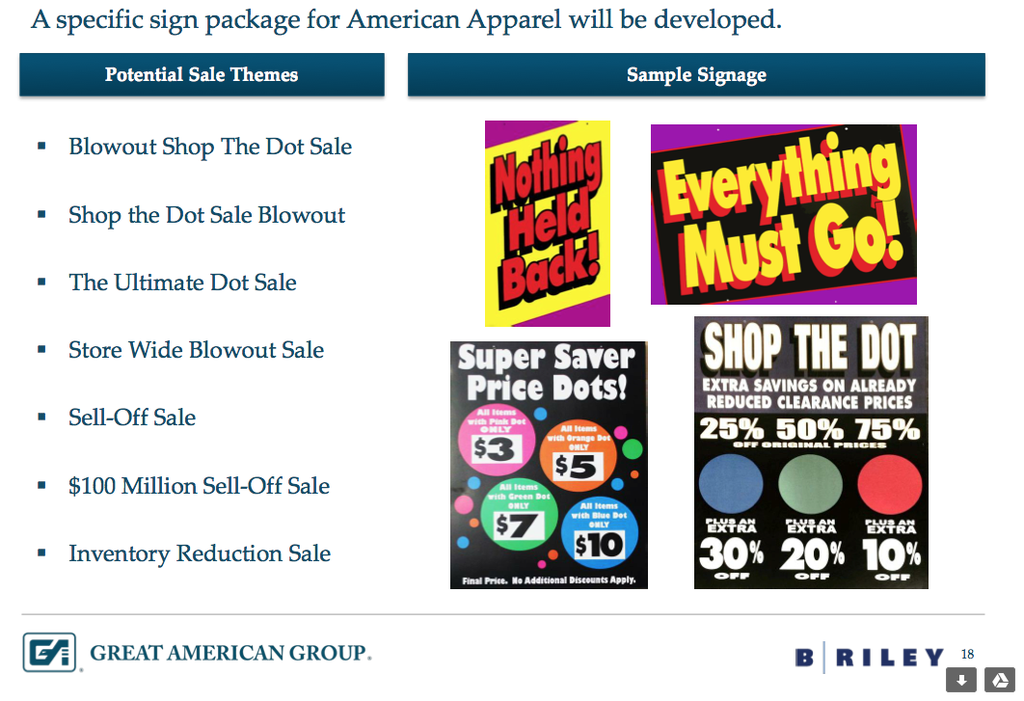 While the dot sales are over, management was holding blowout 90% off sales in the first quarter, defending them as necessary for offloading old inventory. But some employees complain that they've given customers the impression the chain is going out of business and that the discounts, more aggressive than those offered under Charney, may prevent customers from paying full-price in the future.
According to the documents reviewed by BuzzFeed News, the company's average unit retail — a closely watched metric in the retail business — fell 29% to $20.03 in stores for the 28 days leading up to April 1. In the same period last year, that figure was $28.30; it was $26.91 in 2013. Reports from Feb. 28, March 1, and March 16 showed similar declines.
Margins are also sliding: The average gross margin in retail stores in the 28 days leading up to each report was down at least 8%, and by more than 20% as of April 1, according to the documents reviewed by BuzzFeed News.
The people most scared by all of this are American Apparel's largely immigrant, Spanish-speaking factory workers, who are skilled laborers and accustomed to earning more than the minimum wage along with good benefits and on-site amenities like massages and a medical clinic. Schneider and Standard General have insisted that American Apparel will stay in the U.S., but employees are concerned that without a robust top-line and margins, making goods domestically becomes cost-prohibitive.
"The company is not managing a turnaround," Charney said in an email to BuzzFeed News. "It is managing a severe decline in sales that has taken place under the stewardship of a hedge fund."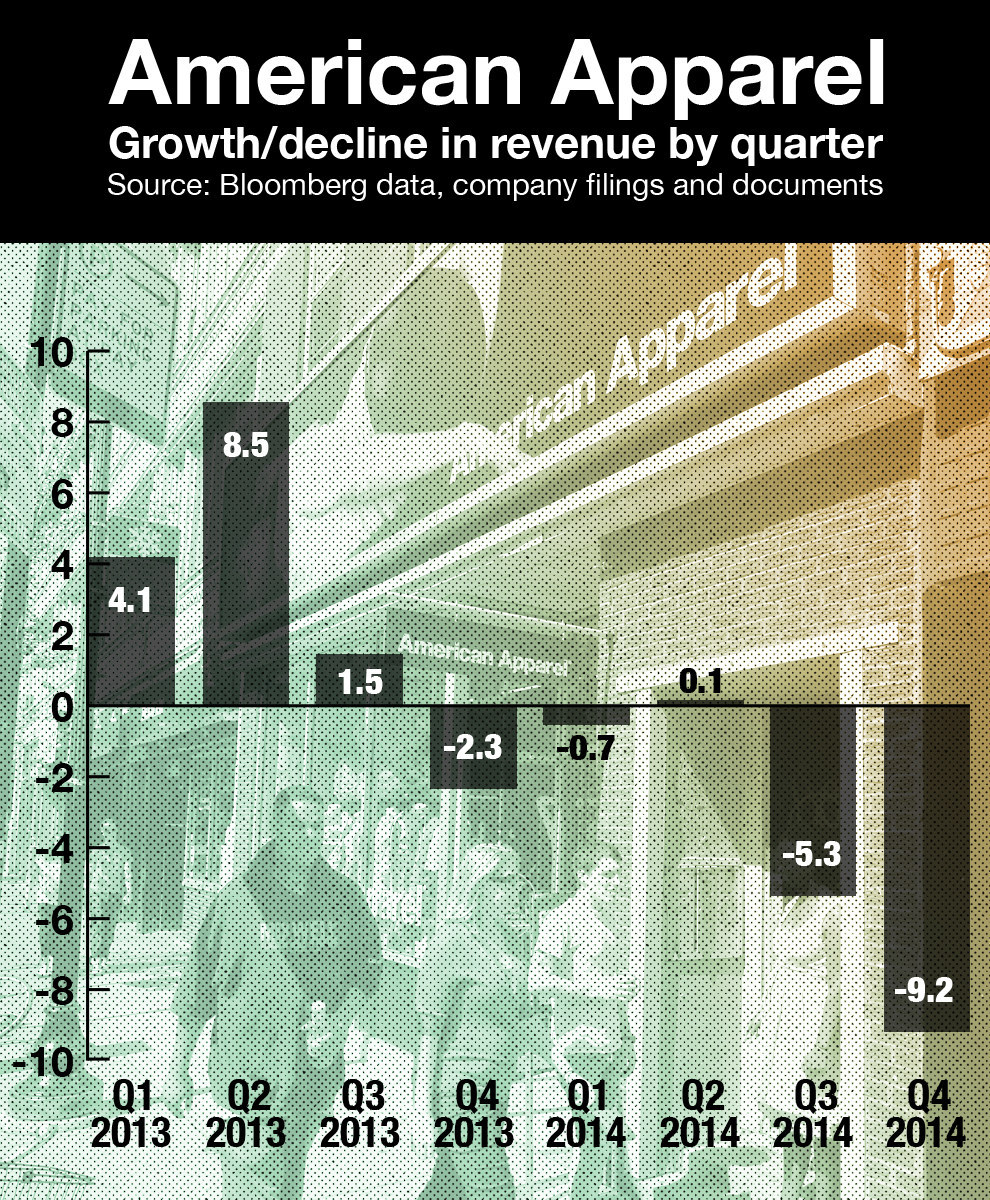 The daughter of one worker emailed BuzzFeed News last week, saying she translates articles for her mother so she can, in turn, pass information on to her co-workers, who are both scared and confused as they watch a new slew of executives scale back production and liquidate inventory.
Some workers are organizing, with the help of an immigration advocacy group called Hermandad Mexicana, while others are concerned that such organizing may cause them to lose their jobs.
Hermandad Mexicana has current management concerned — the subject line of the March 26 staff memo was "Re: Hermandad Mexicana's Recent False Accusations." In a bulleted list, the company told employees it was "absolutely false" that colleagues have been punished for making complaints to human resources and distributing flyers. It also countered claims regarding furloughs and hourly reductions with new management's "issuance of bonuses" and "improvements to paid sick time and medical leave."
Standard General "is committed to providing the company with additional capital when needed, and current management has significant experience in turning around companies and increasing sales," the unsigned memo said, calling them "the right team for the job."
But Charney is still stirring up trouble for Schneider, the new CEO, who shared news of the 180 layoffs with employees last Wednesday. She drew the frustration of some employees by sharing the news with the New York Times before alerting all affected staff; and more grumbling followed when the company disclosed grants of hundreds of thousands of stock options to top executives and directors in multiple SEC filings within a day of the announcement. Schneider wouldn't rule out additional layoffs in her interview with the Times. Employees say that based on the past two quarters of sales and profitability, it seems that further layoffs are inevitable, a view that Charney is promoting.
"Unless the existing management is able to reverse the decline in the company's sales, which I believe is largely self-inflicted, the workers will continue to suffer," Charney wrote in an email to BuzzFeed News. "If the current regime were to remain in power, I fear that management will be unable to reverse the company's declining sales. Eventually I think it is likely that the board, which does not have any experience in apparel manufacturing, will be seduced by the slippery math that it is less efficient to manufacture in the U.S. and these 4,000 jobs in Los Angeles could disappear."
But Schneider says layoffs are nothing new. "Under Dov Charney's leadership, in 2013, 160 employees were laid off and in 2014, prior to his departure in June, 238 employees were laid off," and only 10% were paid severance, Schneider said in a statement to reporters. In the latest round of layoffs announced last week, all employees were offered severance, she said.
It is, without a doubt, a unique corporate battle — as much as American Apparel wants to remove Charney and those loyal to him from the picture, he's determined to return to the company, which he calls his life's work. He's planning litigation, regularly speaking with factory workers, and speaking with the press.
Most stories about Charney focus on the exploits that landed him in tabloids throughout the years — they're almost irresistible for how unusual they are in the business world. There's the time he called his CFO a "loser" to the Wall Street Journal, his openness about having relationships with employees, the often lewd accusations former staff have leveraged against him. There were ugly lawsuits, including one where an employee claimed Charney made her his "sex slave." (The case was thrown out and sent to arbitration, though a blog tied to it came up in Charney's termination letter.)
There was even a lawsuit from Woody Allen, who sued the company for using a still from Annie Hall on a billboard. Generally, it's mostly revolved around sex: "Sleaze King," Businessweek's lengthy story about him proclaimed last summer, photoshopping a bite-size photo of Charney in between a pair of breasts on its front cover.
But, as Jezebel pointed out last week, the sex is no longer the point.
American Apparel is now a much more common kind of business story — a once-quirky, unique kind of business, in the hands of a hedge fund that is convinced it can maximize efficiency and profitability and make a lot of money in the process. While the decisions are tough, they will help American Apparel thrive in the long-term, management argues.
In the meantime, the company is a mess: Workers frightened of more layoffs, retail stores facing a customer exodus, and an ousted founder refusing to let go, stirring up all kinds of trouble in the process.
Jason Wells in Los Angeles contributed reporting to this story.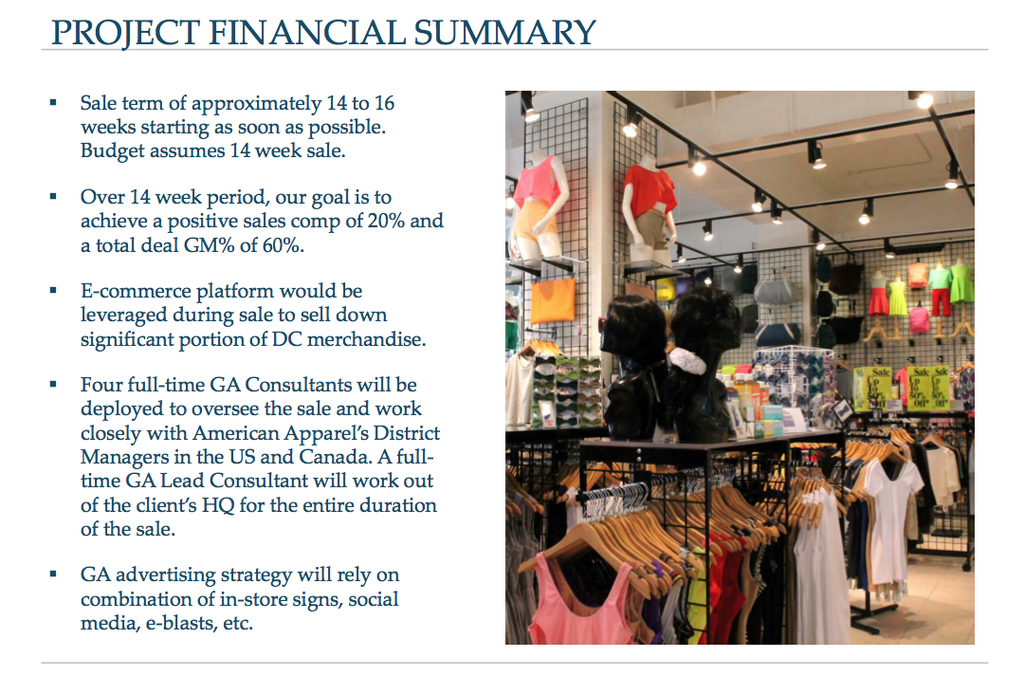 Slides from the pitch liquidator Great American Group made to new management about the failed "dot sale."