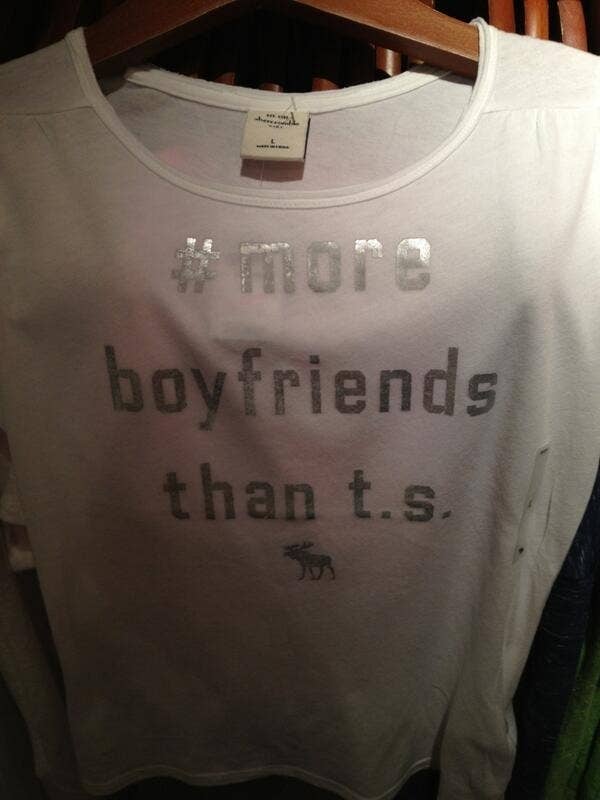 Abercrombie & Fitch, which recently came under fire for not making plus-size clothing, crossed another group of people this week: Taylor Swift fans.
The teen retailer was forced to pull a T-shirt that said "# more boyfriends than t.s.," a reference to Taylor Swift, after fans known as "Swifties" complained that it was insulting to the pop singer.
Swift supporters created a petition on Change.org asking Abercrombie to remove the shirt, and one self-described "huge Swiftie" recorded a YouTube video explaining the situation, urging fellow fans to call the retailer's public relations line to complain. She included the phone number in the description.
A call to the number, which matches the one listed on Abercrombie's corporate website, features the following greeting: "Thank you for calling Abercrombie & Fitch public relations. If you are calling regarding the Taylor Swift t-shirt, please note this is no longer available."
While the YouTube user, Chelsea Nicole, got the recording that the T-shirt was no longer available, she left a voicemail sharing her opinion, saying it was "the most childish thing I have ever seen in my entire life." She added that she will never shop at Abercrombie again because of it.
Abercrombie, incidentally, is holding its annual shareholders meeting Thursday, though it will not be webcast.
UPDATE (6/21): A spokesperson for Abercrombie says the company "set the shirt at the end of February, marked it down in the middle of March and it is no longer available." Abercrombie also said on Twitter, where the brand has almost 400,000 followers, that Swift is "awesome."
Abercrombie responded on Twitter on Thursday