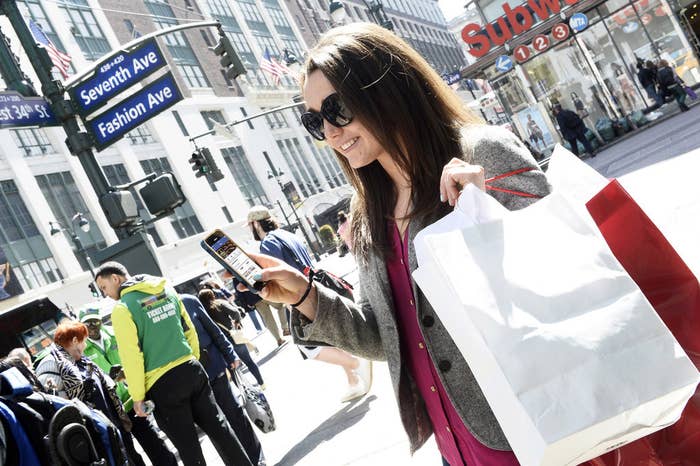 It's a sign of the times that it wasn't too creepy for a PR person for IBM to refer to the company's new partnership with Facebook as a marriage of data "that will let retailers put a face on every customer."
"Sometimes it feels like brands are targeting people like Sapna who work at BuzzFeed instead of you, Sapna, who works at BuzzFeed," she wrote. Isn't it frustrating?
Help is on the way. IBM Commerce, which works with thousands of brands from Staples to David's Bridal, said today that it's teaming up with Facebook to help its clients serve up increasingly personalized ads to customers. IBM will pair data from its "marketing cloud," including weather, location, previous purchases, and web browsing behavior, with Facebook's user data, to give marketers more information with which to target shoppers in the relentless quest for relevant messaging.
IBM offered the following example: If a company is launching a new line of running gear, it could use Facebook's Custom Audiences and ad-targeting tools to pull users who are interested in distance running. Data and analytics from IBM will help brands go deeper on that group, identifying their preferences around running gear and the weather they tend to train in. The end result would be "highly tailored" deals and ads for the new running line on Facebook and other platforms.
"This whole trend towards personalization is gathering steam," Deepak Advani, general manager at IBM Commerce, said in an interview with BuzzFeed News. Most consumers aren't getting personalized messaging online and feel their experience is "very generic," he said, citing a recent survey conducted by the company.
Retailers, who have massive amounts of customer data, have been cautious in deploying that information in a way that's "cool," and not "creepy," as Gap's CEO put it in a presentation last year. But IBM says its own survey data shows that marketers are actually not doing enough in the way of personalization — or "relevance" as some companies prefer to call it — and may be losing customers to competitors as a result.
The openness with which IBM and Facebook are touting the new ad-targeting capabilities reflects the growing industry belief that all is forgiven among consumers so long as they're seeing something they care about, and that privacy is a lower-ranking concern than it used to be.
Tailoring ads to individual users and serving them up at the right time could help drive higher sales and also make customers more loyal to the brands delivering them, IBM's Advani said. In the future, that could mean showing consumers deals right before they're about to go on a big vacation or after they get a large bonus at work, based on knowledge gleaned from Facebook status updates and cookies, he said.
Facebook already allows businesses to target ads by location, demographics, interests, and behaviors — flower shops can advertise to people who recently got engaged, sporting goods chains can focus on those who "like" baseball-related topics, and food brands can aim for people who have purchased children's cereal.
IBM says its technology will help advertisers "more accurately identify which of their customers are among the 1.44 billion people active on Facebook and surface correlations between their interests and interactions across multiple channels," and work with them to deliver more personalized messages.
The partnership "will help top brands achieve personalization at scale," said Blake Chandlee, vice president of partnerships for Facebook, in a statement.
Advani said that one client with stores in a stadium envisioned a situation in which IBM's geofencing software notes that a potential customer is in the vicinity. Then, the potential customer opens Facebook to post about being at the stadium. Thanks to the partnership, that person might see a deal in their timeline offering 10% off at the store, which is a "meaningful" message, he said.