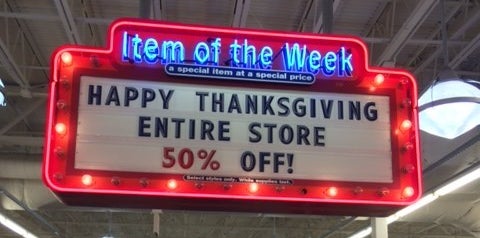 Why would anyone go shopping at Old Navy at 3 a.m.?
This question has intrigued me ever since I read about Old Navy's Black Friday plans earlier this month. The chain announced it would stay open for an "unprecedented 31 hours" straight, starting at 4 p.m. on Thanksgiving and ending at 11 p.m. on Black Friday.
Thirty-one straight hours! By that logic, I reasoned, people must actually want to go to Old Navy at 2, 3, even 4 a.m. I found this...astonishing.
Millions of Americans are drawn to Black Friday deals like moths to a flame; for many, it has a magnetism akin to Ryan Gosling's smile, a pull like that of Disneyland to a child. The retail industry, dramatically, calls this weekend "the Super Bowl of shopping."
But Old Navy! It's not Walmart, where the discounts on flat-screen TVs and tablets are enough to rally tryptophan-soaked bodies from boozy slumber into a consumer battleground.
And it's not the outlet stores, where I've witnessed women succumb to a form of midnight hysteria uniquely triggered by dirt-cheap Kate Spade bags and cut-rate Le Creuset dishes. No, if you're going to Old Navy at 3 a.m., you're up in the dead of the night for $8 fleeces and $3 socks that are also for sale online and during the rest of the day. So why? Why? Why would you go at that hour?
I needed to find out. And that's how I ended up in the mostly empty parking lot of the Crystal Mall in Waterford, Connecticut, at 3 a.m. on Black Friday.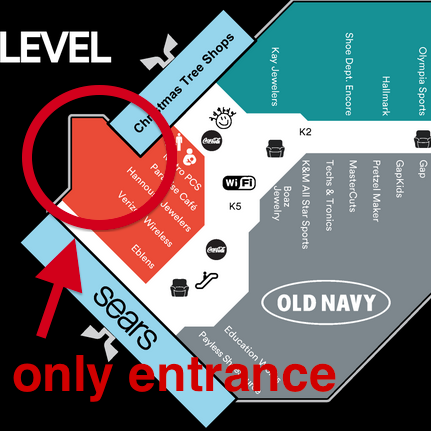 It's roughly 30 degrees out and I'm still not really sure if I should call this Thanksgiving night or Black Friday morning. I read on the mall's sparse Facebook event page that the only entrance open at this hour is the one between Sears and the Christmas Tree Shop, because Old Navy is apparently the only store open at 3 a.m.
I note with some satisfaction that if I was there simply as a consumer, chasing the big deals, I would be a fleet-footed jungle cat in a sea of Garfields. My family does Thanksgiving on Friday to accommodate my sister's medical residency schedule, which means there is no boozy feast in my belly to slow me down. My senses are as sharp as can be, and a 2:30 a.m. coffee means my synapses are mostly firing.
It's not lost on me, however, that while my sister is likely delivering her 102nd child since June, I am wandering into a discount apparel chain to talk to strangers.
Old Navy is bright and fluorescent, even though the rest of the mall is dark and eerily quiet. If you're having trouble picturing it, just imagine what all the 800 other Old Navys look like. I'm genuinely surprised to see other shoppers inside — mostly women, with a couple of miserable-looking men in tow. There is no line at the checkout. The entire store is 50% off and eye-poppingly colorful. There is so much fleece. Fleece, fleece, fleece on fleece.
I wander to the back of the store, where a young man is folding baby clothes. I explain my quest, and ask him: Why stay open at 3 a.m.? Who comes here at this hour? What's it like to work this weird shift?
"Oh my god — I've never done anything like this before," he says. In short order, and as he continues to fold, I'm awed to discover that he worked from 9 a.m. to 5 p.m. at GameStop on Thanksgiving. His Old Navy shift began at midnight and will end at 7:30 a.m. And then he'll sleep so he can work at Hollister from 10 p.m. to 4 a.m. on what's technically Black Friday into Saturday. In my eyes, he's the hardest-working man in retail.
He's also surprisingly upbeat, and pauses when I ask him why people show up in the wee hours of the morning for Old Navy clothes. "You can get good deals around 6 p.m.," he says, thoughtfully. "It died down around midnight though. It'll probably pick up again around 6 a.m. I don't know why people come right now, though. I wouldn't."
Shortly after, another employee is surprised to learn that it's 3:15 a.m. We are in a windowless, brightly lit abyss of clothing, and time becomes a fluid concept during a 31-hour workday. Laura Scelza, 25, is on the midnight to 8 a.m. shift, and will have a brief break before she goes to her other job as a dealer at local casino Mohegan Sun — another place where the time of day is never quite clear.
"When I came in, it looked like daytime," she says. "Kids were playing in the playground across from the store, and it was around midnight."
Store associates outnumber customers two to one, but I prowl near shoppers, searching for a face that seems open to talking. For the most part, the customers aren't smiling, not even those with friends and family. They look stressed out and tired; eyeliner bleeding, mascara smudged.
The customers I do talk to are so matter-of-fact about their reasons for being there that I start wondering if I am the crazy one for thinking it's weird to be in an Old Navy at 3 a.m.
"I've been out since midnight for the deals because my son is finally asleep," one woman says. Another tells me, annoyed, "I'm here because I have three kids and I'm saving hundreds of dollars." Her friend, who is more patient, says they've been out since 10 p.m., and is stunned to hear that it's now past 3 a.m. (Surprise over time is a common theme in an Old Navy at 3 a.m.) They were at Walmart and Kohl's earlier, buying toys and other gifts, and this was the last stop on their "road map," she says.
She adds that she hopes I buy some clothes, given how late it is. It's clear she pities me.
I try to catch the eye of a middle-aged woman in a shirt that says "Totes Amaze," because that's exactly how I feel about her shirt, but I lose her and her barrel curls to a wall of $8 pajama pants.
The music in the store is loud and clubby; one song keeps repeating the phrase "I've been thinkin' about you." I hate it. A store associate, on her way in, walks past me with a Red Bull in hand. The song shifts to a rock version of "Jingle Bells," and I head over to a group of staffers, one of whom is singing along to it. What do they think of this whole staying-open-for-31-hours thing?
"Honestly, people should stay home with their families at this hour," the singer said. Another, eyeing my notebook, quickly remarked that while she would never shop at this hour, she can fully understand why people would. Online, she notes, the merchandise is only "up to 50% off," while in stores, it is all 50% off. I nod.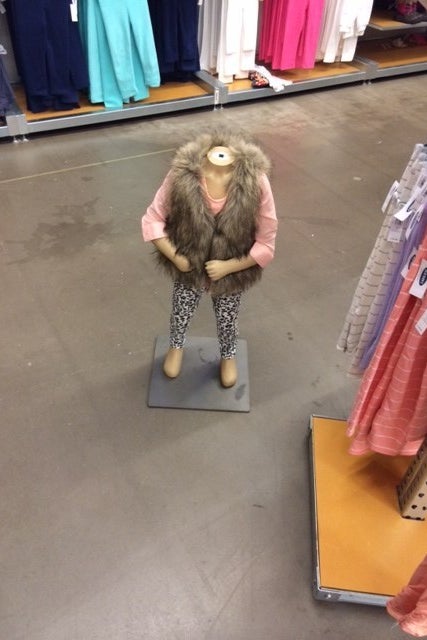 A cute headless mannequin, and Brittany (left) and Rose.
While staring at a headless mannequin at 3:55 a.m., which I decide I like better than those with heads, two associates ask if I need help. Rose Stavens, 28, and Brittany Gladden, 21, don't take long to become my favorite associates. They're incredibly cheerful and alert, and Gladden sheepishly confesses to having had three-quarters of a Pepsi, while Stavens attests to consuming two Red Bulls. This is charming, because by now, I am certain I would require an Adderall and multiple coffees to work this shift.
I ask my regular questions, and they both say they're "really excited" to work because it's fun to see the whole staff, "the time goes quickly," and the store has a new and improved line system from last year. "It's just one day a year," Gladden enthuses, and Stavens adds, "Technically, two days a year." They point out that shopping at 3 a.m. means you can get some items that will be gone by 6 a.m., such as a pair of white pajama pants that is indeed the last of its kind.
Our conversation is cut short after a bespectacled woman with a clipboard walks over and locks eyes with me: "Media?" she asks. I respond in the affirmative. "You can only speak with district managers," she informs me, and I apologize to my two new friends, who weren't aware of the rule. Before I left, I grab a pair of socks with a penguin on them, a necklace, and a black-and-gray-striped fleece for a grand total of $21, guilty over spending so much time in a place without buying anything.
Driving home through the empty roads, Sheryl Crow comes on the radio, wailing: "If it makes you happy / It can't be that bad." I consider turning it into a powerful closing anecdote, an analogy for shopping at Old Navy at 3 a.m., but it's a stretch too far.
I make it home, change into my new, ill-fitting fleece, and write out my thoughts from the night while they're still fresh. The sun rises outside my window. What have I learned? Going to Old Navy at 3 a.m. is a way to avoid crowds and your own children. It's a way to save money, technically, but you can save money at other, less crazy times of the day. It's an extreme manifestation of the Black Friday madness, and you can expect more extremity next year, and the year after.
After writing as much as I could, and taking an extended power nap, I called Lynn Albright, Old Navy's vice president of stores in the Eastern U.S. "The 31 hours is really for any time you want to shop during a time that's convenient for you," she says. "It's really to create the convenience for the customer, and our goal is to create the most convenient, compelling shopping experience we can. So I know it was the right thing for us."