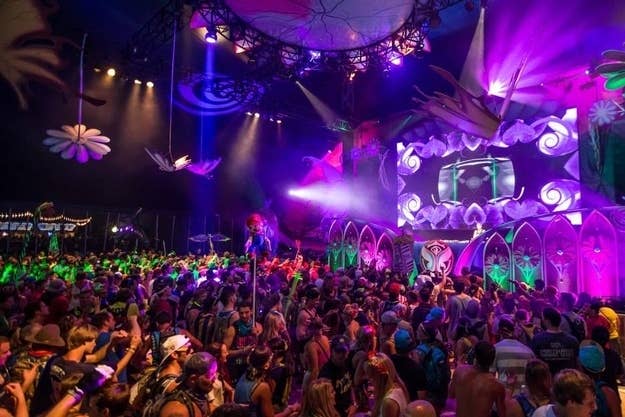 You may not have heard of SFX Entertainment, but you've probably heard of some of the electronic music festivals it has the rights to, like Tomorrowland and Electric Zoo, and perhaps Beatport, its online DJ store and news site.
The company, which says it's the biggest producer of live events and content focused exclusively on electronic music culture, has been working to get Wall Street on board with its plan to capitalize on this "global generational movement" among millennials, as per its initial public offering documents filed in June. It plans to raise up to $175 million, mostly to pay for its rapid acquisitions of some of the hottest electronic music festivals around the world. The 16.7 million shares are expected to price between $11 and $13 a share on Oct. 8.
SFX is headed up by Robert Sillerman, 64, who initially made his fortune by buying and selling radio stations, then spent the '90s combining regional concert promoters into the precursor of what is now Live Nation. He established SFX as an electronic dance music company in July 2011, seeing a compelling opportunity in the culture around the genre.
The company is aiming to consolidate the operators of the world's biggest electronic dance music festivals, leading to more lucrative sponsorships, and creating new events around the brands in other geographies — for example, TomorrowWorld, an incarnate of Europe's popular Tomorrowland, took place in Georgia, about 40 minutes outside of Atlanta, this past weekend. It's also aiming to juice more money out of existing festivals by adding extra days and increasing capacity, and exert influence in the DJ community through Beatport.
Below are some of the reasons SFX gave in its prospectus for why it's a worthy investment — and some of its more notable risks, including the impact of "extraordinary" incidents at its events, such as the two drug-related deaths at Electric Zoo on New York City's Randall's Island about a month ago, which forced organizers to cancel the third day of the festival. Another risk is whether the electronic music festival scene will continue to boom at its recent pace in the future, especially in the U.S. and outside of Europe.
SFX's completed and planned acquisitions include Life in Color, Sensation, Mysteryland, Q-Dance, Stereosonic, Decibel, Nature One, MayDay, and Ruhr-in-Love. The cost of buying the rights to these festivals is one reason the company is not yet profitable, according to the documents.
The filing did not contain the word "rave" or specify the drugs often used at such festivals.
Its shows drew 2.8 millions fans last year, a 22% increase from 2011, including acquisitions that have yet to close
The company said that's across 52 festivals — defined as having attendance of 10,000 or more fans — and 738 events.
"Tomorrowland sold out all of its approximately 180,000 tickets to the 2013 festival in Belgium in one second and saw significant demand from U.S.-based fans, each seeking to purchase multiple tickets." In the U.S., 200,000 fans sought Tomorrowland tickets, and only 2,000 succeeded, the company said.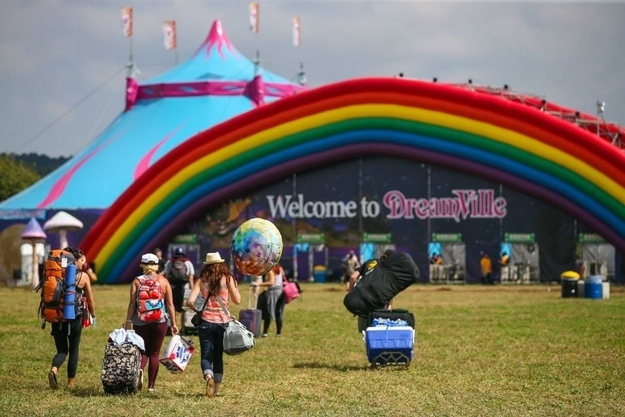 Electronic music festivals are "relatively new in the United States and other international markets" outside of Europe, where they have been popular for more than 20 years.
"Total attendance at what are currently the five largest U.S. EMC festivals grew 41% annually from 2007 to 2012 (although there can be no guarantee these growth rates will continue in the future). This compares to 2% annual revenue growth for the overall North American concert market during the same period, according to Pollstar, a concert industry trade publication."
Illegal drug use at SFX's festivals may result in "negative publicity, adverse consequences (including illness, injury or death) to the persons engaged in the illegal activity or others, and litigation against us."
"We have formed a medical procedure and safety committee, and we have developed policies and procedures aimed at ensuring that the operation of each festival and event is conducted in conformance with local, state and federal laws.
Additionally, we have a 'no tolerance' policy on illegal drug use in or around our facilities, and we continually monitor the actions of entertainers, fans and our employees to ensure that proper behavioral standards are met."
Still, this is a major factor that could threaten SFX's sponsorships, lower the company's revenue, stock price, and profitability and deter investments.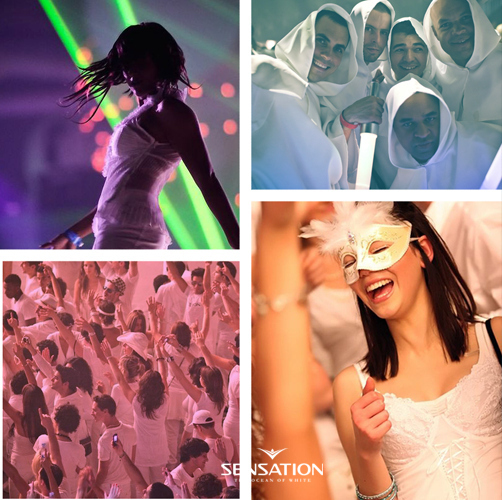 Beatport has more than 200,000 registered DJs and a Klout score of 91. Spotify also scores a 91 and iTunes has a 93, showing Beatport is "comparable with other high profile music services," SFX says.
"We use social media, engaging content and our online property, Beatport, to maintain an active relationship with trend setters and influencers in the broader EMC community, including professional DJs, bloggers and passionate consumers ... While Beatport experienced net losses of $1.5 million in 2012 and $1.4 million in 2011, we believe our ability to create closer partnerships between Beatport and the most important EMC festivals and events will enable us to deliver more to the EMC community between and around live events."
"Our growth strategy is dependent upon the continued growth of the popularity of electronic music and the EMC community."
"However, this growth is subject to the whims of public taste, which may change over time and which may be beyond our control. While interest in electronic music has increased significantly over the past few years, this increase in interest may not continue, and it is possible that the public's current level of interest in electronic music will decline."

It manages a bunch of clubs in Miami that connect it to "vibrant, new EMC trends and up-and-coming DJs."
These include LIV, at the Fontainebleau Miami Beach hotel; LIV Sun Life Stadium, where the Miami Dolphins play; and STORY, which opened in December in Miami Beach.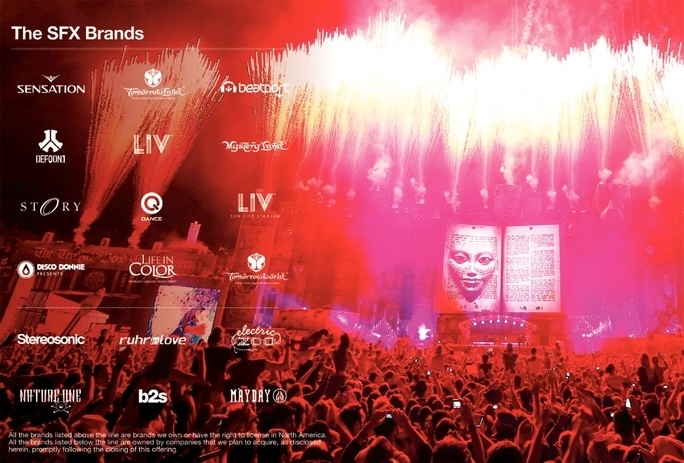 Electronic music has uniquely global appeal, less dependence on individual "star" talent over experience, and costs less to make than traditional music.
"Because of their strong reputations and vibrant communities, successful EMC festivals and events have demonstrated long staying power and less dependence on individual 'star' talent."
"The electronic music industry is not driven by sales of studio-produced albums, and therefore the music has lower production costs and lead time. Social media, live performances and online sites like Beatport are the primary marketing and distribution channels for electronic music. As blogs, a growing online community, recommendations of friends and word of mouth have become key drivers of artist and festival success, the need for traditional record labels' costly artist and repertoire functions is greatly reduced."
SFX's main competitors include Live Nation, AEG, Warehouse Live, Insomniac, Kaos Entertainment, C3 Concerts, Real Music Events, Slow Motion Music, SDC, Gritsy, and Reverse.
"However, we have expertise in the live music industry and the electronic dance music genre, in particular, and we work with the leading EMC promoters in the world, which helps us to be competitive in this industry."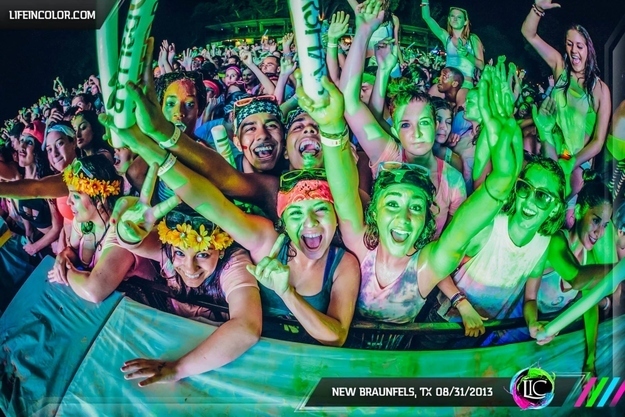 "We use artistic, interactive, performance and visual elements, in addition to the music, to create an all-encompassing and compelling fan experience."
"For example, Life in Color shows include acrobatic acts and 'paint blasts' in addition to DJs, and our other festivals include production elements such as elaborate sets, themes, lasers, fog machines and videos."

Anheuser-Busch, Heineken, Labatt, and Samsung are among SFX's corporate brand partners.
SFX is in advanced talks with advertisers dubbed "revolution partners" who are willing to support multiple free events, sponsorships, and "other fan-friendly initiatives," based on the "value of the experiences" SFX offers. It also got a strategic investment from advertising agency WPP in April.
Fans of the music "are primarily 'digital and social natives' who attend festivals and events for the shared live experience, and are highly engaged with festivals and artists via social media and other online and mobile platforms."
SFX says Tomorrowland's 2012 festival had 7.9 million live views on YouTube and its official long-form after-movies have had more than 157 million online views.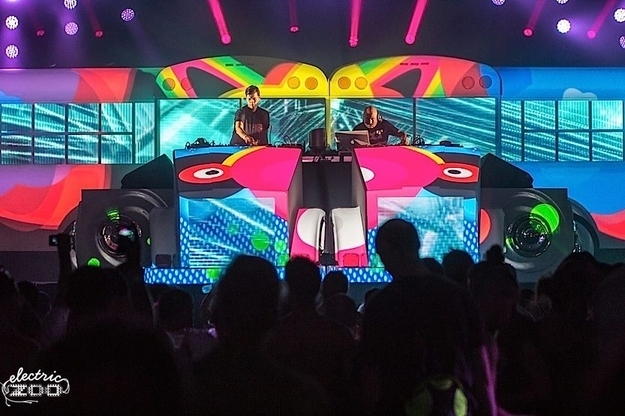 Electronic music artists are growing more adept at using social media.
SFX cited David Guetta's more than 43 million Facebook fans and more than 10 million Twitter followers.
SFX made $239 million in revenue last year, including planned acquisitions, for a net loss of $67.4 million.
The bulk of that came from "service revenue," or ticket sales and food and beverage concession fees.
Dance/electronic music had the highest growth of all music genres in 2012, with a 36% increase in digital music track sales in the U.S.
According to the Nielsen Company and Billboard's 2012 Music Industry Report.