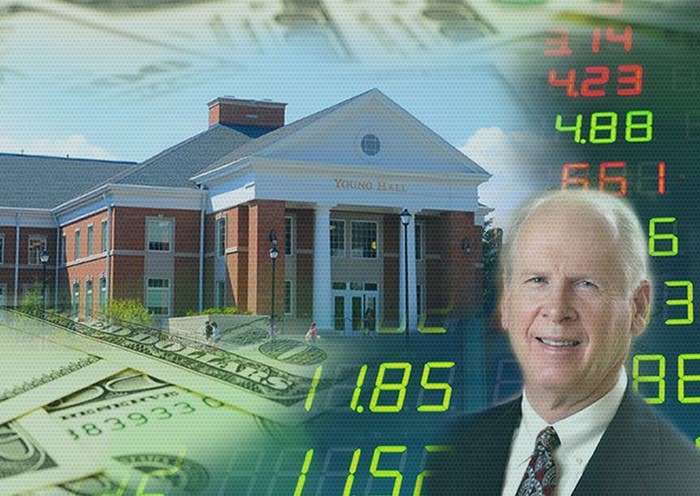 DANVILLE, Ky. — Centre College is a tight-knit school of just under 1,400 students that carves out nearly 10% of the population of this flat, farm-speckled Bluegrass hamlet, where the woman who makes sandwiches at the local deli is on a first-name basis with every customer. About half the students are from Kentucky and major in arts and humanities, and nearly all of them spend some time studying abroad — Centre even gives free passports to students who come in without one. Situated on an antebellum site with long manicured lawns about two hours from Louisville, Centre's vast campus barely murmurs, even when school is in session.
But Centre is a school with big ambitions. Last year, the college hosted a vice presidential debate, its second since 2000, underscoring Centre's desire to be "a place where important conversations occur," as its president wrote to alumni this winter. Its last major fundraising drive was its most successful, raising $170 million between 2002 and 2007, and it has drawn many more millions since then, establishing new scholarships, constructing new buildings, and hiring top faculty.
So when Centre announced in July it had received a $250 million gift in one swoop — the biggest ever for a liberal arts college, and in the league of record donations this year to places like Johns Hopkins and Yale universities — it made major headlines. The money, from a publicity-shy 72-year-old Texas billionaire named Bob Brockman who left Centre after his sophomore year there, would fund 40 full-ride scholarships a year, with 160 students by 2017, under a program named after him.
The elation was short-lived, though. Six weeks after the announcement, the donation, which was twice the size of the college's entire endowment, was rescinded because of a "significant capital market event," the school said. The gift was, in fact, part of a broader multibillion dollar loan offering from Brockman's auto software company, Reynolds and Reynolds. But that deal had gone swimmingly on Wall Street, raising eyebrows among investors and analysts when it was suddenly pulled. Frustrated bankers at Deutsche Bank scrambled to recall a large, high-demand loan placement and unwind trades, but the bank "probably got a black eye" although "they were probably as blindsided as everybody else," said Gerald Granovsky, an analyst at Moody's. And, in quiet chats with bankers and angry asides in Danville's three bars, the college and Brockman's circle started pointing fingers at one another.
Interviews with a dozen people reveal a very different story than Centre's, and one that casts into stark relief the amount of money swirling around higher education, while also raising questions about the motives of the mysterious billionaire behind this saga. As it was, rather than the gift being withdrawn due to unforeseeable financial complications, it was actually the other way around — the loan went away because this historically generous donation vanished suddenly and mysteriously. So, what could have gone wrong for such an enormous donation to simply get canceled? Who is Bob Brockman, and why is this school worth $250 million to him? And what happened that made him change his mind so dramatically?
A Big Deal
The deal wasn't just large by the standards of higher education. It was part of a vast and complex financial arrangement led by Deutsche Bank: a $3.4 billion loan package for Reynolds and Reynolds. Money would go into the pockets of Brockman, mostly, along with other shareholders through a dividend; students would get educated; and money managers would add to their funds in the smoking-hot market for corporate debt. By early September, the deal — shopped to investors as early as July 22 — had been "bagged and tagged," as bankers say, and was trading on the secondary market for weeks while participants finalized the paperwork.
Centre had, perhaps, gotten in over its head in a complicated deal that would have left it owning 20% of Reynolds and Reynolds by way of its holding company's stock. How the college would handle that ownership and whether it would receive board representation was a point of contention, a person close to the situation said. But even as higher education and high finance move ever closer, this deal collapsed mainly, people involved agree, over the conditions Brockman wanted to set on the scholarship. Those conditions were, in the view of the college administration, "crazy" and "extreme," according to a well-connected alumnus, and imposed by Brockman through his proxy, an Australian lawyer named Evatt Tamine who administers the A. Eugene Brockman Charitable Trust from Bermuda.
Among the disputed conditions, Tamine confirmed to BuzzFeed, the trust insisted that scholarship recipients be fluent in English and that they fulfill a physical fitness requirement. Tamine also insisted on tougher eligibility requirements, like standardized test scores that the school deemed too high, something that also flared tensions. Tamine said he and Brockman grew fed up with negotiations, and that he is puzzled by their conduct.
"You join me in being surprised," Tamine told BuzzFeed. "Why didn't they accept a very, very large gift?"
Tamine said just two other people know the fine details of why the deal collapsed: the school's vice president of college relations, Richard Trollinger, and the college's president, John Roush. But the college administrators, meanwhile, are in a bind: Whatever their private grousing, the school remains deeply dependent on Brockman, taking pains to avoid explanations and conversations about the falling out.
"I don't have anything to say," said Trollinger, a central figure in the lost Brockman donation, when a BuzzFeed reporter walked into his office. But what about taking a question or two? "I won't take 'em," the bespectacled, bow-tied Virginian replied, as he stood in front of his desk sifting through paperwork.
It was Trollinger who pitched the idea of the scholarship program to the trust on June 1. Bob Brockman, whose full name is Robert Theron Brockman, has said his first two years at Centre were meaningful, emboldening his enterprising spirit.
Trollinger, 64, holds a Ph.D. in education policy and has been courting wealthy donors for four decades, about half of that time at Centre. He won a connection to the Brockman Trust in 2009 by exchanging numerous handwritten letters with the trustees, after he learned that Eugene Brockman, Bob Brockman's father, had expressed a willingness to help Centre sometime before he died in 1986. The trustees are a reserved, secretive set who keep their dealings opaque. When Trollinger asked if Centre could put a plaque thanking Brockman on a residence hall built with a 2010 donation from the trust, the businessman swiftly nixed the idea, according to the Chronicle of Philanthropy.
He seemingly overcame that aversion to attention, considering the name of the scholarship program, at the end of July, when headlines in every major news outlet marveled at the record-setting gift, bound for a small liberal arts school in Kentucky of all places. Alumni say they were immensely proud, flabbergasted at the size of the donation set against past fundraising campaigns — even $10,000 gifts merit press releases on the school's website.
"The whole system of financing American higher ed is broken, and money for student aid has been our biggest need," Trollinger told The New York Times. He added that since he pitched the program, "it's moved very fast."
Tamine only began representing the Brockman Trust in 2010, but appears to have been Centre's main point of contact. And even as the bankers finalized the multibillion-dollar deal, Tamine and Centre officials quarreled over required coursework, standardized test scores, who would pay for advertising for the scholarship, and other issues, he said in a telephone interview.
The program was intended to attract "job creators" to Centre, with the initial press release about the scholarship stating it was meant for majors in economics, natural sciences and computational sciences. That seemed to echo Brockman's background, and it fit into his pro-American views, a person close to him said.
But three days after Tamine thought the gift had been finalized, Centre's board of trustees came back to him with more adjustments. After spending weeks painstakingly tweaking the program with the school, Tamine was exhausted.
"I thought it was settled. Enough was enough," he said. "We've been through this enough times."
At that point, Tamine walked away from the entire deal. He said Brockman was also angry after hearing about how pushy the college was with the scholarship terms. And apparently, it was enough to call the whole thing off. He complained that ultimately, the college wanted the scholarship terms to be far more flexible than he had envisioned.
As for Reynolds and Reynolds, the firm declined to explain why it canceled the deal in the eleventh hour or comment on the role of the scholarship program, saying that it suddenly "didn't see any need to borrow any additional funds." Thomas Schwartz, a spokesman for the company, insisted that any talks about the scholarships were strictly between Centre College and Tamine. He said that Bob Brockman — Eugene's son — wasn't involved, despite the scholarship's name, Reynolds and Reynolds' financial involvement, and Tamine's comment to BuzzFeed that Brockman was "furious" when negotiations fell apart.
"That was between the trust and the college, and they can verify that or not — but I believe they would," Schwartz said. When asked about Tamine's statement that the scholarship disagreement preceded the collapsed loan deal, he said, "If that's his comment, I can't add any more insight to that." Schwartz couldn't determine the day the company pulled the deal, saying he wasn't "privy" to such information.
"I'm not aware of another transaction this year where the syndication went as planned, the allocations went out, the pricing was set, it started trading in the secondary market, and then the loan was pulled before the final paperwork was signed," Granovsky of Moody's said.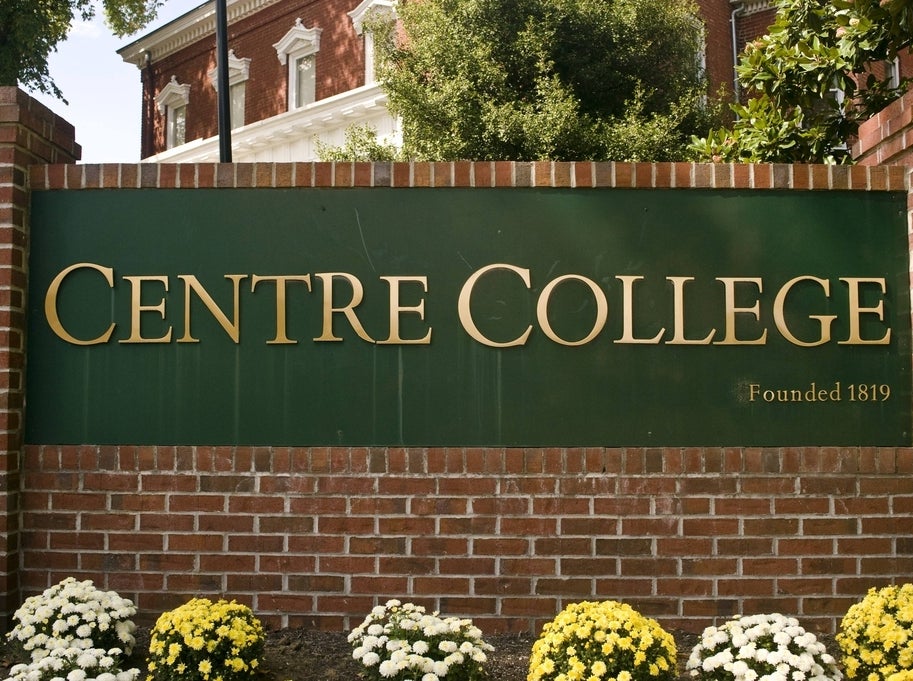 Behind Brockman
Oddly enough, Eugene Brockman didn't actually attend Centre, and his son, the family's only link to the college, went for just two years before transferring to the University of Florida because the school didn't offer a major in business administration. Despite that, the younger Brockman, now 72, seemingly considers it his alma mater — his biography on the college's website says he belongs to Centre's class of 1963 — and he's spent millions on gifts to the school. He's devoted ample time as well: He joined the college's board of trustees in 1998 and served as its chairman until the end of June.
It was a rare public leadership post for an extremely private man who lives in Houston. While Brockman is worth at least $1 billion based on his majority ownership of Reynolds and Reynolds, which he merged with Universal Computer Systems in 2006 after founding that entity in 1970, his company is private, allowing him to avoid the spotlight.
Still, he is aggressive. He and his company have spent years embroiled in a lawsuit seeking the identity of an anonymous blogger and possible employee known as "Trooper," who they allege has defamed Reynolds and Reynolds and cost the company money through his blog posts, including ones where he compared Brockman to both Bernie Madoff and Satan. Trooper, meanwhile, contends he has a right to free speech and hasn't defamed the company. While the blog is no longer running, the question of whether Google must reveal his identity will soon make its way to the Texas Supreme Court.
Brockman fancies himself an anti-Warren Buffett in terms of flying under the radar, according to a person close to the billionaire. He dines out and travels frequently, with a private jet and a home in Aspen, Colorado, and doesn't want people to know who he is or the extent of his fortune, the person said. He's sharp and works out every day, according to this person. Public records show he has hunting and fishing licenses in Alaska and Texas, and he is a member of the board of trustees at both Rice University and Baylor College of Medicine.
Brockman is a low-profile version of the type of conservative donor the Koch brothers have made famous: the heads of giant, under-the-radar, privately held companies in the middle of the country who play a disproportionate role in American politics and don't like to talk about it. Reynolds and Reynolds and Brockman are both active Republican donors, though he doesn't seem to publicize his political beliefs in the media. In the latest election cycle, Reynolds and Reynolds donated $800,000 to Republican candidates and political action committees. Most of the donations went to Restore Our Future and American Crossroads, though Ted Cruz, David Dewhurst, and Mitt Romney also received funds. Brockman, personally, has given at least $1.75 million to Texans for Rick Perry since 2000 — the source close to Brockman said Perry is a good friend — and $2,500 to conservative Texas Supreme Court judge Eva Guzman.
Those donations might provide a window into Brockman's views on taxes. Investors, when the deal was pulled, were told there was an issue with taxes on the gift. Most likely, if the gift wasn't going to the college, Brockman wouldn't have a way to offset the high taxes on dividends from the broader loan deal.
More likely, Brockman, who has just one son in his late thirties with his wife Dorothy, has been consumed with the idea of his legacy and how his wealth will be distributed after his death, the person close to Brockman said. That's one reason he has steered his charitable higher-education efforts toward Centre over the University of Florida, which already has an endowment of more than $1 billion. Brockman is a bigger name at Centre — the thinking was that the college could, ultimately, even change its name to his, the person said.
And Brockman's impact on the 150-acre campus is hard to miss. He has funded a new softball and athletic field, and a residential building for 146 students called Pearl Hall, named after Bob Brockman's mother and grandmother, who were both named Pearl. The gem is the the $15 million A. Eugene Brockman Residential Commons, featuring a pristine set of apartments for 124 upperclassmen. "It's not just nicer than your first apartment," said Michael Strysick, a former English professor who serves as the school's spokesman. "It's nicer than your fifth apartment."
"We're just so grateful for the support of the family and the trust over the years," said Strysick, who warned, accurately, that administrators would be unwilling to discuss the rift with their benefactor. "They are extremely generous, and Centre is what it is now in large part to that generosity." While generous, Brockman's people seemed short-fused when it came to the scholarship requirements.
Students had to be fluent in English, because Danville is such a small community that not being fluent in English would be isolating, said Tamine, Brockman's proxy. In addition, students had to take up either Chinese or Spanish, he said, in line with the entrepreneurial vision of the program.
School officials also had concerns that a physical fitness requirement, which Tamine originally proposed, might run afoul of NCAA rules, which prohibit athletic scholarships for Division III schools like Centre. School attorneys, he said, thought the fitness goals "could constitute an athletic scholarship."
Tamine also sought tougher standardized test requirements than the school wanted. Moreover, he didn't want the trust to have to pay for advertising the scholarship. He said he found Centre officials' course requirements to be "over-prescripted."
With such banal terms, it begs the question: Was there more to the scholarship negotiations that someone is leaving out?
And if Centre couldn't weigh in on SAT scores and test requirements without risking the program, what does it say about educational institutions being held hostage to one donor's whims? And the nature of such gifts?
The Biggest Donations to Colleges and Universities This Year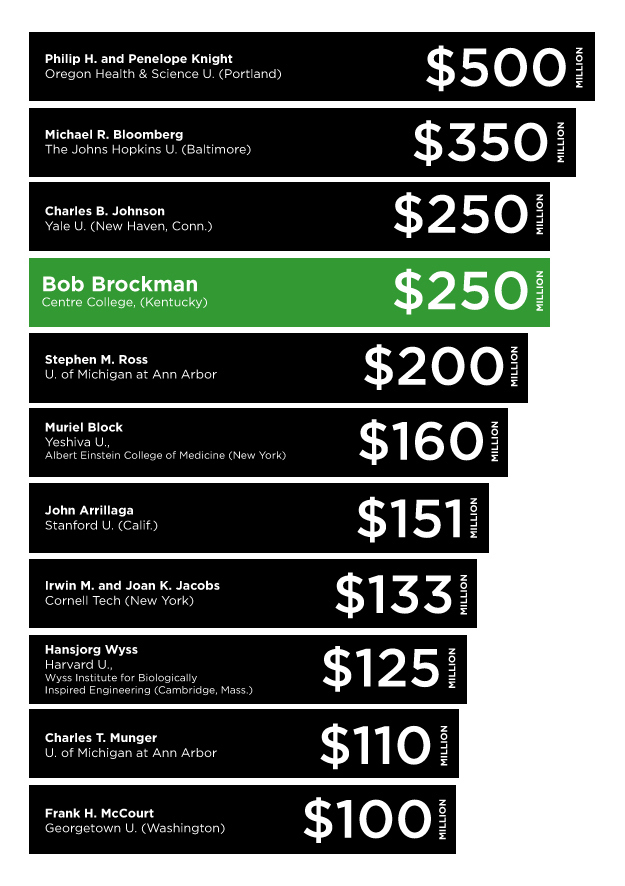 A College Disappointed
Roush, after the gift was initially announced in July, told the Lexington Herald-Leader that despite his 15-year tenure as Centre's president, there remained more to be done at the college, and he wanted to help shape the program "so it really has the impact we want."
Together, with Trollinger, the two have spent years cultivating relationships with the richest potential donors and winning funds to bolster the college's campus and reputation. The 63-year-old, who joined as Centre's 20th president in 1998, is a well-loved and omniscient figure on campus, from cheering students at cross-country meets to dispensing advice about study-abroad programs. Former students describe Roush as innovative and fiercely competitive — one went so far as to call him the "Steve Jobs of liberal arts colleges" — and say he was key in bringing the vice-presidential debates to Centre. His obvious goal of building Centre as a brand outside of states like Kentucky, Ohio, and Tennessee makes it difficult for students to believe he would do or say anything to risk a donation and program the size of what Brockman was offering.
Brockman's proxy told Inside Higher Ed last month that the parties involved now agree that the donation was announced too early. The cancellation stunned the small community, which had lost a "transformative" gift in a matter of weeks — and the silence from Brockman's end on another donation has been ominous.
As for Centre, it issued a press release on Sept. 9 announcing the discontinuation of talks over the scholarship, which quickly went into thanks to Tamine and Brockman for all they have done for the school. Trollinger has taken responsibility for announcing the donation too soon, saying he "can live with the resulting embarrassment."
"We're busy with the work of running this remarkable college," Strysick told BuzzFeed. "We've moved on from the news."