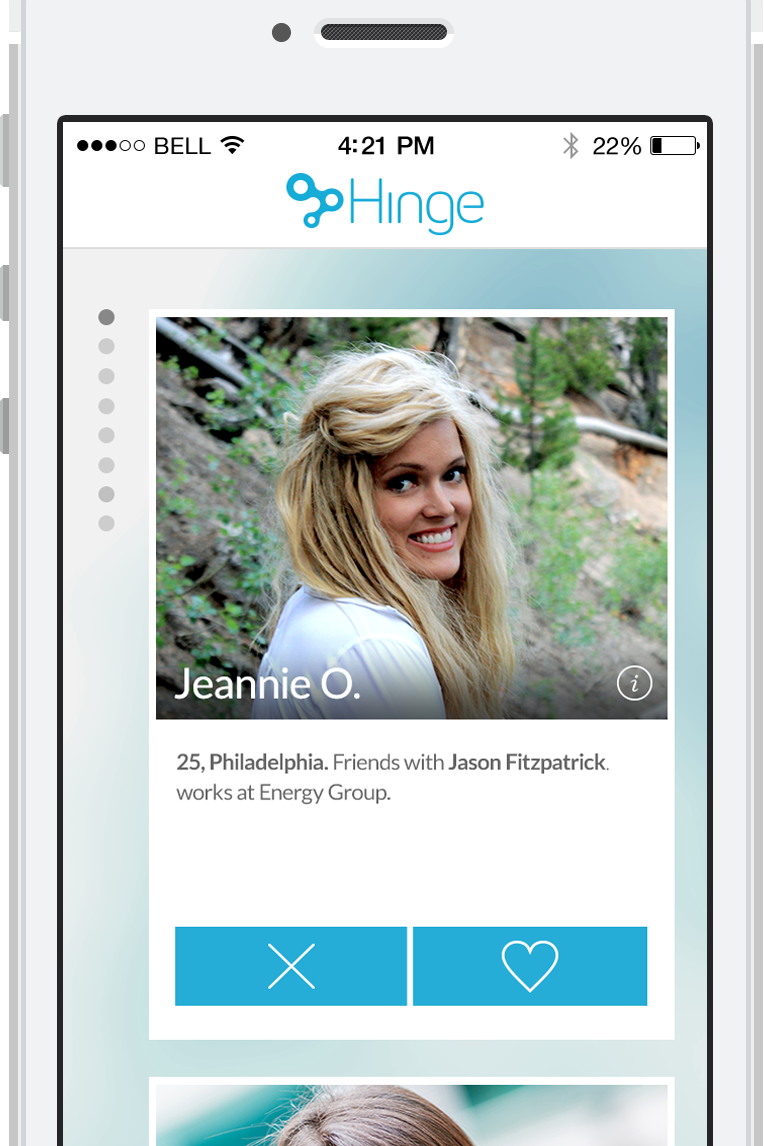 Hinge wants Tinder to be remembered as the MySpace of online dating, with it being the Facebook. And venture capitalists are betting millions on the possibility that might happen.
The New York startup just raised a fresh $12 million, adding to the more than $8 million it's already rounded up, to hire more developers, push beyond its 28 current markets and improve its app. The Series A funding round was led by Shasta Ventures, an early investor in Nest Labs and Mint.com, which also has stakes in TaskRabbit and Whisper. Other backers include Chris Sacca's Lowercase Capital, Great Oaks, Eniac and CAA Ventures.
The dating app, which launched last year, uses the familiar swipe-yes, swipe-no system made mainstream by Tinder, with a stronger emphasis on personal connections. It uses your Facebook network to connect you with friends of friends, or more typically, one degree further, with friends of your friends' friends. Unlike Tinder, you receive a finite number of matches a day — forcing some mindfulness into each "yes" or "no" — and your full name, school and workplace are on display to your romantic prospect.
Meeting on Tinder, with its infinite randomness, is a lot like meeting at a crowded bar on a Saturday night; Hinge, which lacks that anonymity, is better compared to connecting at a friend's house party.
"With Tinder, there's entertainment and a game to play with, where you might meet someone there but the use case is scattered all over the place, and it has more of a hookup orientation than a relationship orientation," Justin McLeod, Hinge's 30-year-old CEO and founder, said in an interview with BuzzFeed News. "The opposite of true of Hinge. People think of us as a tool to meet people...it's much more relationship and dates oriented."
Hinge says that on average, if a user matches with someone else, there's a 40% chance they'll be in a conversation by the end of the day. Its typical user is between 23- and 36-years-old, 99% have a college education, and it's evenly split between men and women (a rare phenomenon credited to women's trust in the app, the company says.) Occasionally, the app serves up fourth-degree connections, but says that level of rando is "rare."
Hinge's investors are seeing the potential for a sort of MySpace-Facebook divide between the two apps, despite the fact that Hinge, with fewer than 20 employees, is far smaller than Tinder at this point. (Hinge says it now has five times more active users than in January, but won't disclose how many — it's most popular in New York, followed by San Francisco, where it's growing the fastest, then D.C.) Tinder doesn't technically disclose active daily users, though that figure's long been rumored to be at least 10 million, or, more astronomically, approaching 50 million, as per The New York Times.
"There's an environment of accountability and transparency and trust — you're seeing people's first and last names and where they work and went to school," McLeod added. "You saw that playing out in the MySpace-Facebook narrative, where you had a really big early leader, but the purpose for the users was scattered, it was an anonymous network, and while it was big...eventually, people saw it as entertainment and a niche product."
Hinge still doesn't have a revenue plan ("this coming year will be about growth, and then the following year will be about monetization," McLeod says), but like many other players in mobile, it points to the possibilities as the world transitions to smartphone-centric lives. People are owning smartphones at higher rates than ever before, where apps like Tinder and Hinge exclusively live, and online dating is forecast to continue growing quickly.
Barry Diller's IAC, which owns OkCupid, Match.com and Tinder, is the leader in U.S. online dating — those properties typically generate revenue through subscriptions and ads, with Tinder just recently announcing a new premium version. McLeod says Hinge is in the "pre-figuring out stage" of how the company might approach sales, though reiterated that will be a 2016 focus.
"We're building out the engineering team, scaling up the app, continuing to focus on the product," he said, noting that Hinge is prioritizing its occasionally finicky messaging feature. "It's an app that's virally growing."