Move over, colored denim, because there's a new game in town: high-waisted jeans.
Retail executives and analysts are anticipating a resurgence in the style, which was last popular in the 1980s, to drum up denim sales just as the colored jeans craze loses steam. What's key for companies trying to sell the pants, which start at or around the belly button, is that they appeal to customers of all ages.
High-rise denim is "the biggest trend for spring," Susan Kellogg, the VF president who oversees 7 for All Mankind, Splendid and Ella Moss, said on the company's Feb. 14 earnings call. "It hits the millennials because it's cool and new and it hits the little bit older customer who just needs more coverage. So whenever a trend like that is so commercial it means money."
While colored denim is "always going to be there when the sun is shining," that trend "pretty much has peaked," she added.
Levi Strauss & Co. Chief Executive Officer Charles Bergh also noted last week that "higher waist is definitely in," and that the brand is currently carrying such styles, with more to come. "We are on it," he told analysts in a Feb. 11 earnings call.
Retail analysts have been talking about the resurgence of high-waisted jeans in recent notes, with Eric Beder of Brean Capital saying the style appears to be a new spring fashion trend in the U.S. along with "short tops and aggressive rinses." Quartz flagged Goldman Sachs' deep dive into the trend last week.
High-rise bottoms are "emerging as THE apparel product cycle of the decade," comparable to the ascendance of skinny jeans in 2006, Goldman analysts wrote in a Feb. 11 note, calling out Urban Outfitters and Express as potential beneficiaries given their early recognition of the trend. In the bank's opinion, the bottoms could be even more significant than the rise of colored denim, which has lifted sales at retailers from the Gap to American Eagle in the past couple of years, because high-rise pants represent a "macro shift" in fashion.
"When colored bottoms took off at the beginning of 2012, they stayed true to the prevailing skinny silhouette, and were worn with oversized sweaters and tops she owned from seasons past," the analysts wrote. "Macro shifts, in contrast, are further reaching, much longer in duration, and serve as catalysts for complete wardrobe turnover. They are slower to take hold, since they create an entirely new shape on the human form and at first look odd or off balance. However, once in motion, macro shifts can catalyze a powerful product cycle that creates both opportunity and risk for key competitors."
Goldman pointed out that high-rise jeans have been spotted on "millennial favorites Taylor Swift, Miley Cyrus, and Selena Gomez." A spin on high-waisted pants were also seen on male characters in the movie Her, becoming a major, if unexpected, talking point.
"That was a surprise to me," costume designer Casey Storm told BuzzFeed. "I knew we were doing something different, but it didn't feel that wild. Those pants feel like a natural progression of where fashion might go."
Still, the denim forecasting game is a tough one to play. In 2011, a number of retail analysts believed skinny jeans might die in favor of flared styles, though skinnies and jeggings have remained quite popular.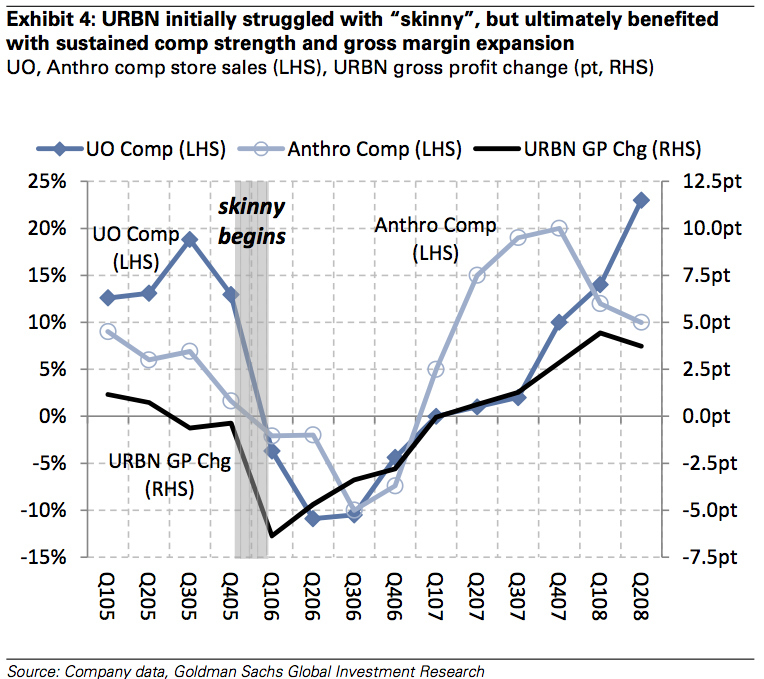 Additional reporting by Jarett Wieselman.