Navigating the balance between luxury and affordable is a rare feat in retail, as Coach is finding out. The brand's aggressive expansion into outlets in the past decade has not only hit its higher-end luxury products, but it's making it harder for Coach to transform into a cool, aspirational lifestyle brand in the U.S. The retailer reported Tuesday an 18% plunge in North American sales for the year's first three months, continuing a dismal trend it expects to persist, and sending shares to the biggest loss in the S&P 500.
Victor Luis, who became Coach's new chief executive officer in January, has a lot on his plate: Coach is now selling a much broader array of merchandise than it has in the past, including coats, sandals, and even $400 leather baseball gloves. Newer rivals like Michael Kors, Tory Burch, and Kate Spade are on fire, especially with young women, eating into Coach's high-margin U.S. handbag business, which still dominates sales. And while Coach is putting a lot of faith in new executive creative director Stuart Vevers to infuse freshness into the brand, his designs won't hit full-line stores until Sept. 15.
But a large part of Coach's woes are self-inflicted — the company has aggressively expanded its outlet business, cannibalizing sales of its upscale and fashionable full-price brand. It's even pushed outlet goods online in the past few years, where the distinction between full price and factory is especially blurry, particularly for a luxury brand.
There are now 205 Coach outlet stores in North America versus 338 full-price locations, a gap that's poised to shrink even further this year, following the trend of other retailers whose sales at off-price locations have been booming. (The pricier brand is also sold at department stores.) Geographically, the two have been placed closer and closer to each other over the past decade. In 2005, Coach said in its annual report that most of its factory stores were located 50 to 100 miles from major markets. By 2008, that language had been tightened to "generally more than 50 miles" away. Now factory stores tend to be more than 30 miles from major markets, as per its latest report.
"Continued planned North America outlet expansion makes no sense to us in terms of restoring the luster of a luxury brand or creating a lifestyle in which the company's core full-price customer will want to partake," Eric Beder, an analyst at Brean Capital, wrote in a note yesterday.
What's key is that the vast majority of Coach's outlet goods are made for outlets — a practice that most retailers engage in now — resulting in a proliferation of branded items you'd never find a full-line store. Back when outlet stores first started, they were a place for excess or slightly damaged inventory, but that's no longer the case.
Coach doesn't hide that. The company says in its annual report that factory stores, which are highly profitable, are "an efficient means to sell manufactured-for-factory-store product, including factory exclusives, as well as discontinued and irregular inventory outside the retail channel." Coach's head of investor relations, Andrea Shaw Resnick, told BuzzFeed that around 85% of outlet merchandise is made-for-factory. Much of it is unique to the stores, though Resnick noted it also includes "archived designs and customer favorites from our full-priced assortment from previous seasons and years."
The reason it works is that Coach believes its average outlet customer is totally different from its average full-price shopper. In the 2008 report, Coach said factory stores were meant to target "value-oriented customers who would not otherwise buy the Coach brand," at prices knocked down 10% to 50% from regular stores. Resnick said in May 2011 that there's only a 20% overlap between the two groups: The outlet buyer tends to want the brand for the sake of the name at a discount, while the full-line retail customer cares more about what's in fashion, she said.
Coach Factory for discounts, Coach full-price for fashion.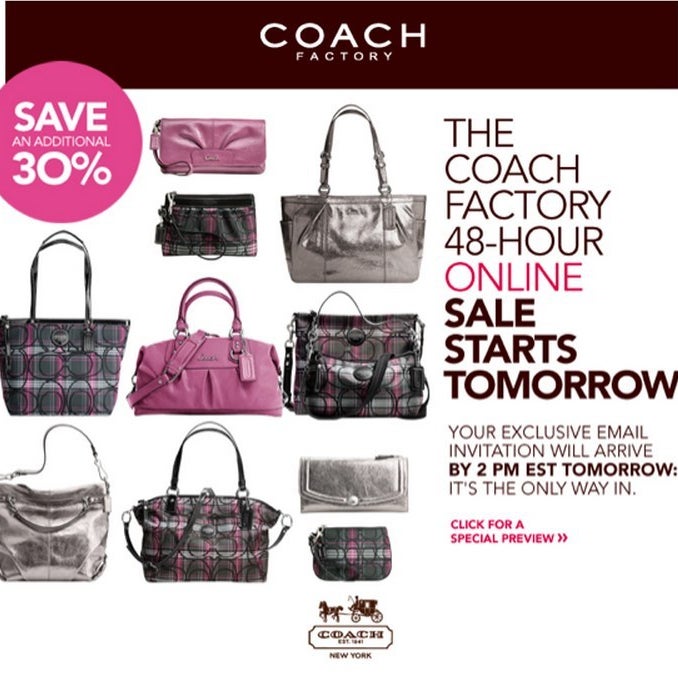 The typical Coach shopper in North America is a college-educated woman with an average household income of around $100,000, Fran Della Badia, Coach's president for the region, said in November. However, the outlet shopper tends to be in her mid-forties and "on a sabbatical from the white-collar workforce," while the full-price shopper is a decade younger and actually in that workforce, she said.
While the brand is growing internationally, North America accounts for about 70% of Coach's $5.08 billion in annual revenue through June 29. The company doesn't delineate between outlet and traditional retail store sales, though Cowen & Co. analyst Faye Landes estimates outlets make up 60% of Coach's retail sales in North America, up from 30% in 2006, according to a July article in the Wall Street Journal.
Small wonder, then, that lots of Coach Factory items are listed for sale on eBay. On YouTube, users showcase the items in shopper haul videos, and in others explain how to find some authentic, once-full-price items at the outlets. Landes, in the Journal article, said based on the sheer volume of Coach Factory items now available, consumers may increasingly view Coach as an "off-price brand."
Not only are Coach outlets more accessible than in the past, but the company made the mistake of offering lots of factory merchandise online beginning in 2011. Coach used third-party flash-sale sites to tap new databases of value-oriented customers and sent out its own invitations for flash sales to its most loyal outlet shoppers. But the line between outlet and non-outlet wasn't so easy to draw on the internet, and the conversation around the brand veered ever more in the direction of Coach Factory goods.
Ultimately, the moves online came at the expense of "brand equity," Luis acknowledged in January. While it's hurting e-commerce revenue in the short term, Coach has now cut ties to the third-party sites and drastically reduced access to its own outlet flash sales online (you have to sign up on a wait list). Luis added that the company is being "very vigilant in ensuring that we try and keep resellers off" such events, in January's conference call.
As for physical outlets, though, it's full steam ahead. Luis has said "the key is not just to see it as a promotional channel, but to see it as a channel which is of relevance to a certain consumer, who does not shop in other channels." Coach has remodeled most of the factory stores to make them look nicer, with "enhanced visual merchandising and marketing elements." That actually includes removing "outlet" and "factory" signage, retail analysts at KeyBanc wrote in a March 4 note.
Analysts peppered Coach executives with questions on Tuesday's earnings call about how it planned to elevate its brand and raise prices on the high-end, while closing full-line stores and expanding outlets. "How are we supposed to think about that balancing act...?" one analyst asked. Another inquired about "pricing integrity" while a third asked why it planned to open 15 more outlet locations given the recent slowdown in foot traffic.
"There are some who believe that there's maybe a magic formula to full-price doors to a factory door, of 3-to-1, or 4-to-1, or whatever it may be — I haven't seen that at play in our own analytics," Luis responded. "Certainly there is a fine balance, and it really comes down to consumer perceptions across the channels. As we've suggested and talked about, we've taken very important steps as it relates to how we deal with the online (e-flash sale) customer in terms of trying to manage those impressions. And as it relates to the actual outlet channel, we will make any moves in a very careful way in terms of selecting doors, looking at cannibalization and doing so by markets."
"We understand that our full-price business must lead, and all of our attention to date or the vast majority of our attention to date has been on full-price product, stores, and marketing," he said.