Group Rails Against Candy At Bed Bath & Beyond Checkouts
An advocacy group is targeting Bed Bath & Beyond on Twitter today for what it calls "egregious junk food displays" at checkout.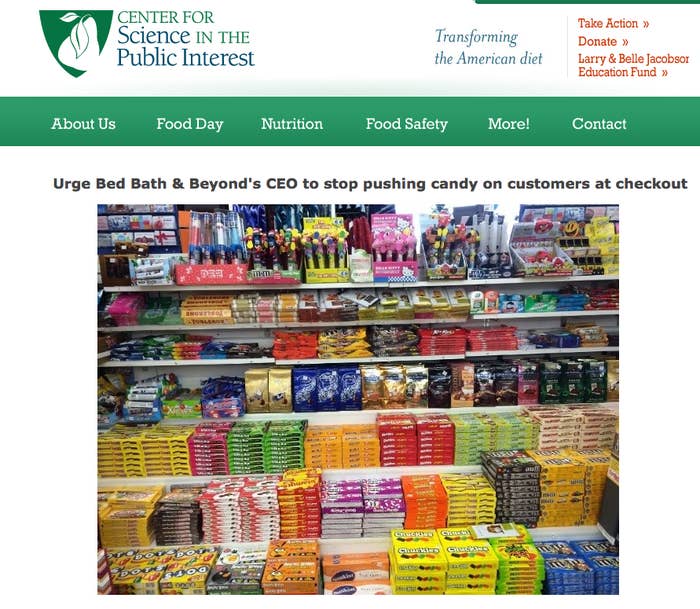 A group of health advocates is targeting an unexpected foe on Twitter today: Bed Bath & Beyond.
Members of the Center for Science in the Public Interest, a consumer advocacy group that focuses on nutrition and food safety, are urging the retailer to get rid of the large candy displays it places near cash registers using the hashtag #RethinkCheckout.
"We already face temptation everywhere we go," the CSPI said in an email to its members, which provided links for tweeting at the retailer. "The last thing we need is for a trip to Bed Bath & Beyond to buy a blender, crockpot, or pillowcases to turn into yet another test of willpower and an extra 250 calories that we did not plan to eat."
The CSPI's goal is to get all non-food retailers out of selling junk food, particularly in the impulse-driven checkout line, saying in a paper last month that "the retail environment should be shaped not only by economic drivers but also by public health considerations."
Bed Bath & Beyond, which has more than 1,000 stores, is far from the only non-food chain that sells candy and chips near its cash registers, but it has been chosen as the group's target because "they have some of the most egregious junk food displays we've seen at checkout," CSPI spokesman Jeff Cronin said in an email to BuzzFeed News.
Bed Bath & Beyond, which also owns Christmas Tree Shops, did not respond to a request for comment.
Retailers "could support their customers' health, rather than pushing the consumption of extra―and often unwanted―calories from candy, soda, and other unhealthy foods and beverages," CSPI said in its paper, suggesting lip balm and hand sanitizer as alternatives.
Critics of the CSPI, who refer to the organization as "the food police," have contended that its recommendations ignore personal responsibility and freedom of choice. In recent years, the group successfully campaigned to remove soda from kids' meals at fast-food chains and devoted significant effort to getting calorie counts posted on menus across the nation.
"These campaigns start off slow but once one big company changes its policy, others become more likely to follow suit," Cronin told BuzzFeed News.
Some chains outside the U.S. like Woolworths and Tesco have removed candy from their checkout areas in recent years to help consumers make healthier choices.