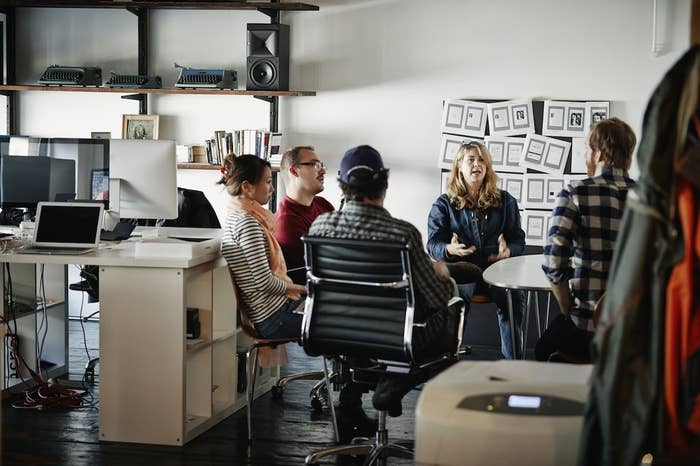 Getty Images' new Lean In Collection, which features more than 2,500 photos of female leadership in contemporary work and life, is off to a strong start.
Sales of images in the collection that Getty already owned are up 31% from last year, a percentage that's expected to increase as many clients are using some of the photos in mockups right now and will license them months from now, Pam Grossman, director of visual trends at Getty, said at The Atlantic and the Aspen Institute's New York Ideas conference on Tuesday. The collection, introduced in February in conjunction with Sheryl Sandberg's LeanIn.org, aims to supplement notoriously stereotypical and sometimes sexist stock photos with more accurate representations of women today.
"We're pretty thrilled about it," said Grossman, who joined Cosmopolitan Editor-in-Chief Joanna Coles on a panel called "Changing the Stock Image of Women." "We have a lot of content in there of business meetings, and it seems a little bit obvious, but the images where the woman is the one in the leadership position, the one at the head of the table, the one speaking, and the men look a little more collaborative or ancillary, those are performing really well." The collection also has lots of images of fathers in which a woman might be doing something else like working on a laptop, she said.
Coles, too, has been making efforts toward including more images of empowered women in Cosmo.
"Not all the women in Cosmo are fantastically thin," she said, adding that she tries to avoid pictures of "thin, white wasted youth where they do look slightly druggie and kind of weird." Coles said she met with Facebook's Sandberg when she took the editor-in-chief job, and the two "talked intensively of images of women and how could we show women in leadership positions because if you can't see it, you can't be it."
Still, that doesn't mean Cosmo is walking away from using, say, Photoshop.
"I'm the first person at Cosmo to demand that I'm airbrushed within an inch of my life — there's no reason anybody needs to see these wrinkles, they've been hard-won," Coles said. But the magazine uses Photoshop within reason, like if a celebrity or a model has a spot or a cold sore, or even if there's an odd shadow on the picture.
Grossman agreed that "we're not the image police." But it's essential to show "a lot of different alternatives and options and possibilities," she said.
"Women are the primary users of social media... that's an immense amount of control for the first time in history, I would argue," Grossman said. Because women are dominating the conversation, "it's shifting the ways in which we're sharing images of ourselves."