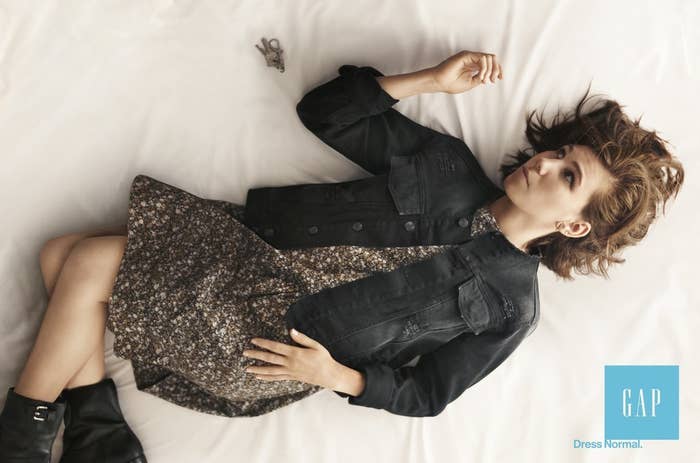 Gap doesn't mince words with its newest message to consumers: "Dress Normal."
That's the tagline at the center of the apparel brand's fall marketing campaign, typically a big ad spend for the company ahead of the retail industry's all-important holiday push. Gap's ads will feature actors including Girls' Zosia Mamet, Mad Men's Elisabeth Moss, Boardwalk Empire's Michael K. Williams and Anjelica Huston, along with phrases such as "dress like no one's watching" and "let your actions speak louder than your clothes."
Downplaying clothing seems like an odd message for a brand that sells $6.4 billion of that in a year, but it's in line with Gap's ethos, says Gap Global Chief Marketing Officer Seth Farbman.
"There's certainly a long tradition at Gap that people come first and that the clothes are there to make you feel like your best self, and we've been unapologetic about that for years," Farbman said in a telephone interview with BuzzFeed. "'Dress Normal' is a reinforcement of that idea."
He added: "We wanted it absolutely to be a provocation — what does 'Dress Normal' mean to each individual? I think that certainly when it's paired with photography and paired with some of the headlines, people will understand that it's about dressing the way you want to."
Gap has heavily emphasized modernized-versions of its classic styles in recent ad campaigns, a strategy that's helped fuel the brand's resurgence in the past two years. In the spring, it centered ads around the theme "Lived-In," and last fall, it ran a denim-focused campaign called "Back to Blue," highlighting Gap's heritage and quality.
Through better designs, higher-quality clothing and savvier marketing, Gap has been able to rid consumers of bad memories from 2007 through 2011, years when the brand's North American same-store sales steadily declined. Campaigns like "Dress Normal" are looking to build on the momentum Gap has enjoyed since the spring of 2012, when it got a kick from colored denim and the relocation of its creative operation from San Francisco to New York.
The campaign will have a big digital component, and a pop-up shop of sorts on a flatbed truck that will visit five cities, Farbman said.
"When you're dressing normal, you're really your truest and most confident and authentic self," Farbman said.