Gap Says Activewear Might Be The "Most Important" Trend Since Skinny Jeans
Sales and profits are falling and the company is shutting 25% of its full-price stores. But yoga pants are still booming.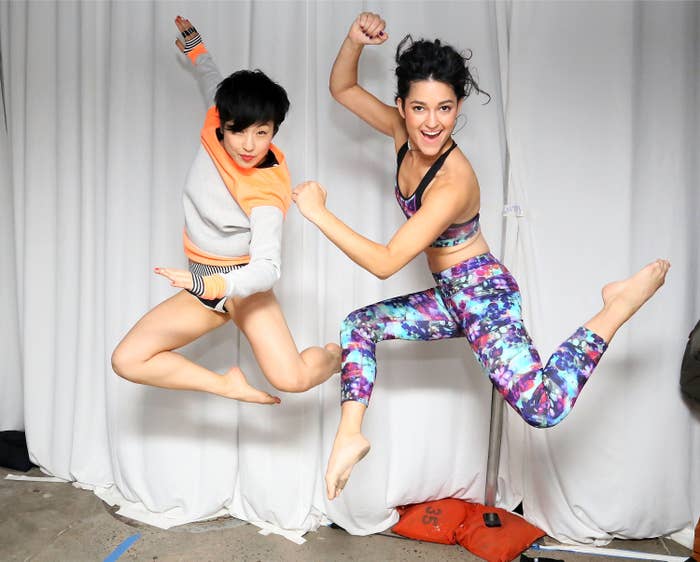 It was a terrible year at Gap Inc.
But at least it has activewear, which its CEO says could be the industry's "most important" trend since the glorious and historic rise of skinny jeans.
The company reported dismal earnings today as sales fell sharply at Gap and Banana Republic while coming in flat at once-bright Old Navy. In the past year, it lost the president of Old Navy to Ralph Lauren, announced plans to shutter 25% of the full-price Gap stores in North America, and went all wrong on fashion at Banana Republic.
One beacon of hope is the so-called athleisure category — the robust world of workout gear beloved by millions who may or may not actually be wearing it for working out. Gap is expanding its Athleta athleisure brand, starting an Athleta Girl line for 6- to 14-year-old activewear-seekers and seeing strong performance out of such clothes at Old Navy and Gap, CEO Art Peck said on an earnings call today.
"I'm really encouraged frankly across the whole company as I look at it right now," Peck said on today's call, listing the activewear lines. "We are present and accounted for in the mainstream of what its probably the most important ready-to-wear trend that we've seen since skinny denim maybe came on the scene."
It's a significant statement. First, skinny denim was a game-changer for the industry when it started ascending in 2006. It refuses to die no matter how many trend pieces forecast its death by flares or high-waisted jeans every year. And second, Peck's comment shows that one of the country's biggest clothing retailers is still betting hard on athleisure, which has boomed in recent years and led to lots of new competitors.
Peck also promised changes this year in both the Gap and Banana Republic brands, where the company has invested in better quality and smarter fashion buys. Peck highlighted the failings at Banana Republic, which posted a comparable sales decline of 10% over the year.
Things got so bad that the company "had blazers in Banana Republic's women's assortment where it was extremely difficult for the average woman to actually get her arm into the armhole," he said.
"If you just take those out and get back to the common sense quality that our customers expect, that is going to register with our customers," he said.
Gap Inc.'s sales fell to $15.8 billion, from $16.4 billon the prior year, partly due to exchange rates, while gross profit also tumbled.