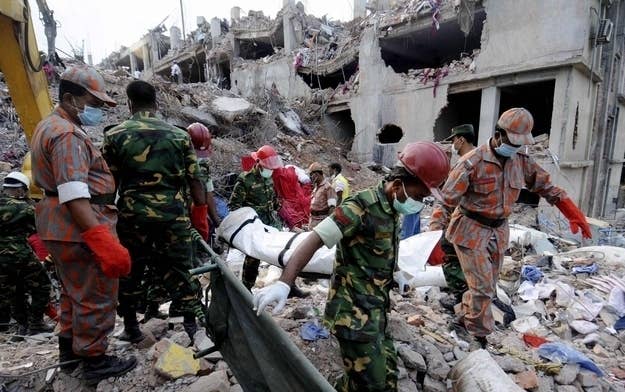 Gap Inc. says it is close to signing a landmark legally-binding agreement requiring retailers to pay for fire safety and building improvements in Bangladesh factories, following a garment factory collapse last month that killed more than 1,000 people.
Gap, which wasn't making clothing in the destroyed factory, would join H&M, Zara-owner Inditex and others in signing the accord. The retailer has come under fire for refusing to sign the agreement, becoming the target of a "Gap Deathtraps" website campaign earlier this month that urges shoppers to protest at the store and deliver letters to managers.
In a statement released today, Gap said that it is ready to sign the agreement on the condition that the portion of the agreement stipulating that disputes be resolved in courts is renegotiated.
"We're pleased that an accord is within reach, and Gap Inc. is ready to sign on today with a modification to a single area – how disputes are resolved in the courts," said Eva Sage-Gavin, executive vice president of global human resources and corporate affairs. "This proposal is on the table right now with the parties involved. With this single change, this global, historic agreement can move forward with a group of all retailers, not just those based in Europe."
The factory collapse at Rana Plaza ranks as Bangladesh's worst industrial disaster, according to the BBC, and a number of retailers have signed the agreement in the past two days, including British companies Primark and Tesco. Labor groups set a deadline of this Wednesday for retailers to sign onto the plan at a meeting sponsored by the German government two weeks ago. However, outside of PVH, American retailers have been largely resistant. J.C. Penney said that it's waiting for a proposal from three trade groups including the National Retail Federation that is not yet publicly available, according to an e-mail from a spokeswoman.
Gap's argument is "completely disingenuous," according to Scott Nova, executive director of the Worker Rights Consortium, a labor rights organization not affiliated with the "Gap Deathtraps" campaign. Nova says that without the mandate to resolve disputes in courts the proposed agreement would become "meaningless."
"These companies want to make big promises that allow them to skate through a period of public relations pressure that no one can hold them accountable to two or three months down the road -- we are trying to get them to make a promise they will be held accountable for," Nova said in a telephone interview. He says that Gap has been the most vocal opponent of the agreement among American brands.
Gap says it has already invested more than $1 million into fire safety inspections, according to today's statement. The retailer said it has contracts with 78 out of more than 6,500 garment factories registered in Bangladesh.
Several people, including the factory's owner, have been arrested in connection with the Rana Plaza collapse, which left thousands more injured. Bangladesh is the world's second-largest garment exporter after China and has the lowest minimum wage in the world of $37 a month, according to the New York Times.