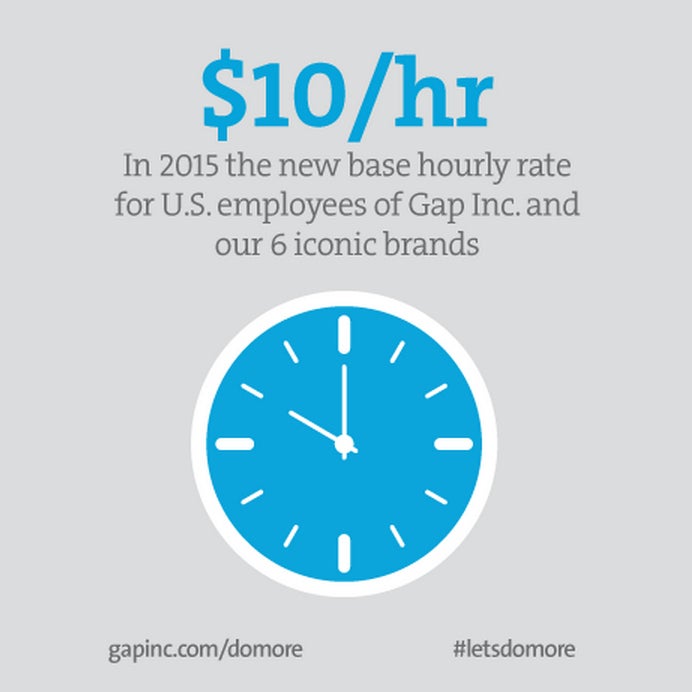 Gap Inc. said today that it's raising the minimum wage for American workers across its six chains, just as the government's battle to mandate a similar increase at the federal level heats up.
The company, which employs more than 65,000 people in the United States, will raise the minimum rate to $9 in June 2014 and $10 in June 2015. It's currently $7.25 an hour, though Gap says most of its employees make more than that. The decision is significant — Gap is America's biggest specialty retailer, with more than 2,000 namesake, Old Navy, Banana Republic, Piperlime, Athleta, and Intermix stores domestically.
Raising the minimum wage is a hot button issue right now, with President Barack Obama and Senate Democrats pushing for a federal increase to $10.10 an hour over three years to opposition from the Republican-led House. But Gap stresses that its decision, which follows "months of consideration," is not politically motivated, and has more to do with maintaining a strong in-store workforce as its digital operations expand.
"We felt it was the right time to acknowledge that and make sure we were competitive for the type of talent, and able to retain the kind of talent, we want to have in stores," Art Peck, president of growth, innovation, and digital for Gap Inc., said in a telephone interview with BuzzFeed. "It's coinciding with the national debate, but honestly, this was a business decision. I characterize it internally as a win-win-win-win. We usually look for a win-win, but this is a quad-win," he said, listing shareholders, associates, customers, and the communities that Gap does business in as beneficiaries. He added that Gap has no plans to cut jobs as it boosts wages.
Even so, Obama took the time to weigh in on Gap's move.
"I applaud Gap, Inc. for announcing that they intend to raise wages for their employees beginning this year," he said in a statement. "As a chief executive, I've required federal contractors to pay their employees a wage of at least $10.10 an hour, and more states are taking steps to raise their minimum wage as well. But only action from Congress can make a difference nationwide."
Peck said the company didn't work with the White House on its announcement and a spokeswoman added that Gap has not taken a position on any minimum wage-related legislation.
"We're running a business, and we made this as a business decision, and if somebody pulls this into the national conversation, that's fine, but it's not our intent," Peck told BuzzFeed. "It's less about people getting more pay than it is about the work that we're doing in our stores and attracting the kind of talent we want to be talking to our customers every day."
Gap said retail has changed rapidly in the past five years and that it's stayed ahead of competitors by investing in technology. "And yet, a customer's lasting impression is often shaped by the interactions with the people in our stores," Gap said on its website. "To connect and enhance the in-store and digital experience for our customers even more, we must attract and retain great talent."
The retailer said it will not publicly quantify the financial impact of the decision but it is "confident" it can increase wages while continuing to post strong results for shareholders. Gap said its own analysis determined the $10 target as best for allowing the company to "strengthen our ability to attract and retain a skilled, enthusiastic and engaged workforce," ultimately resulting in deeper relationships with shoppers. There is "nothing magic about $10 from our standpoint," Peck said.
Companies, for the most part, haven't been taking a strong, public stance on the issue, and projections for how much a change would help or hurt the economy have been mixed. A report from the nonpartisan Congressional Budget Office on Tuesday said raising the federal minimum wage to $10.10 an hour would boost earnings for 16.5 million Americans and lift 900,000 people out of poverty — but it also projected that such a measure might slash 500,000 jobs by 2016. The National Retail Federation, the industry's biggest trade group, and the Chamber of Commerce have both opposed a wage increase, saying it would reduce employment.
Gap says it has the opportunity to "do more" for employees and announced its wage-hike plans with the hashtag #letsdomore.
"After many months of consideration, we've made a business decision that's right for our brands, good for our people and beneficial to our customers," Chief Executive Officer Glenn Murphy said in a statement today on the company's website.
Update — Feb. 19, 7:15 p.m. ET: Gap executive Art Peck tells BuzzFeed that the increase is purely a business decision and that it just happened to coincide with the national debate over the minimum wage. He said there were no discussions with the White House prior to Gap's announcement and that the wage hike will not lead to any job cuts.