Almost half of Gap's executive vice presidents and higher-ranked executives are women.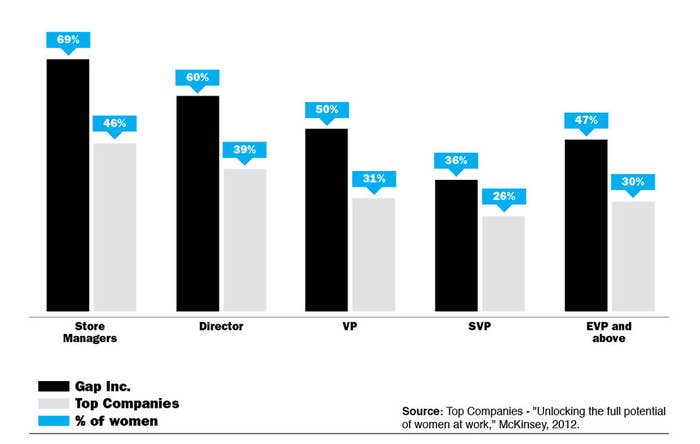 Gap Inc., as part of a national move toward transparency around the gender wage gap, disclosed Tuesday that it pays men and women equally for the same jobs.
The retailer, which also owns Old Navy, Banana Republic, Athleta, and Piperlime, confirmed the 1-to-1 ratio with Exponential Talent LLC, a consulting firm focused on diversity and gender-related strategy. It chose to announce its findings today on the anniversary of the certification of the 19th Amendment, which guaranteed women the right to vote. Gap was founded in 1969 by Donald and Doris Fisher, a husband-and-wife team.
"Starting with co-founder Doris Fisher, we have a proud tradition of developing and promoting strong women leaders and mentors – from our stores to our divisions to our senior management," Gap Chief Executive Officer and Chairman Glenn Murphy said in an emailed statement to BuzzFeed. "More than 70% of our workforce is female. Removing gender bias from pay practices is the right thing to do and it is good for business."
Policymakers and companies have been working to close the wage gap between men and women, with President Barack Obama signing two executive orders this spring calling for federal contractors to share more details on what employees earn. While statistics around the pay gap vary, an oft-cited finding from the Institute for Women's Policy Research says full-time working women in America earn roughly 82% of what men make.
It's unusual for a Fortune 500 company to offer up its internal pay gap numbers. Of course, Gap's happen to be great. But broadly, the disclosure comes as Silicon Valley firms begin reporting internal diversity figures to the public. Twitter, Google, Facebook, and Yahoo have all revealed ethnic and gender diversity data in recent months, though they haven't reported pay gap information.
"There's this huge battle for good talent and Gap and other companies want to be the company that people want to work for — this message, I think, is an example of the kind of culture they have," Beth Roberts, the head of analytics at Exponential Talent, said in a telephone interview. "It's certainly on the leading edge of disclosures, but companies are starting to be more transparent … we're finding that in Silicon Valley right now, and I think it's a good thing."
White House senior adviser Valerie Jarrett tweeted about Gap's disclosure.