As customer data becomes more available than ever before, Gap, the biggest U.S. specialty retailer, plans to use it to personalize its web presence and store experience for shoppers in a way a top executive describes as "cool not creepy."
Online, that means different landing pages based on your browsing history, ads targeted to where you live — it's called "geosniffing" — and more targeted emails, Gap executives said at an investor presentation yesterday. As for the physical world, the company will pilot a program at "a small group" of Banana Republic stores in two markets next month that will incentivize customers to identify themselves when they walk in, either through a smartphone app or via email addresses and phone numbers, Gap executive Art Peck said in an interview with BuzzFeed.
Gap was unusually open about how it's using customer information at a time when the collection of personal data by the government and companies has become a topic of concern. Peck was quick to note that Gap uses opt-in technology, and that the personalization must be "cool not creepy," acknowledging that without care, "it can go to a not good place." The in-store program will be opt-in, which will help Gap avoid the pitfalls other retailers, most notably Nordstrom, faced after testing in-store tracking without customer permission last year.
Once customers join, they might get deals and style and product information when they walk in, though the company "hasn't fully landed on the format yet," said Peck, the president of growth, innovation and digital for all of Gap's brands. Gap, presumably, will get a better sense of what that customer is looking for and, of course, a stronger chance of closing a sale. Most importantly, it's a chance to personalize a shopper's time in stores in a way that wasn't possible before smartphones became so pervasive, Peck said.
"The simple model we have in mind here is if you have an incentive to walk in our stores and digitally tell us, 'Hi, I'm here, this is who I am,' that allows us to bring to you a number of very good things," Peck told investors. The program "has the potential to open up that dialogue either before the customer comes in the store, when they're in proximity, or when they cross the lease line in the store, so we can begin personalizing the store experience through this device."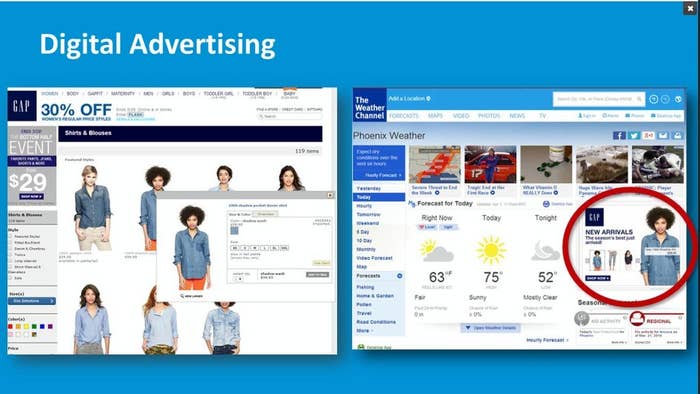 Gap, which operates more than 2,500 namesake, Old Navy, and Banana Republic stores in North America, is also rolling out the ability to order from stores and to reserve items online as it works to make those locations more productive. The company's facing lots of competition offline with H&M, Forever 21 and even discounters like T.J. Maxx, as well as online, where of course, Amazon reigns king. Glenn Murphy, Gap's chief executive officer, noted at the start of yesterday's presentation that he believes customers are looking for something "in between" an online-only retailer like Amazon and "global competitors" who are building 20,000 square foot stores — that is, Uniqlo.
To that point, a major part of Gap's presentation focused on personalization online, where it's seeing tremendous growth — e-commerce sales soared 21% to $2.3 billion last year, a big chunk of the retailer's $16.1 billion in overall revenue. Much of that tailoring is coming from cookies in the average person's browsing history, as well as information they might voluntarily provide on Gap's websites. Recently, Gap has started modifying homepages based on who's looking at it, something most customers probably don't realize is happening, Peck said.
"If you've told us and your cookies show us you're really primarily a baby shopper, then we would probably go and put a baby landing page in front of you rather than landing on the generic brand landing page," Peck said in an interview, adding that it leads to customers spending more time on the site and greater purchases. "For the online shopping experience, every click matters."
Similarly, Gap can serve up information to customers about events at your local store, even if you haven't logged in to its websites, again using browsing history and email.
"Whether you come in through an email or come directly, we geosniff you, the industry terminology to determine where you are — I know it's a strange term — and then we push localized information to you, which is again, more relevant," Peck told investors yesterday.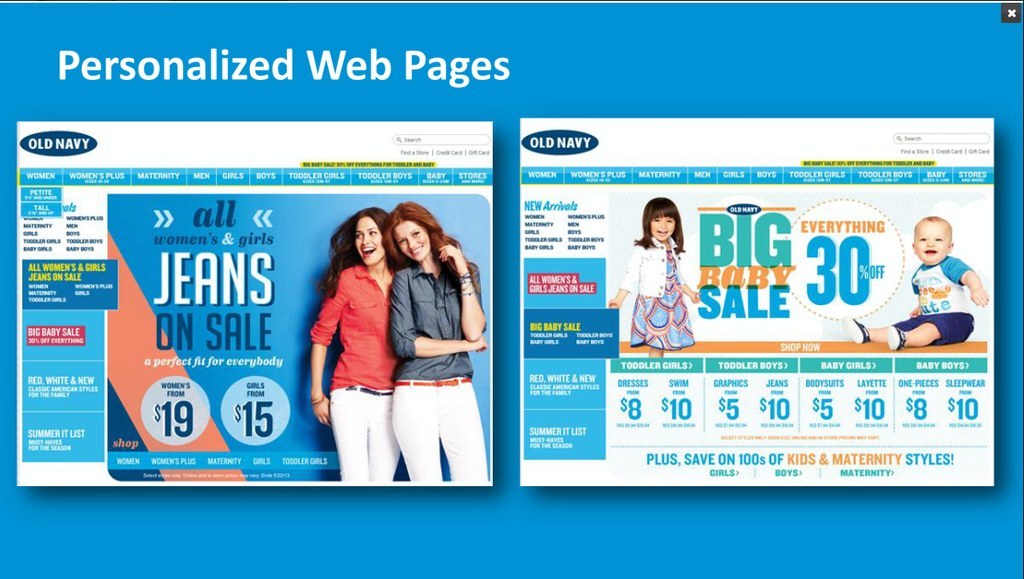 Email remains a "huge driver" for the brand, and greater personalization is also entering that realm, Peck said.
"If you abandon a cart on our website, you might have gotten an email that said you've abandoned a cart and what you left in the cart is getting a little lonely," he said during yesterday's presentation. "There's a lot more triggered email where that came from. Right now, in May, we will be rolling out a much broader suite of triggered email. Abandoned cart, sense of urgency, you left it there, don't you want it? Browse based, where we're going into a low inventory mode, we'll go back and tell you there's only four left of this, don't you want it? Or maybe there's a price reduction."
If a customer releases more personal information to Gap, like say, their birthday, they will get more in the way of rewards.
Still, Peck says that the company is carefully walking the line between personalizing a customer's experience in a way that's relevant and helpful without creeping them out.
"Anything that identifies the customer as a unique individual is all within the customer's control, so we will never go there without the customer saying, 'I've opted in and understand what it is I'm doing,' and if they choose to opt out, we make it easy for them to do it," Peck said. "Privacy is a huge concern for us."