"Frozen" Mania Means Elsa And Anna Could Claim Pokémon's Throne
The most successful animated film of all time will result in hundreds of millions in sales for retailers. It could even knock Pokémon from its two-decade stint as the king of all kids.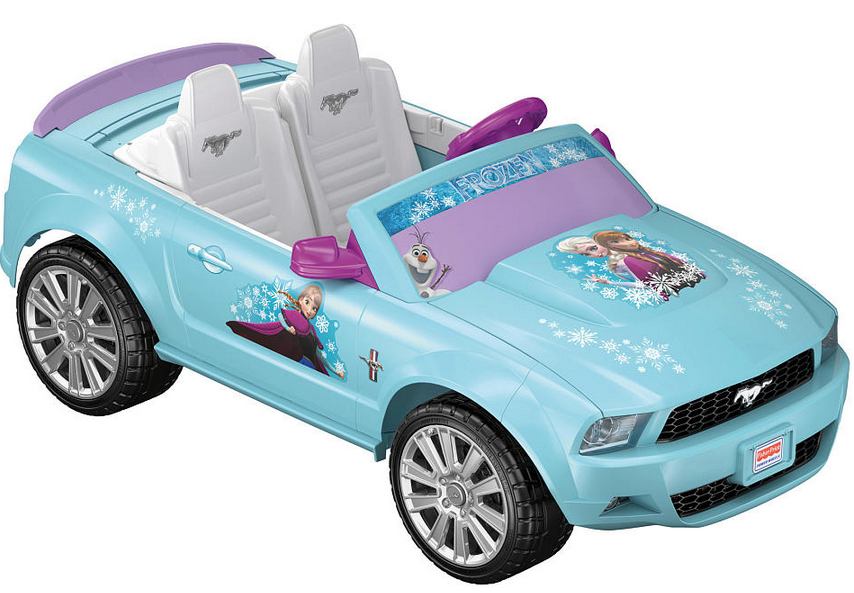 A year after Frozen was released, the film is still stealing the show — this time, in the toy aisles. Products linked to the movie are so popular that they're unseating Barbie, and may even, according to a Toys 'R' Us executive, surpass Pokémon as the biggest kids' hit in recent decades.
Frozen is the hottest toy property this holiday season, predicted to bring in $1 billion in sales in the U.S., and retailers are eager to cash in. Toys 'R' Us says it's carrying more than 300 kinds of Frozen items; Target has 600; Walmart has upwards of 700. "You would be crazy not to have Frozen right now," Kohl's general merchandise manager, Amy Kocourek, said in an October conference call.
Even the big man of the holiday season has been subsumed by the trend. In 10 malls owned by Taubman Centers, Santa will be seated this year in a 30-foot-tall Frozen-themed ice palace. Children "will delight in playing in a magical snowfall in the Ice Palace," the company said in a statement.
Obviously Elsa and Anna costumes are flying off the shelves — Disney said earlier this month it's already sold 3 million of them; the company declined to comment further for this article.
But the merchandising frenzy goes well beyond costumes: You can now buy Frozen hot cocoa mugs, fleece ponchos, blankets, art sets, Frozen microphones and amplifiers, singing Olafs, mini guitars, a Play-Doh "Sparkle Snow Dome," art cases, three-piece "Toddler Sleepover Slumber Sacks," hooded Elsa bath towels, Frozen "Napmats," roller skates, "Alpine Adventure Playlands," bicycles, electric scooters, and "boxed music sets" with themed flutes, maracas, and tambourines.
The crown jewel appears to be Fisher-Price's Disney Frozen Ford Mustang — yours for $300.
Frozen merchandise even beat out Barbie as the top toy for little girls in the National Retail Federation's 11th annual toys survey, with 1 in 5 parents saying they planned to buy one. It's the first time in the survey's history that Barbie was beaten to the top spot.
Richard Barry, executive vice president and chief merchandising officer of Toys 'R' Us, said boys are also getting in on the Frozen fray with characters like Olaf, a quirky snowman sidekick in the movie who's a favorite with his own 9-year-old son.
"Literally any product you could possibly want has Frozen on it, and certainly you could deck out your whole bedroom and accessorize it in a big way, even items like storage and backpacks," Barry said, noting that the Frozen Power Wheels vehicle, exclusive to Toys 'R' Us, is "doing just great."
While the world of toy selling is driven by yearly crazes, the rush for Frozen merchandise is about more than just the annual hot item, some retail executives say. The mammoth popularity of the movie — it has become the most successful animated film ever made — means its characters are more popular among kids than anything in recent decades.
"Kids really love this brand because they get to role-play as the characters, there's incredibly endearing characters in the movie, and I think there's a lot of conversations about the two girls," said Barry. Looking at the history of licensed items, "the number one overall in the past 20 years continues to be Pokémon, but I'm sure Frozen will be up there challenging for the crown of those sales as the year progresses."
Frozen is about two sisters, Elsa and Anna, who must save their kingdom after it becomes covered in ice due to Elsa's powers. It's a tale about grappling with feeling different, and it prioritizes values like sisterhood and acceptance over finding Prince Charming. The songs have been as big a hit as the movie itself — a callback to Disney's animated musicals that '80s and '90s kids will remember well, like The Lion King, Aladdin, and The Little Mermaid.
The songs have kids across the world singing along, but they also have cash registers ringing in a way almost nothing else in the music industry has managed to this year. Outside of Taylor Swift's new album, 1989, the Frozen soundtrack is the only album to have gone platinum this year.
The positive messages in Frozen are resonating with parents and girls. Elsa and Anna offer a sharp contrast to Mattel's Barbie, which recently came under fire for a sexist "I Can Be A Computer Engineer" book in which Barbie is unable to resolve her main conflict in the story without the help of two men. Independent toymakers have also been coming up with alternative, "normal"-looking dolls with acne, cellulite, stretch marks, and more as a rebuke to Barbie's unrealistic body and looks.
"There's been a whole trend in girl heroes in recent years," Barry said, pointing to Disney's Tangled and The Hunger Games. "We've seen a trend to that overall and we're proving that girls are equal superheroes to boys."
Contact the reporter on this story at sapna.m@buzzfeed.com.