It Took Only 5 Years For Thanksgiving To Eat Black Friday
In 2011 Americans were shocked as big retailers opened their stores at midnight on Thanksgiving. Now the same stores will open in the middle of the cherished national holiday.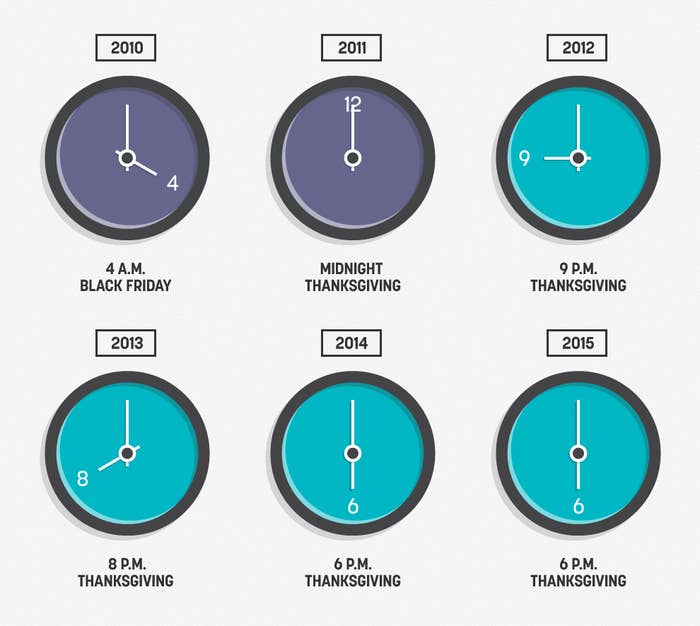 It took only five years for Thanksgiving to stop being a day off for retail workers.
As opening at 5 p.m. or 6 p.m. on Thanksgiving Thursday becomes the standard for America's biggest retail chains, it's worth noting how recently and swiftly Black Friday took over this cherished national holiday. Americans were protesting midnight openings on Thanksgiving as recently as 2011 — just four years later, J.C. Penney is opening at 3 p.m. on Thursday, while RadioShack holds its "Black Friday sale" on Wednesday and opens again on Thursday morning. Kmart will open at 6 a.m. on Thanksgiving and remain open for 40 hours straight — and no, 40 hours is not a typo.
"The retailer strategy for as long as there's been retail is you want to be the first thing in the cart," Marcie Merriman, a retail strategy and consumer engagement consultant at Ernst & Young, said in an interview with BuzzFeed News. "If you wait until later, there's the risk that you're going to miss the boat … I think that's what drove them from going from Fridays to Thursdays."
While REI got plenty of praise for announcing its stores will stay closed on Black Friday and Thanksgiving, and chains like GameStop and TJX choose to give employees the holiday off, that's not the reality for hundreds of thousands of retail workers.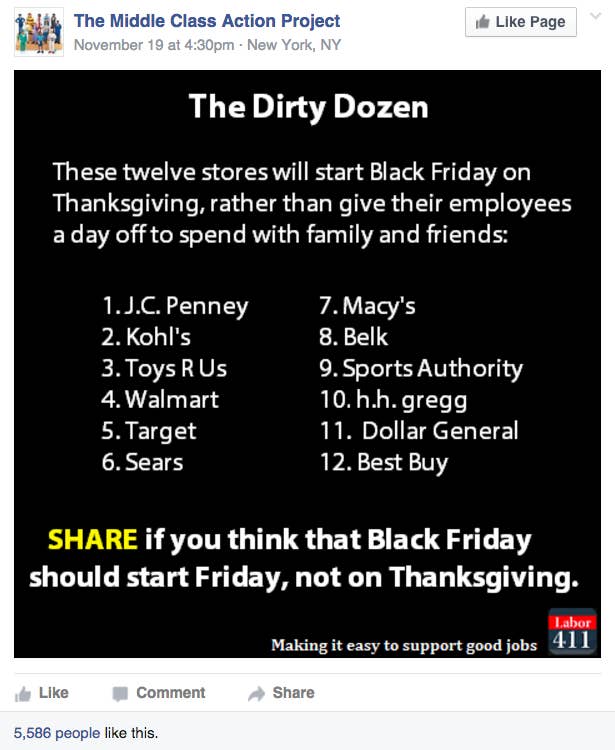 The 2011 Introduction of "Black Midnight"
For many years, big retailers like Best Buy, Target, and Walmart started Black Friday sales in the early hours of Friday itself, between 4 a.m. and 7 a.m. As the traditional start of the holiday shopping season, Black Friday events typically drew large crowds of customers, waiting for doors to open so they could snag sweet deals on electronics and cashmere sweaters. Some crowds got so aggressive that in 2008, a 34-year-old Walmart employee, a temp for the holiday season, was trampled to death in a stampede after the doors of his New York store broke open.
But most of the nation's big chains didn't touch Thanksgiving itself before 2011.
That year, retailers like Target, Macy's, Best Buy, and Kohl's decided to start their Black Friday deals at midnight. It was a new trend the Wall Street Journal referred to as "Black Midnight" in a 2011 headline. The move spurred high-profile petitions, including one from a Target worker who wanted the company to return to its 5 a.m. Friday opening so he could spend Thanksgiving with his fiancé's family.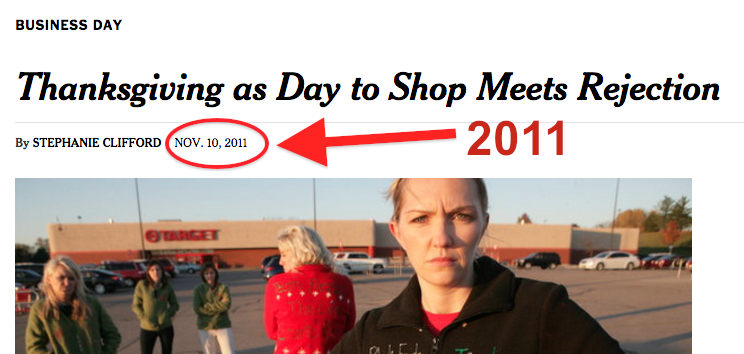 "The Wave of Midnight Openings This Year Has Crossed a Line"
It wasn't just workers — judgment from customers was fierce. Citing the negative reaction from dedicated Black Friday shoppers on blogs, Twitter, and Facebook, the New York Times declared that "the wave of midnight openings this year has crossed a line." Six Target bags of petitions were delivered to the retailer, signed by 190,000 people who shared that sentiment.
Even Best Buy's chief executive officer at the time, Brian Dunn, said, "I feel terrible" about the midnight openings.
"We were going to be open at much more civilized hour, like 3 or 4 [a.m.]," Dunn told a Business for Social Responsibility conference at the time. But once competitors like Target and Kohl's shared their midnight plans, "we made a decision at Best Buy that we need to be where our customers are," Dunn said.
Indeed, the fear of missing out — and the aim to be first to snag customers — has driven store openings further and further into the Thanksgiving holiday.
Once the midnight line was breached, 2012 was the year that the biggest retailers started launching deals on Thanksgiving Day itself, at 8 p.m. and 9 p.m. Each year since has seen a slightly earlier opening time — as of 2015, the norm is openings at 5 p.m. and 6 p.m. on the holiday, even while many of the same deals are available online.
"The Tradition of Shopping Together as a Family"
The CEO of J.C. Penney told investors earlier this month that the company's internal "Warrior Council," composed of leaders in the field, proposed the 3 p.m. opening in order to "win" the Thanksgiving weekend. It will pay employees twice their usual wage and seek to staff up through volunteers.
"While J.C. Penney recognizes and values the importance of the Thanksgiving holiday, we've also learned that many customers enjoy the tradition of shopping together as a family to take advantage of the biggest deals of the year," a spokesperson said. "For customers who choose to get a head start on their holiday shopping, we're opening our doors earlier this year so they can make J.C. Penney their first stop at 3 p.m."
RadioShack reached a compromise of sorts, by declaring Wednesday — a normal sales day for most retailers — its "Black Friday." It will open from 8 a.m. to 1 p.m. on Thanksgiving.
"We're opening Wednesday as sort of a reward if you will for our loyal customer base," RadioShack Chief Marketing Officer Michael Tatelman said in an interview. "Thursday is really kind of about our employees. There is a significant amount of consumers that do shop on Thanksgiving, but our perspective is that we want our associates to be able to have the day with their families."
And of course, that's the reason most of the biggest retailers are frightened to close on Thanksgiving Day — what if they miss out on a chunk of consumers who are ready to spend?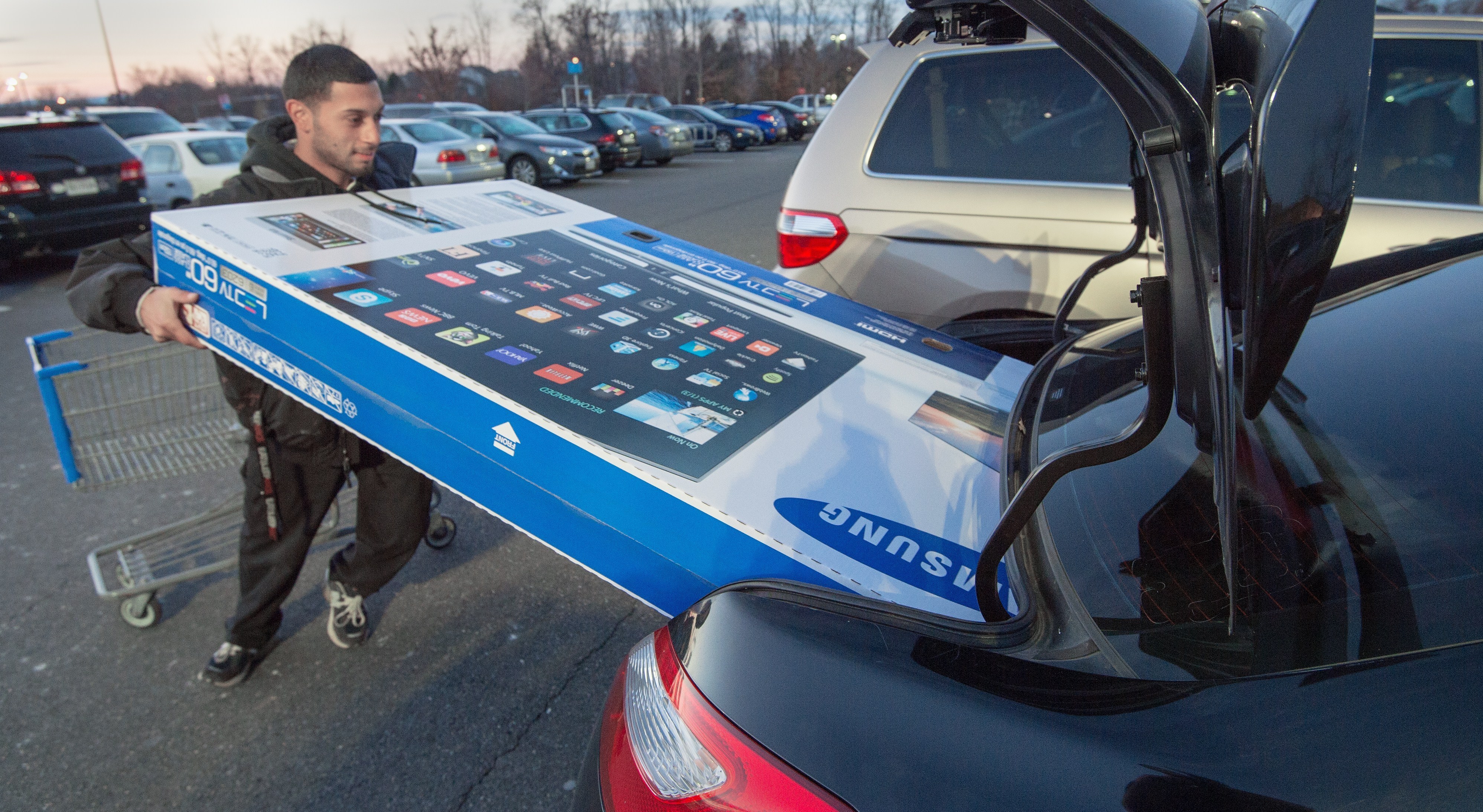 "The Holiday Has Gotten a Little Silly"
It can appear sort of hopeless, but as it turns out, the frantic messaging around who's offering the earliest Black Friday deals might end up diluting the shopping holiday — and perhaps its spread into Thanksgiving.
Target started "10 Days of Deals" yesterday, while the New York Post said that Gap started its Black Friday sale on Friday and Sears started its sale on Nov. 15.
And as Bloomberg News noted earlier this month, fewer consumers are saying they're interested in participating in the frenzy, especially as it starts way before Friday itself.
"The holiday has gotten a little silly with, it's Black Friday, it's Black Thursday, it's Black Sunday, it's — we're going to start having deals in August," eBay CEO Devin Wenig said at a conference recently. "Consumers are checking out of that."